It's been a really good year for ADG, lets take a look through the season that has been 2022.
Original Team Reveal




Team Reveal – Average Danes Gym
(Please excuse the edited together starting lineup!)
Changes
Made a fair few from that original post as round 1 teams became more clear, here's how I eventually went into Round 1:
DEF: Ridley, Short, Whitfield, Hewett, Hinge, McCartin [De Koning, Gibcus]
MID: Steele, Oliver, Miller, Neale, Rowell, Horne-Francis, Daicos, Ward, [Sheldrick, McDonald, Hough]
RUC: Grundy, Witts [Dixon]
FWD: Dunkley, Martin, Butters, Coniglio, Brodie, Hollands [Rachelle, Hayes]
The Good: Witts has been fantastic, so has Coniglio and Brodie for their starting prices. Dunkley and Neale were in everyone's team, with most of the premium midfield picks working out nicely in the early parts of the season. I made a change last minute in the backline by grabbing Hewett over Ryan, which was super helpful. Overall the majority of rookies did their part, especially those higher priced ones in the backline. While Short and Ridley haven't been what I hoped for as D1 and D2, they still remain in my team and have been good enough in my eyes. Hollands worked well as my loophole early on.
The Bad: Starting Whitfield over Sicily wasn't the right choice at the end of the day, but the Giant just seemed like too much value to leave out while Sicily had question marks. Rowell was great initially but then caused some issues. Butters was up and down but fortunately, so many teams had these players so I wasn't left too far behind while trying to work out what to do with them.
The Ugly: Dustin Martin toned up in round 1 as expected, but then didn't feature again until Round 8, so he was gone pretty early. Sheldrick was into my team when he was handed a debut in Round 1, as I thought surely that means he impressed over the pre-season and should play at least 3-4 games early on. He got moved on pretty quickly as well.
Season Summary
Holding trades early: I didn't trade until Round 3 this year, backing in my picks over the first two weeks as I knew I'd want to go hard leading into and through the byes. I then used max trades for 6 weeks running prior to the first bye (a boost in two of those), then not trading at all in round 12, to using the full 4 trades in Rounds 13-14.
Ideal timing: Heading into Anzac Day weekend, Grundy was copping some slack  with his scoring, but I was considering putting the C on him with his Anzac record. True to fashion, he finished with a season high 129 and made those who traded him out look a big trigger happy, but then the PCL injury news came and I felt like a mastermind, as for some bizarre reason, after spending all week talking Grundy up, I'd traded him to Pruess to maximise the cash grab (who proceeded to provide great scores for the next month and gain a solid 200K) so that I could grab…
James Sicily: McCartin was cut early for Sicily, in the same round I traded Grundy to Pruess. Nabbed him for 505K that week, mainly because I was irate that his 126 the round before cost me one of my main league matchups by about 5 points. From there though, Sicily has been fantastic and one of the top defenders in the game, so overall this round of trading set me up nicely for the coming month/leading into the byes.
Cripps in and out and in again: I avoided Cripps to start the season but jumped onto him before the first price changes in Round 3. Then he was out again after his hamstring, which I felt was going to be much longer than 1 week in Round 5, only to come back in leading into Round 7. Looking back, trading him out got me Macrae, but overall wasted a few trades here.
Taking Darcy Cameron as his role changed: I grabbed the new Pies ruckman in round 9 and he's been awesome since, providing ideal cover across the F/R line as Pruess gathered headlines for injury, suspension and getting dropped through that middle part of the season. I knew he'd have to go at some point, but as of writing this, he's still running around in my team as cover, and will likely stay for the remaining 3 rounds.
Clarry to Steele while holding Stewart: When Tom Stewart copped 4 weeks, it was a blow to many a coach. I had the trades there to move him on to pretty much anyone, but decided to hold as the cover I at the time in Wehr and D'Ambrosio was working alright. Then unfortunately, Oliver, the top scorer in the game at that time, had a thumb injury that would see him miss a week, hardly anything compared to Stewarts suspension. Still though, I turned Oliver into Jack Steele, netting me around 150K and some handy points over the past three weeks. It seems silly to hold someone for 4 weeks vs 1 week, but at the time, it made sense for my team and the setup it had at the time.
Having cover: In Round 22, 2010, I had the VC on Corey Enright, who was in elite form, scoring 152 and 133 in the fortnight prior, and the C on Joel Selwood (142, 110) in SC grand final week. The Cats were playing the bottom of the table Eagles at Geelong, surely a mauling was about to happen? Why am I bringing this up you may think? Well, both of those guys were late outs in this matchup, leaving me essentially 3 players down in the grand final with no cover on any line! Ever since, it's been super important for me to have cover on as many lines as possible (came in handy this weekend with Cameron covering Coniglio as a late out) as a score of anything positive is far better than a donut, it's helped me out multiple times this year, especially those with DPP.
(Quick note that back in those days, there was no rolling lockout, so no chance to change my lineup, it was all locked as soon as the first bounce happened, which I do miss in a weird way).
Rookies: The final point I'll make is that I feel I was more selective with rookies this season. Since we had more trades, I went for JS over scoring potential, as a slow burn in someone like Curtis or Hough was overall more helpful to my lineup than someone like say, Cleary, who had better scoring but less JS in a more settled side rather than a rebuilding one. For this reason I lined up with 28, 29 players most weeks pre bye, only opting for 102K loop players (Long, Uwland) after the bye.
Regrets
Reaching for maxed out players: There's numerous players in my final team that I reached for at a maxed out price, only to cop some disappointing scores from then on (eg Keays – 550K, 68 on debut, Bont last week, 98 on debut, Docherty – 576K, 3/4 sub tons since) just to name a few. At the time, it seemed like the right choice, but I guess that's the beauty of hindsight. Could've had Merrett over Keays, which really hurts to admit, even though Keays hasn't been horrible, Merrett has gone nuts since I had the choice.
Rowell – Mitchell: Probably my most wasted trade of the season. At the time, it helped my bye structure with Mitchell having the last bye, while Rowell was fluctuating badly with his scoring at the time. In the end, Mitchell was gone when his bye came around while Rowell hit some form, fortunately I only dealt with this regretful trade for about 3 weeks.
Selling rookies early: Daicos left my team at his bye, just before had went crazy with some massive scores. The same could be said for McCartin, De Koning and Wehr, but once again, at the time, it seemed like the right move.
Poor VC/C choices: Probably something we can all say, so I won't go into detail with this one! But considering my rank, if I'd made some better choices, top 50 would be close (although I'm sure all those above me could be in the same boat!).
Current Team Reveal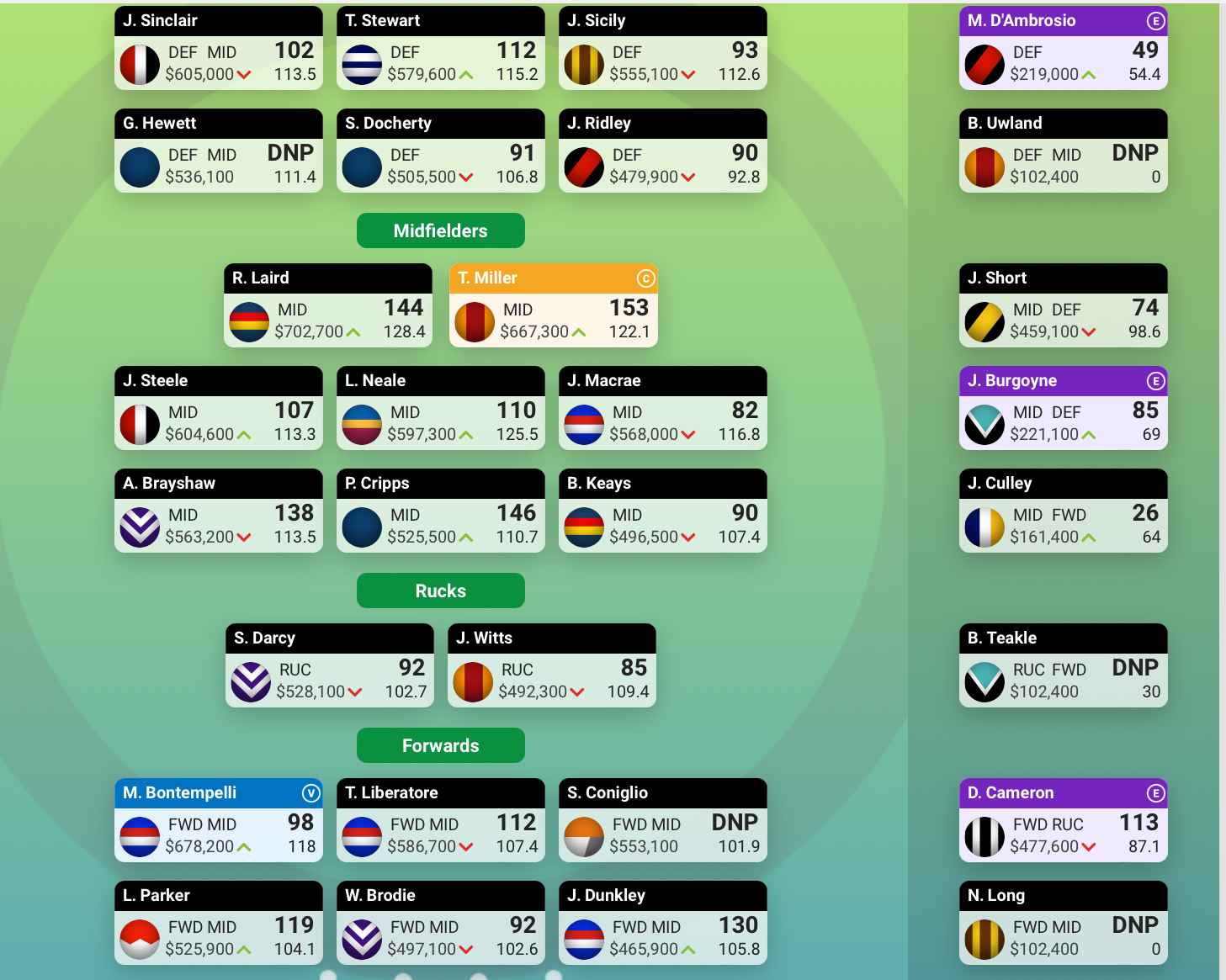 Rank 198th/2 trades/25k ITB

Plans To Finish
Teams very much set, with what I think should be enough cover. If Hewett is out again this week, he may become Dawson with my remaining cash, but if he's back I'll keep the two trades as a safety net and get some loopholes going. Also tossing up Cameron-Marshall. Would love to get Satan back in but will probably have to cross my fingers he doesn't hurt me too much with 3 weeks left.
Been a fantastic year, currently my best rank in 14 years playing this game. Finished top 4 in 9/10 leagues and sixth in another. Just the three matchups this weekend, two of them from a top 2 finish in a 12 man league, so guaranteed at least 9 preliminary finals in round 22 after taking out 8/8 wins this past weekend.
Thanks for the year everyone and a shout-out to all the contributors and site regulars!
Any questions for myself about my season feel free to post below and I'll strive to get to them later this afternoon.
---
Leave a comment / Scroll to bottom