Original Team Reveal. March 10 2023.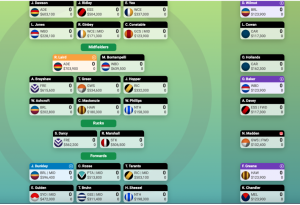 A few things changed from my original Team Reveal to my starting team. Firstly Yeo was out so I opted to "strengthen" my defence. Brayshaw went down to Finn Call and Yeo went up to Docherty. This left me some spare cash so I stupidly went Sheezel to Flanders. I cant quite fathom why I did this, as I had been quite confident about the Sheezel pick all pre-season. Phillips missed so he went to McKenna ( Ginbey to mids )  I also somehow dropped Chandler and moved Davey forward to get in Chesser. Seems ridiculous now, but I've always been big on having a heap of DPP flexibility as it really helps when doing early trades. Trades I wouldn't of had to make, if I'd just stuck to my guns. Face palm !
My best starting picks were..
( DEF) Dawson, Ginbey, McKenna and Wilmot.(MID) Bont, Ashcroft, Hollands.( RUCK) Marshall ( FWD ) Dunks, Taranto, Rozee, Gulden.
Hooper, Darcy, Green and Ridley probably weren't the worst picks, yet only Green remains in my side.
I could go through line by line and tell you all my failed starting picks, but its probably easier to just explain my trades and what I did to try and fix my mess. I will actually go through every trade I've made this season as painful as some of it is.
Early season trades. Boosts are us !
Rounds 2-4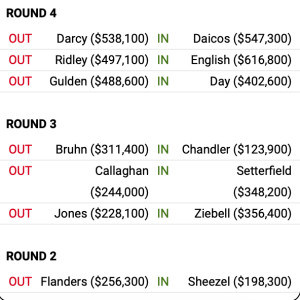 I already knew I had quite a few things to fix so didn't hesitate to trade Flanders to Sheezel straight out of the gate. Round 3's trades were some of my better early decisions. Finn Call looked injured and Setters was was set to make bulk cash. Ziebell and Chandler both were fantastic early and made important cash growth. Round 4 was when thing got a little spicy. Darcy had scored poorly and English and Daicos look like the must have they have become. With limited cash Gulden and Ridley were the one that had to go to make my moves. Day looked great and Gulden was moved to the wing and his scores had started to suffer a little. Of course Darcy went on a tear and Gulden and Ridley bounced back, but you cant win them all.
Rounds 5 and 6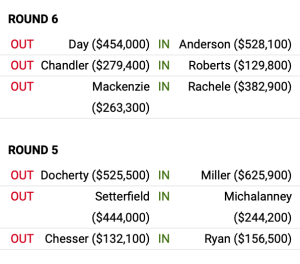 Chesser to Ryan was a genius move. Ryan produced some great on field scores and made quite a chunk of cash. Setters, I at least traded at his highest price, though in hindsight getting in Max after a few price rises wasn't the best move. Moving on an injured Doch to Touk Miller was the start of a bad run of luck. Round six comes around and I'm not totally sure what I was thinking. Day was suspended for a fortnight and I liked the upside of Anderson. Most of us got sucked into Roberson, who's still dead on my bench. Rachelle was a POD move as I saw his high CBA's and low BE and thought he could be stepping stone type up to his Bye. Rachelle gave me few 90's but an unexpected 29 when he was ,moved forward killed his cash gen. Lesson learnt about young players holding down midfield roles. This round also saw me Captain Miller for a score of 40 ! This wasn't my only Captain nightmare, as I will show you later in the post.
Round 6-12 ..From bad to worse.
Rounds 7-9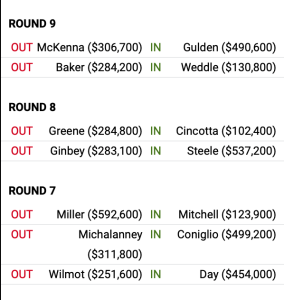 Round 7-I used my last boost as Millers injury forced a trade here. Seamus Mitchell had been a fantastic downgrade, one I actually plan to keep as year long cover. I guess Day was value, but he went on a pretty stinky run after I traded him back in. The big sliding doors moment was getting Cogs instead of Butters. This one still stings as Cogs has been meh and Butters was cheaper and has been sensational. Round -8 Another Sliding doors moment. Steele could of been a cheaper Brayshaw or even a slightly more expensive Petracca. Either one would made a profound difference to my season. Steele is literally my worst trade in of the season.Yuck yuck yuck !  Round 9 – Finally something went right. Getting Gulden back in for a score of 156 and Weddle at $130K were probably two of my better trades for the year.
Rounds 10-12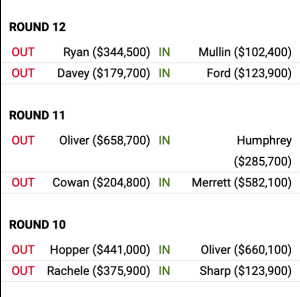 Round 10- Finally I manage get in Clayton Oliver. I had spent the whole early season watching Oliver put together Captains score after Captains score, and couldn't wait too get him into my side. Well he gave me a 120 score then got injured, and we haven't seen him since. First Touk and then Oliver. All the players I had bought in over $600k, have gone down with in a week or two. Sharp was also a failed trade in this week adding to my list of dead bench rookies. Round 11 was more forced trades. I just couldn't hold Oliver with the upcoming Bye rounds and getting in Merrett was definitely the play in hindsight. Moving on a dead Cowan for Humphrey, even at his inflated price helped enormously through those early Bye rounds too.
Rounds 13-15 Byes and better calls.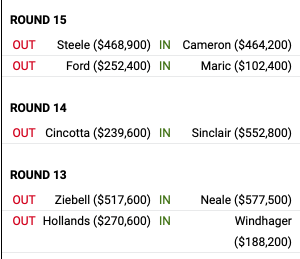 Round 13 was the start of a very planned attack on the Bye rounds. Ziebell with a huge BE needed to go to avoid a round 15 donut. Neale was value and has been great since I got him in. Holland got injured so I went early on Windhager. Not too many coaches were talking about Windy early, but I saw his likely role and took a punt on him as someone to cover during the Byes. He will remain as my swing cover for the rest of the year. Round 14- This was another sliding doors moment that has so far paid off. I had the money for Stewart, but Duncans inclusion had me a little nervous. Saving ~$50K on Sinclair has netted me more points ( so far ) and help financed my last few upgrades. Round 15. Well last week I'd had enough of Steele his BE was high and he just looked cooked. Even with so few trades, I bit the bullet and traded him for D Cam. Of Course Steele nearly tons and Ashcroft who I kept went a pitiful 62. This has put me a bit behind some folks finishing their sides. I do feel better getting rid of Steele.
That just brings me to this weeks trades. I have Humphrey with that 120 BE and Ashcroft who I had planned to trade with a pretty favourable match up at the GABBA. I have $221.700 in the bank and I need to get Humphrey and Weddle to two Premiums this week. My current plan is to get in Walsh. This leaves me with $438.700 to get in a defender. My first thought was Himmelberg as It leaves some cash in the bank. I've since decided to get in a mega pod in just 1% of sides. It only leaves me $2K in the bank. Can you guess before scrolling down to my team ?
No cheating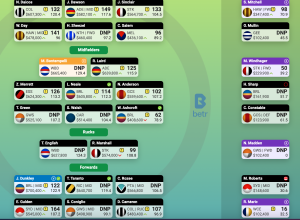 So I've landed on Christian Salam. Its obviously not ideal but it is what it is,  I just hope he can go around 90-95 for the rest of the year. This team isn't yet complete as I still have Ashcroft at M8. With only 3 trades and Ashcroft with some very favourable match ups in Richmond and West Coast ( both at the Gabba ) I'm probably going to let the next few weeks play out. I will then either manage to get Ashy to Mills in one trade, or go one up one down leaving me just the one trade but a better last Premium.
So to conclude. I'm currently ranked 10 112. This I can mainly attribute to a poor starting side and few of those sliding moment trades. Not owning Oliver early really hurt. This leads into what really went wrong. All my own fault, but I have had terrible Captains choices all year. Lets me just show you how bad they have been. I have highlighted all those under 125 (250) as this is what I think is a below par Captains score this year. There's still a few in that 120 -125 range but when others are going big they still feel a little Meh !
Round 1- Laird 50 (x2 100 ) ( great start ! ) R2 Bont 125 (250) R3 Laird 114 (228) R4 English 145 ( 290) R5 Bont 145 (290) My best 2 weeks ! R6 Miller 40 (80) Bont went 182 this week !! R7 Daicos 72 (144) Dawson went 150, Marshall 159. R8 Taranto 118 (136) R9 Bont 112 (224) R10 Oliver 120 (240) R11 Bont 124 (248) R12 Daicos 123 (246) R13 Dawson 95 (190) R14 Dunkley 137 (274) R15 Dunkley 122 (244) 
To summarise in the 15 weeks to this point in the season I have only managed 4 scores of 125 or above as Captains scores this year. Appalling coaching on my part, and something I really need to improve on if I have any chance of finishing in the top 5K ( my goal ) this year.
Lastly, my best moment in SuperCoach this year was probably trading in Anderson early. Owning him as a huge POD when he went 189 against Melbourne was some of the best fun I've had in my long SC career. At the end of the day we all play this game for the fun of it, and although I would rather be ranked a lot higher, I'm still in the running to make a few league finals and overall I'm still enjoying the game. I really enjoy writing my Rare Gems piece and I hope some of you have got something out of it during the year. Thanks for reading and please leave a comment if there's any advice you would like regarding your team. Just don't ask me to pick a Captain !
Cheers FT.
---
Leave a comment / Scroll to bottom