I thought you would!
Here's a first look at the 2022 incarnation of The Maulers@SCT. This leaves me with $22,100 in the bank.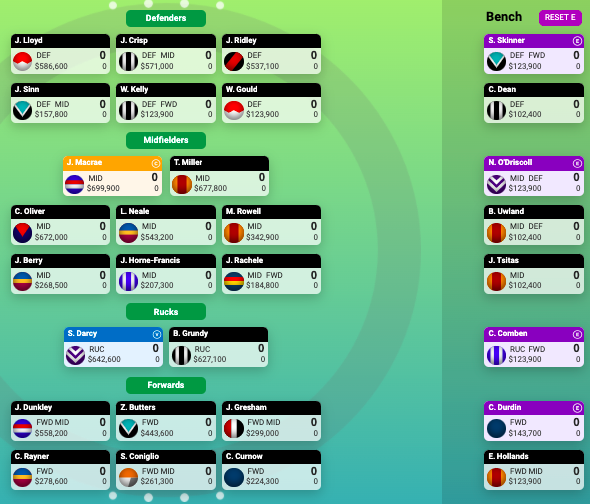 I'll run you through my selections (and non-selections) line-by-line.
Defenders
I started without Lloyd last year and regretted it so this year I'm splashing the cash and he's the anchor of my backline. Crisp picks himself based on his 2021 stats and Ridley only came in this week after Dawson (who I'd been keen on all PS) didn't get up for the game against the Lions with calf soreness. The rest are rookies whose spots will be dictated by whether they get named in Round 1.
Midfielders
Sam Walsh was, of course, one of my first picked this year but he got moved on for Oliver after he went in for foot surgery. Macrae's a no-brainer. Already had Miller prior to his praccy match against Port but his 140 points in that game cemented his spot. Went without Neale last year and didn't regret it but a full PS has seen me regain confidence in him and at his price he's hard to ignore (144 against Adelaide doesn't hurt either). Rowell's been in and out of the team but his 118 against Adelaide and positive reports from training have broken down the door for me – at $343k I'll take the risk. Likewise Berry with his 158 against Adelaide.
Rucks
As advised by Chips Ahoy! I'm waiting on Gawn to get R/F DPP status in a few weeks and then he'll go into my Forward line. In the meantime, these guys are the other two best options in the ruck and I'm happy to set and forget with them.
Forwards
OK here's where it gets interesting. 4 midpricers in Coniglio, Curnow, Gresham and Rayner. Yes there's a bigger than normal injury risk but this is the kind of move that wins you this thing. Dunkley will be a Top 6 Forward for sure by season's end and the way Butters played in the game against the Suns (167), you'd think he will be too.
Politely let me know what you think in Comments and if you've got any questions I'll be happy to respond.
---
Leave a comment / Scroll to bottom