First to kick off our Team Spotlight format is SCT veteran Shaggi. Below is the Buttslappers@SCT in all their glory with relevant team details and commentary from Shaggi. Have a sus and let him know what you think.
I have tried to prioritize JS this year. Hence Ratugolea and Allen in the forwards and Callaghan in the MIDs. I have also started with some great picks like Sheezel, Dawson, Ziebell and Baker has been good value as well as the 3 previous. I always like having ruck cover. After the first week of byes looking a trading Allen and Callaghan and getting Serong and maybe Wardlaw. Ratugalea will stay. I have been on the ruck merry go round and had Gawn, Nankervis & Cameron previously. Steele looks like a bad selection so maybe after byes may luxury trade. Walsh is on my radar but not so much Gawn even if he becomes RF – preferring Jackson tbh.
I have elected to trade out Oliver. Was tossing up between Merrett and Sicily not really liking either but need someone who will be missing Round 14. Traded out Allen as it was just time to go (before he starts losing heaps of $), so brought in Wardlaw.
Happy to have any feedback, suggestions – constructive !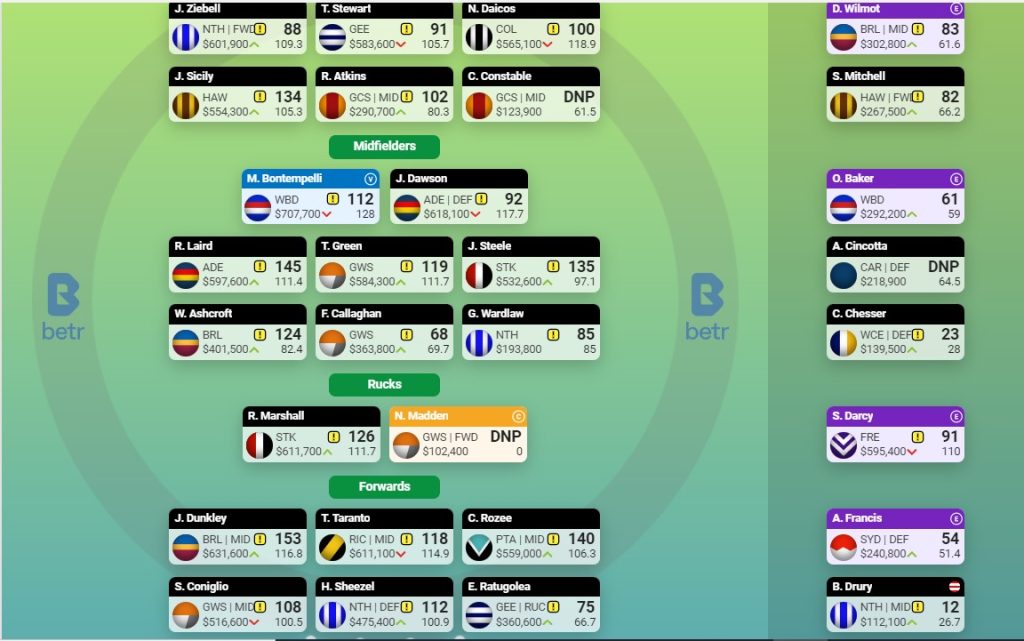 16 Trades / 2 Boosts / $353.3k ITB
For this week's trades he's gone:
Clayton OLIVER -> James SICILY
Oscar ALLEN -> George WARDLAW
---
Leave a comment / Scroll to bottom