Tightening up at the top.
SCTTL regular Luke (alter ego Barry) eked out the top score this week, and it pumped him into the top at 7th overall. a score of 2385 with a Crippa 'C' and a Blakey POD elevated him marginally ahead of Jomo's Romo Tech with 2372 with a Jack Macrae 'VC'.
Third was Barry's Bog Eyes Ralph with 2356 who also used a Macrae 'VC' but still holds Tom Mitchell and that 40  shocker probably cost him podium honours this week.
Fourth was Father Dougal's hard habit to break All Nuns with 2344, followed by Kirsties alter ego Grace and her ever reliable Ninius with 2340.
(note to self, sometime ask what Ninius means).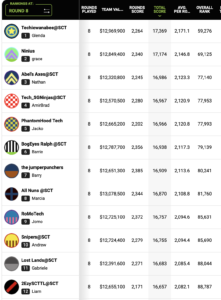 Well, I have chewed up fourteen trades and still cannot make an impression. How many have each of you gone through?
Seems like rapid trading is the strategy this year with the extra boosts. Some coaches have nailed it, and some have not. Macca suffered a premiership hangover after his win two years ago, and it appears last year's champ Chips Ahoy might be suffering a little of the same fate having not yet climbed into the top twenty. Plenty of time though. How are you coaches not yet in the podiums conversation going to turn it round.
Let's have some discussion in the comments.
---
Leave a comment / Scroll to bottom