Nathan's Abel's Axes@sct finished on top of the SCTTL at the end of round 23 for the only time for the entire season. Great timing to get there courtesy of a super last round score of 2428. Congratulations Tech Champion 2022, and on gaining entry to the SCT Hall of Fame. Get onto Motts to sort out your trophy and prize money.
Previous winner Macca hung tight for the last few rounds with his Techiewannabees@sct snatching a last ditch second place with a highly creditable 2338 to leapfrog Amir and his Tech_SGNijas@sct who could only muster 2171 when he he needed a "normal" score most, but still hung onto a third placed podium finish.
Father Dougal had All Nuns@sct firing late in the season but had a little too much to catch the leaders but clawed his way up to fourth ahead of the sadly fading Ninius. Still a brilliant season and credit to you Kirstie.
And in the tradition of weekly reports, congratulation to Alza and his Assassins with the final round's top score of 2476, just ahead of your's truly and Fixed Interest@sct on 2462, Lindsay's Tech Difficulties, 2395 and Mr Plow(man) finishing on 2383.
I'd like to finish by thanking everyone in the three leagues for such a brilliant and competitive season, probably our best ever. Thanks to the coaches who stuck it through the season to keep it interesting and enjoyable, and to Chips Ahoy for the input into a really good starting side that often outscored our classic sides. Lastly a big shout out to the generous donors who make prizes possible for our competitions.
See you all next season, enjoy your off season and stay well.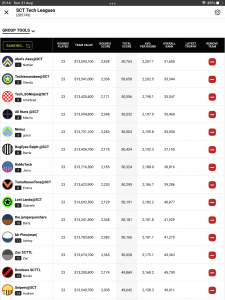 ---
Leave a comment / Scroll to bottom