Incredibly eight coaches  pushed out scores of over 2400 which should have placed them in the top couple of percent for the week. Super effort that!
Also incredibly, only one of the eight had Satan as VC or C, with most opting for Lachie Neale. What could have been?
Top score for the week of 2473  goes to the fast rising Romo Tech with coach Jomo putting together some good recent scores to climb into 7th in the group. Second on the podium with 2471 is the Jumper Punchers with Barry pulling out a big one to stay in the game. Third, bouncing back from last week's mediocrity with 2461 is last year's champ Techiewannabees with Glenda obviously taking on board last week's little spray that got her back up and firing at the top of the ladder. It helped they had Satan as VC.
As the scores were so good this week, the plaudits normally reserved for the top five is expanded. Trade wizard Amir and the Tech-SG Ninjas (2442), Nicole's Bombers SCTTL 2432, Tumultuous Tons@SCT  by Emma (2425), Father Dougal's Convent Footy Club All Nuns@SCT (2411) and Harrison's
TL Hazza's Heroes (2406) round out what is a very impressive top eight this week.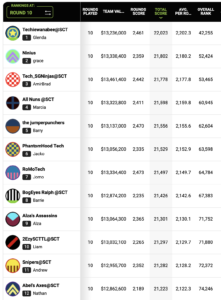 Let us know how you are travelling for the byes. Only one more round to get it right, are you tanking one round or have you got them all covered?
---
Leave a comment / Scroll to bottom