I am pleased to announce that this year's nominations for the Tech Leagues has reached a new high bench mark with 3 x 18 team leagues including more than a dozen total newbies. Thanks for joining, and have a great season.
FYI to anyone not familiar with the Tech Leagues, all 54 coaches start with the exact same team listed here.
In consultation with last year's winner, Nathan from Abel's Axes, we decided on a theme of a No Rookie starting 22. To be honest I think we stole it from a Chameleon comment in one of the rate my team threads early in the year. I'm sure he won't mind as he's in one of our leagues. To make it that little bit trickier, each AFL team had to be represented at least once.
The no rookie starting 22 does not refer to price. Our definition is a player is not a rookie if they have played AFL games previously. eg Darcy Wilmot played finals last season and his price stayed where it was, and Fergus Greene played five years ago and his price is bottom end but he still qualifies as a non rookie regardless of price.
Have a sqizz and let us know what you think, Techies and non techies alike, we're interested to see what you think of this baby.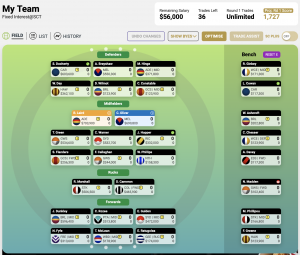 ---
Leave a comment / Scroll to bottom