For the final pre-season analytical piece, we'll be turning our eyes to the potential breakout midfielders of 2023. We all know what breakout midfielders are. They're not quite there yet, either in SC or AFL terms, but in the seasons it takes to get up to the level they can present value and be serviceable in their scoring. Catching a midfielder who jumps up from flat triple digits the previous year to 110~ can pay serious dividends. The dictates of team building in the current landscape have sucked a lot of cash out for midpricers and rookies and has really precluded a traditional, stacked midfield of 5x 600-700k premos (trust me, I've tried). Accordingly, these breakout midfielders, which we'll loosely define as 500k+, capable of triple digits and on a clear breakout trajectory, are significantly more relevant and viable than seasons passed.
In cataloguing the breakout MID options, this piece will detail their:
Profile

: their most recent season, gameday attributes and scoring stream

Fixture

: first eight opponents, H/A, would recommend re-visiting the fixture analysis piece

Projection

: a summative projection of their 2023 scoring all things considered
Luke DAVIES-UNIACKE (NTH, $557.4k, 4%)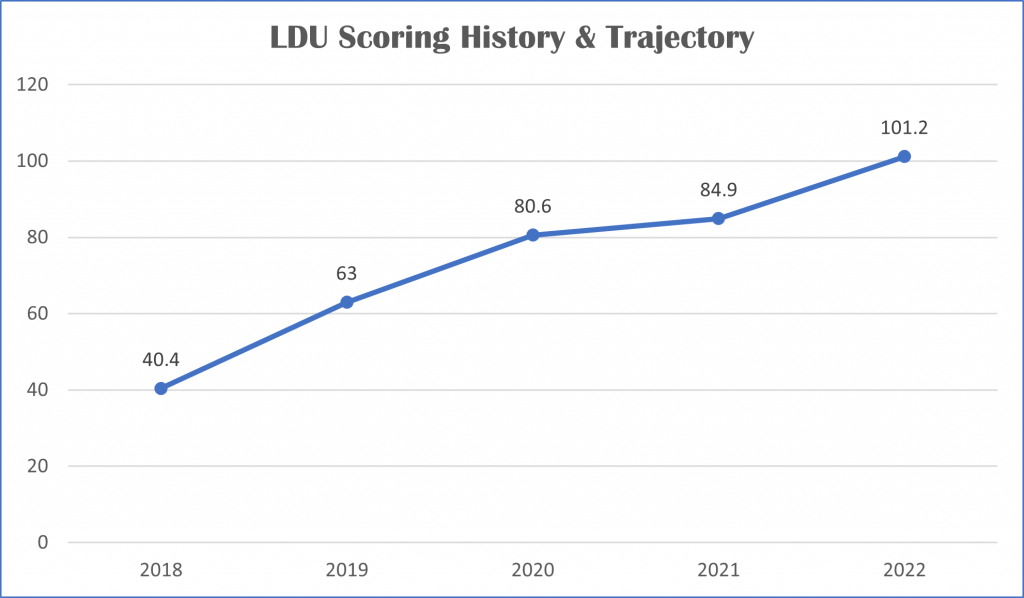 Profile: The most experienced contender with 5 seasons under his belt, LDU comes in with the highest average of all of the breakouts (101.2). Contained within that 2022 average of 101.2 was a Round 2 sub-injured game of 27 and then a second half of the season boom. From Round 12 onwards, LDU went at a 113.2 average with highs of 138, 141 and 149. This largely occured on the back of a stabilized, team high CBA load over that period; where he entrenched himself as the #1 MID for the Roos by the season's close. The real attraction for LDU was that he did all this in a) the worst side in the competition, b) with little midfield support outside of Simpkin and c) already has a strong accumulative game down, being able to comfortably have 30 touch outings. Clarkson taking the reigns at Arden Street and the return of Cunners will provide more fertile ground for LDU's trajectory to trend upward.
Fixture: West Coast (H), Fremantle (A), Hawks (A), Carlton (H), Lions (A), Suns (A), Dees (A), Saints (H).
Quite a poor fixture. Eagles and Hawks early are great and easy 120s, however the Blues, Lions, Suns and Dees will all smoke North and are some of highest density midfields around. This difficulty might, to some degree, be counteracted by the usual exuberance and competitiveness all sides start the season – so it's perhaps better he's getting them early if you're backing him as a season long pick.
Projection: Should be a very safe bet to continue with his back end 2022 average and in developing some continuity go at 115. Trajectory and nascent playbreaking ability don't have him yet at a Top 8, 120 level. He will begin however to receive tags this year, having copped Caldwell for a 68 last season.
Chad WARNER (SYD, $532.7k, 6%)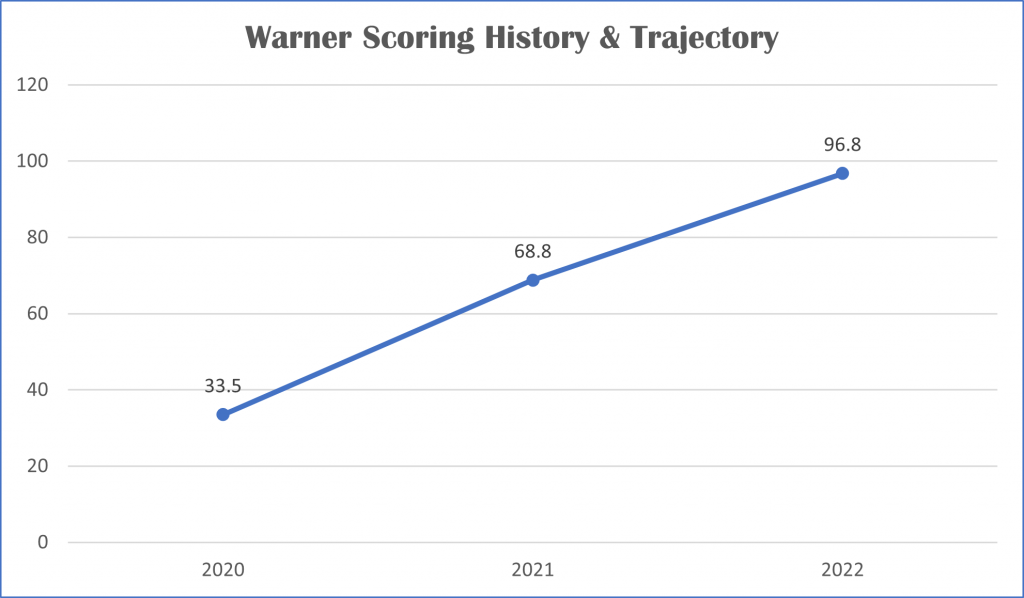 Profile: After a very calculated development strategy in which he was drafted in 2019 and held back from AFL level for a while, Warner burst on the premium scoring scene last year with eye catching BOG performances that combined explosive contested work, fast decision making and a high score involvement play style. Warner notched up 10 tons last year, including 2x 150s. His ceiling and PPM is very much the draw card for selecting him, being able to have those delicious 45 point opening quarters and be on a ton after 3QT on the back of contested work and hitting the scoreboard. Typically that kind of ceiling is not unlocked by 3rd year players just getting midfield exposure, so it was very much a cart before the horse emergence for Warner last year.  While his ceiling, score involvement and contested work are advanced he lacks consistency and an accumulating ability. He only had 30+ touches twice last year and needed high CPs and scoreboard contributions to ton in the absence of the floor of 90 that most MIDs have from accumulating. Entering his 2nd year as a capable, full time MID will balance out his scoring stream.
Fixture: Suns (A), Hawks (H), Dees (A), Port (H), Tigers (A), Cats (A), GWS (H), Pies (H).
An understandably difficult fixture for the Swans. The Hawks, Tigers and Pies are all great but you'd need him to haul ass in the rest.
Projection: Capable of the highest ceiling and PPM out of all the breakouts and could easily put them on blast with a purple patch – especially with how strong the Swans are. Following from last year, he will start to get more attention in the form of hard tags though. That combined with unrefined accumulating and two way work probably slates him at 105 for the year.
Noah ANDERSON (GCS, $552.9k, 2%)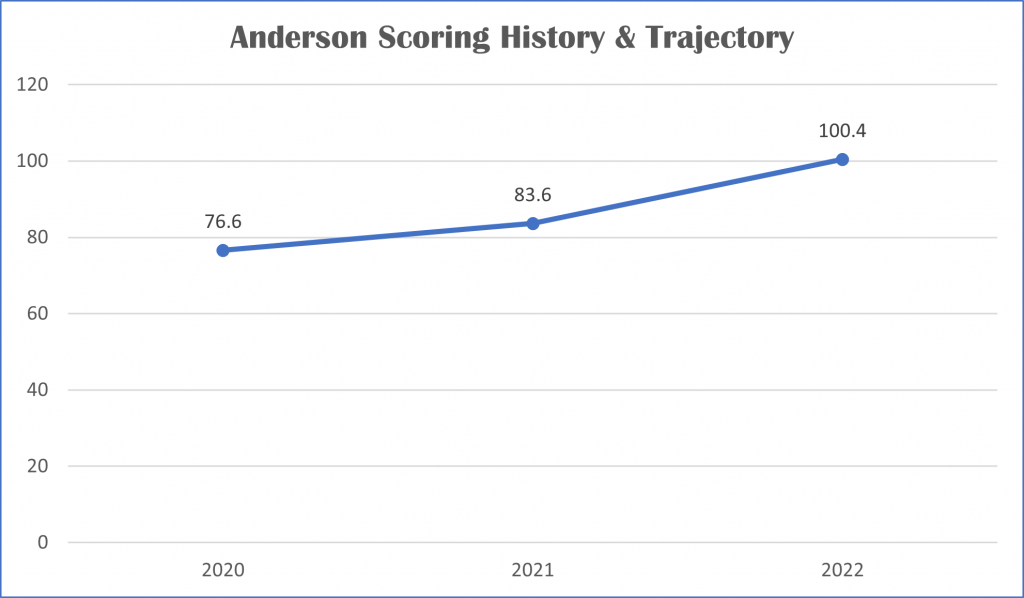 Profile: On a very humble and under the radar development as a midfielder, the former #2 Pick put +16.4 on his average last year and finished up with a flat ton average in his third year. Anderson really built into some nice accumulative and clearance numbers last year, notching up 30 touches 6 times and averaging 6 clearances a game. His contested, tackling and score involvement work are clearly the elements in his profile that he needs to develop – and with that would come increased on field and SC output. Going to be playing in one of the best engine rooms in the competition alongside Miller and Rowell and with service from Witts. That'll often give the Suns first use but the onus is then on Anderson to find his own ball and get involved rather than ride the coattails of HB receives from Miller and chaining up when the Suns are already in possession. Another point to note was he really added some finishing class and composure by foot last year. You'll recall he iced the game against the Tigers with that on the siren set shot and a lot of his decision making was less hack it forward and more in line with a ball movement system. A quality player who will no doubt take strides this year.
Fixture: Swans (H), Dons (A), Cats (H), Saints (A), Freo (H), Roos (H), Tigers (A), Dees (H).
As he isn't the Suns #1 midfielder, fixture isn't as instructive for Anderson. A decent chunk at home and then the Dons, Roos and Tigers shouldn't be a source of dissuasion if you were already on him.
Projection: Could honestly fall either side of 105 and be flat on 100 or press 110, Looking at the data and his trajectory it makes sense for him to ratchet up to 110 but he doesn't yet have the contested, play making and linebreaking ability to go large and pull up his average dramatically. His ceiling and body of work will improve but will still have a lower floor. Solid for 105.
Tom GREEN (GWS, $534.6k, 34%)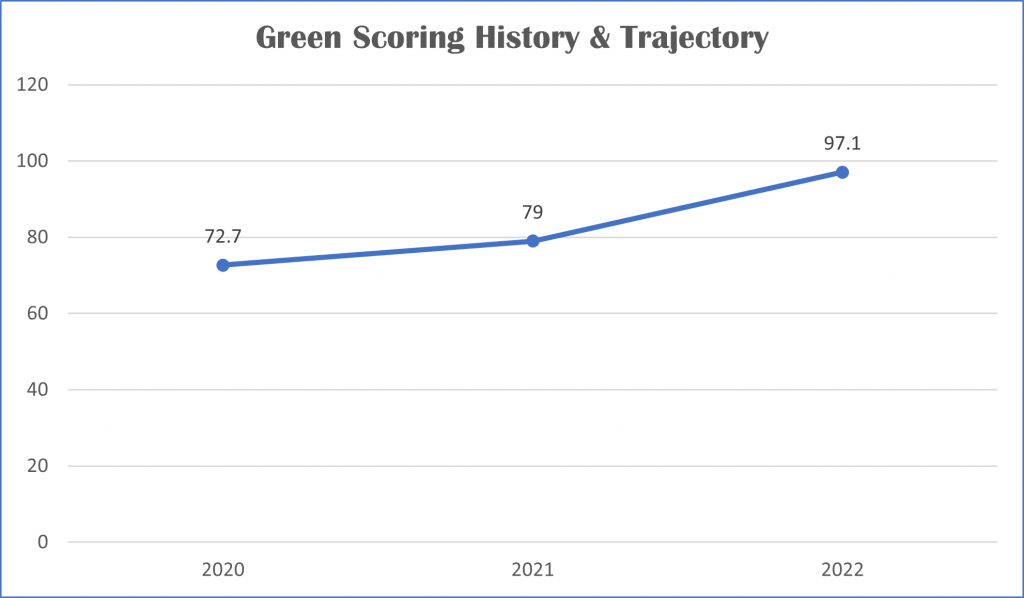 Profile: Being played out of position and a lack of continuity and opportunity have obscured and stifled the enormous SC potential and talent of Tom Green. There's no need to lament the horrors of Leon Cameron however: Kingsley is in and he GETS IT. Going to have Jelly, Cogs, Perryman and Green as his on ball brigade, so it's finally a full MID role for Green. Cut from the cloth of a traditional inside bull, Green's key attribute is coalface contested work – which is an incredibly lucrative scoring stream. That profile of an inside role and contested clout then gets coupled with the patches of SC brilliance we've seen from Green (2022 first five: 164, 106, 147, 92, 115) and GWS' fixture – making him the most surefire of the breakouts and, frankly, a must have. The one knock on Green, and this is a criticism that squarely falls on his shoulders and not on role dickery or other external factors, is consistency. He has tended to have hot starts and high octane performances and then tail off. Confidence that he'll put in a full 22 remains key to selecting Green.
Fixture: Crows (H), Eagles (A), Blues (H), Dons (A), Hawks (H), Lions (H), Swans (A), Dogs (H).
Easily the best midfield fixture of all 18 sides. The Crows, Eagles, Dons and Hawks are literally four of, if not the four, best SC opponents and those games are licenses for all of the GWS MIDs to print 130s. The Blues, Lions, Swans and Dogs are then, yes, very dense and elite midfields but it's usually the outside, uncontested players who tend to struggle against those kind of opponents. There'll still be a coalface battle with plenty of economy for Green. An insanely good fixture, strap in.
Projection: A player with Green's profile finally being played in position and just waiting to depart from his staggered trajectory should be on track for 115 season long. The attributes, system and fixture are all there.
Sam BERRY (ADEL, $478.7k, 1%)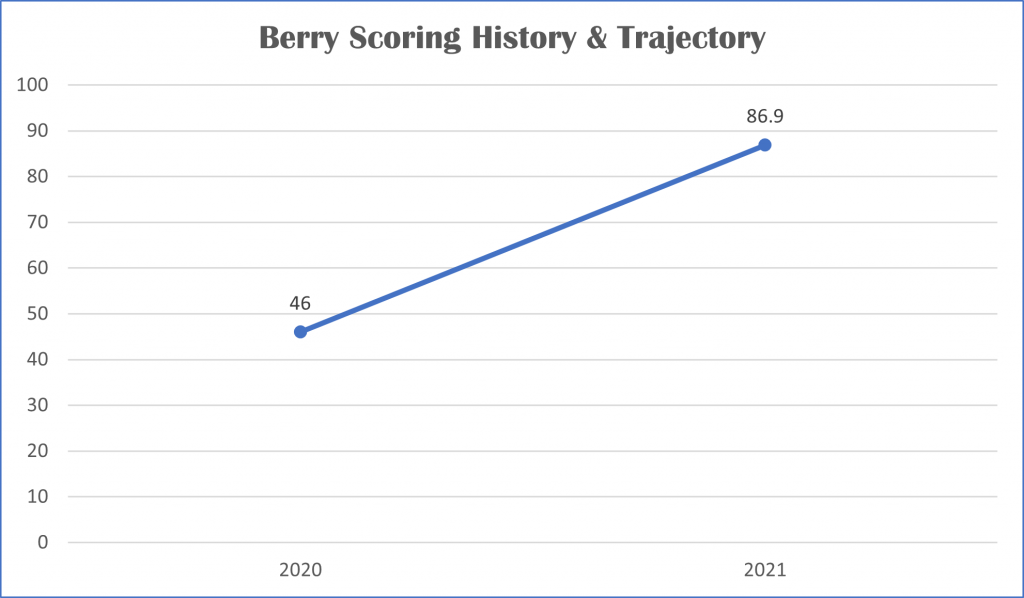 Profile: Understandably the lowest ownership of the breakouts and probably the least viable option just on where he's at as a player – comes in as the youngest. We really got a look at his strong contested and tackling profile over the course of last year, with Berry then parlaying those attributes into some really solid SC numbers in the backend. Very much a player with contested and tackling work down pat, along with a MID role, but naked in terms of two way work and accumulating work. As a FWD he'd be auto-pick and maybe a little cheaper viable as a midfielder. Keep tabs on him, because he's absolutely got the midfield fundamentals down and just needs to develop those other uncontested elements to bring together a powerful scoring stream.
Fixture: GWS (A), Tigers (H), Port (H), Dockers (H), Blues (H), Hawks (A), Pies (H), Cats (A).
Argh, closer to 400k flat and this fixture would nudge him over the line. Barely leaves South Australia and gets to crash into the Tigers and Hawks. Plus, there's no way he'd ever get tagged.
Projection: Should be able to put +10 on last year's average for 95 this year. He'll have some big scores where the stars align and he strings it all together but age and profile mean he's not quite there yet.
Breakout MIDs Rankings
Green (contested beast, finally pure OB, excellent fixture)
LDU (#1 MID, experienced, premium trajectory)
Warner (high ceiling & PPM, tags incoming)
Anderson (natural development, not explosive, balanced profile)
Berry (young, no two way or accumulating work)
---
Leave a comment / Scroll to bottom