A Tech League or Tech beleaguered?
Thinking there will be more trading this week?
From the starting line up coaches have had little chance to upgrade as we are trying to survive the long term out carnage of Dangerfield, Prestia, Caldwell, Witts, May and now Howe. And that's not counting those who snuck Ridley and others in early.
Add to that the non selection until this week of Witherden, and the stymied chances of rookies building cash such as Hunter, Highmore and Sharp to name a few, along with GWS selecting grunt over youth in the ruck.
The leaders are riding the early luck and selections but I'm tipping they have chewed into the trade count.  Chart shows the top ten.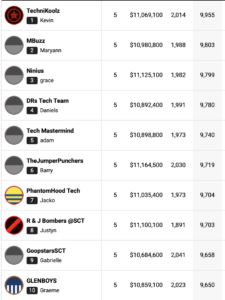 This round saw seven coaches eke out a 2000 + score, with Phil Gilbert Allstars topping the list at 2054. Others in the list were Goopstars, Jumper Punchers, Glenboys, Snipers, Technicoolz and 2 Ezy@SCT rounding out the first seven.
If you would like to share some of your secrets for trading this week, feel free, and if you'd like to hint at how many trades you've chewed up, that might make for interesting reading as well.
---
Leave a comment / Scroll to bottom