Only two teams scored 2400+ and one of them was Grace's NINIUS with 2420 ensuring she hangs on to top spot with two rounds to go.
Top scorer for the week was Technicoolz' 2432 which keeps Kevin firmly entrenched in the top eight but possibly a bridge too far with only two rounds to go.
Rounding out the top six were Lost Lands (2364); MaxPowerExperience (2358); Dark Side (2338) and All nuns with 2322.
Top two and three sides (Phil Gilbert's Allstars and Chips Ahoy) stayed in the hunt with competitive 2300s, but fourth placed DR's Tech Team took a tumble with a less than competitive 2118 for the week. Daniels lost a couple of hundred points to Grace but stays in fourth.
From last week's poll there are a few trades left out there but we are not sure who has them and what they plan to do with them. With only two rounds to go, why don't you let us know.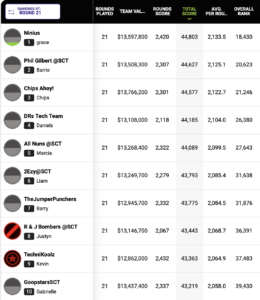 ---
Leave a comment / Scroll to bottom