Do not panic! The byes are merely a facade to seperate the men from the boys, hence why I'm cool as a cucumber 🙂 – Petracca, Heeney, Zorko, Captain Macrae, Rioli jr…. Triggered yet? Because I triggered myself typing those names….. Tim English came back with an absolute bang and the two Bulldogs in Bont and Bazlenka, were granted FWD-DPP, which means I half -support the Bulldogs, with all their players in my team now…. Just prefacing this intro by mentioning that I won't be talking about any players with the round 12 bye. Zach Merrett, Travis Boak, Matt De Boer and Sam Docherty will all feature next week,  and will all be ripe for picking! So let's get to the players that have bottomed out in price, as we look to finish our teams! Volume I, of the Fallen Premiums, Bye-Edition!

My passion you ask? Rage trading. I'm quite the connoisseur.
Defenders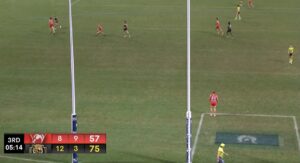 More iconic than Muhammad Ali standing above Sonny Liston.
Jake "The Seagull" Lloyd (SYD, 490.4k, (-$96.2k), 93.9 AVG, 106 BE, R13 bye) How the mighty have falleth. It's been said, but the change in play-style for the Swans, along with Blakey stealing the Mighty Gulls kick-ins, have results in a serious drop-off during the 2022 season. Blakey did miss against the Tigers which saw Lloyd score 101 points. With relatively consistent scoring Lloyd does present an interesting choice for bargain-hunters with a season low of 71 and a high of 116. Could be an interesting D6 for those looking to potentially save funds and opt to have a D7 loop in the likes of a Luke Ryan.
Luke Ryan (FRE, 450.9k, (-$89.4k), 92.7 AVG, 23 BE, R14 bye) Jake Bowey in critical condition after being handed his first AFL level loss. Thoughts and prayers are with him during this difficult time. Ryan was monstrous and key to Flagmantle's win this past weekend. 141 points, 29 disposals (25 kicks!), 100% DE, 14 marks, and took 10 kick-ins! Many may be hesitant to give Ryan a look due to a very annoying floor and uncertainty regarding his role. I believe the true value of a Luke Ryan pick, comes for those deciding to hold an underperforming D6 *cough Zorko cough*, and are looking to loop their score.
Backing it up….
Christian Salem, 515k, 204 BE, (R14 bye)
Dayne Zorko, 495k, 171 BE, (R14 bye)
Nick Vlaustin, 475k, 158 BE, (R12 bye)
Scott Pendlebury, 493k, 156 BE, (R14 bye)
Steven May, 436k, 153 BE, (R14 bye)
Alex Witherden, 534k, 145 BE, (R13 bye)
Sam Docherty, 531k, 128 BE, (R12 bye)
Midfielders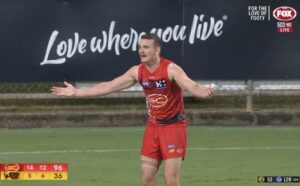 The way you'll catch me staring at my supposed "super-premium" midfielders, that have settled for a boring ton when the C is finally placed on them…
Cam Guthrie (GEE, 503.2k, (-$113.5k), 96.7 AVG, 47 BE, R13 bye) by all counts, the vintage definition of a fallen-premium. Over 100k below his starting price, has the right role and has scored 124 points (38 disposals) and 126 points (34 disposals) over his last 2 games. Over the next four games, Guthrie has, Bulldogs, West Coast, Richmond and North Melbourne. At only 29 years old (that's youthful over at the Cattery), Guthrie presents a potentially handy POD to slot in as your M8, (for those with balls of steel of course).
Touk Miller (GCS, 578.5k, (-$99.3k), 113.1 AVG, 173 BE, R13 bye) now, I'm not too fond of including players with such a large BE. However, Touk does face the Kangaroos this week, presents a nice VC option and at his absolute best, we know he can easily go 150+. For those that are in strife for round 13, could most definitely hold the trigger and grab him in round 14. Regardless, non-owners, at sub 600k, Touk Miller surely has to find a place in your midfield, with a soft fixture run for the Suns on the ride home, I highly doubt he'll be this cheap again.
Andrew Brayshaw (FRE, 536.9k, (-$47.4k), 112.9 AVG, 123 BE, R14 bye) heavily discounted as it stands, with a handy round 14 bye. Brayshaw has been a lot more quiet these last 3 weeks, averaging 96 points, 28.3 disposals, 8.6 contested,  71.3% DE, 6 tackles, 3.6 clearances  (unsurprisingly, dipping below his season average across the board these last 3 weeks). However, these last 3 games included the Gold Coast Suns winning by 36, the Pies upset, and of course the Melbourne game this past Saturday. Has the Lions and Hawks at Optus Staidium, and than the bye. Interesting to see how he fares against Lions this week before he murders my Hawks. Could also make for a nice choice post-bye, if the inclusion of Fyfe further helps his scoring stream!
Limbo Land….
Jack Steele, 591k, 200 BE *injured* – 4 weeks
Touk Miller, 579k, 173 BE, (R13 bye)
Christian Petracca, 567k, 167 BE, (R14 bye)
Callum Mills, 644k, 161 BE, (R13 bye)
Jack Macrae, 601k, 149 BE, (R13 bye)
Rory Laird, 629k, 148 BE, (R13 bye)
Patrick Cripps, 548k, 131 BE, (R12 bye)

Rucks
Sean Darcy (FRE, 581.6k, (-$61k), 107.8 AVG, 68 BE, R14 bye) what many thought was a death matchup for Darcy, and an incoming price-drop. Was actually nothing more than a great opportunity for Sean to flex and fling Dees players around. It's always a sight to behold, when this colossus obtains the ball, a player tries to tackle him, and Darcy shrugs off the tackle like a father play-wrestling with his son. 141 points against the Jackson and Gawn duo and won the hit-out battle handily, (Darcy 32 HO's, Gawn 20 HO's, Jackson 7 HO's). 16 possessions for the big-man, 12 contested @88% DE, 1 goal, 4 marks and a statement win against The Dees! For those concerned about his injury history, just let it be known, if Darcy can stay fit he will be the leading scorer out of all the rucks on the ride home.
Timberrr….
Brodie Grundy, 545k, 139 BE, *injured* – 4-6 weeks
Nic Naitanui, 587k, 131 BE, *injured* – 5-6 weeks
Max Gawn, 553k, 119 BE, (R14 bye)
Forwards
Jordan De Goey (COL, 426.2k, (-$37.3k), 89.1 AVG, 57 BE, R14 bye) in the spirit of bye-edition FP's, while discussing JDG, who was just traded out of my team prior the Blues game, I shall continue to remain mellow and cool as a cucumber 🙂 – The out-of-contract Magpie has gone below 100 in his 5 previous games. However, for those better than I that held, JDG rewarded owners with 112 points as the Magpies upset the Blues in front of 80,000! De Goey's main concerns have been his poor disposal efficiency, contested possession numbers, handball to kick ratio, his gas tank looking underdone, and as a result, can go missing throughout the game. Against the Blues we had the following stats. 1 goal, 24 possessions, 7 contested, 79% DE, 17 kicks to 7 handballs (a major uptick in ratio here), 4 tackles, 2 clearances and 505 metres gained. Comparing to his season averages, the only notable differences come from his slightly elevated DE%, kick/handball ratio, slight drop-off in clearances and of course his 11 score involvements, which was his second highest amount, (only one off his 12 involvements in round one where he scored 111 points against St Kilda). So, did I write all this to tell you not to pick De Goey? Not quite, I was just a salty owner that wasn't convinced by his efforts this season. (But now, I'm chill, a cool cucumber if I may). Jordan is cheap, has all but bottomed out in price, and has a lot to play for with the kind of money he is trying to command. Could be brought in as bye-cover, and then used as a bench swing or just straight fielded for those that want him sitting at F6.

Cool, cool, cool as a cucumber!
Forward thinking….
Tom J. Lynch, 576k, 182 BE, *injured* – 2-3 weeks
Dustin Martin, 492k, 133 BE, (R12 bye)
Tom Liberatore, 547k, 128 BE, (R13 bye)
Isaac Heeney, 463k, 126 BE, (R13 bye)
Marcus Bontempelli, 589k, 122 BE, (R13 bye)
---
Leave a comment / Scroll to bottom