Two out of every three teams in this shindig has Dusty Martin to deal with this week. The Tigers' champion took a typically Robbo bump midway through the clash with the Lions, with the resulting kidney injury ruling him out for the rest of the year. With trades scarce and spare cash even scarcer, there is a small but significant pool of possible replacements – and that's mainly where we'll be going in this week's edition of this little article.
I should also mention that JKelly, Dunkley, Mills, Greene, Darcy, Whitfield and Flynn are all either in doubt or already ruled out for Round 19. What crisis?
Ladies and gentlemen, the Fallen Premiums.
DEFENDERS
Jayden SHORT (RIC), $486 500 (-$32.8K), avg 97, BE 59 – At 37% ownership he's probably already in your team, but if he's not and you're looking to finish off your backline then your search ends here. Without the syndesmosified Houli roaming the halfback line, Short has become Richmond's go-to rebound guy. His form line is excellent (four tons in his past five starts) and his right boot is one of the most prolific in the game, ranking him 4th among all defenders for average metres gained. The back line is probably not your priority this week – but on the off chance that it is, this is a very easy choice.
Backing it up…
Lachie Whitfield, $492K, BE 182
Steven May, $514K, BE 150
Luke Ryan, $540K, BE 145
MIDFIELDERS
Bailey SMITH (WBD), $453 000 (-$41.6K), avg 86, BE 44 – It's actually been a pretty flat season from the Dogs' third year wingman as he has struggled to establish himself within a midfield full of stars. When you have the likes of Bont, Macrae, Dunkley, Treloar, Libba and Hunter to compete with, that doesn't leave much ball for the rest! However, the flying mullet is running out the season in impressive fashion and has hit the ton in three of his past four starts. Liberatore will likely to return this week and that may be a cautionary sign for Smith's prospects. But with Dunkley sidelined due to COVID protocols and Treloar still a few weeks away from a return, there is still going to be space for Bazlenka to do his thing for a little while yet and he might just be a value prospect for your M8.
Clayton OLIVER (MEL), $577 600 (-$79.1K), avg 121, BE 90 – Good value but by no means cheap, if you have the trades (and cash) to spare then Clarry is a standout choice this week. Like Short, he is hardly a POD at 37% ownership – but you are missing out and running the risk of losing those league matchups if he's not amongst your midfield at this stage of the season. Has only missed the ton in three games this season and the Dees have got Adelaide in Round 22…in case you've forgotten, Oliver's last two scores against the Crows are 204 and 205. Not a typo! You really can not afford to miss this one.
Sam MENEGOLA (GEE), $439 900 (-$139.1K), avg 91, BE 37 – Dead unlucky not to be named All-Australian last year, but let's not get into that panel's aversion to actually picking wingmen on the wing. Menegola's form in 2021 has been well short of that standard, but playing in a winning team with a nice run home bodes well for his prospects. Again, this is only something I would do if I was hopelessly short of cash and options, but there's no reason Sammy can't return to his 2020 output, where he turned out 108 points per game. It's all about risk versus reward for your M8 spot at this stage of the season…
Just quickly….The Swans are flying and Luke PARKER ($546 300, avg 105, BE 68) continues to smash out big scores – happy days! 2.6% ownership.
Limbo land…
Darcy Parish, $693K, BE 183
Marcus Bontempelli, $620K, BE 165
Jarryd Lyons, $584K, BE 165

RUCKS
Rowan MARSHALL (STK), $464 600 (-$92.6K), avg 90, BE 57 – Well, we all know what happened here. One of the great things about this site is that everyone is free to express differing opinions, but if there's one thing we all agree on this year it is this:
F**k. COVID.
Timberrrr….
Brodie Grundy, $616K, BE 142
Max Gawn, $559K, BE 138

FORWARDS
Get your Dusty replacements right here!
Shai BOLTON (RIC), $420 800 (-$41.6K), avg 91, BE 62 – If you brought in Shai three weeks ago like I did, just saying his name out loud right now will have you reaching for the mouthwash. However, Bolton now assumes the mantle of the premier midfielder at Richmond – if the Tigers even have such a thing, with their style of play predicated around selflessness and synergy. Overall, Shai's form has been solid this year, and if you can excuse those random shockers that he has thrown in, he looks to be the value pick to replace his more decorated teammate this week.
Tom HAWKINS (GEE), $461 900 (-$106.7K), avg 93, BE 79 – If there is ever a time to break one of the cardinal rules of Supercoach and pick a key forward, then that time is probably right now. With only five rounds to go risk is minimised, but there is a decent chance that you'll catch one of those big scores that this particular animal is capable of – and there's few better examples of this than the Tomahawk. Geelong's draw to finish the year promises more than one opportunity for Hawkins to grab a bagful, and with few other viable options on the table in the forward line, it's time to roll the dice people!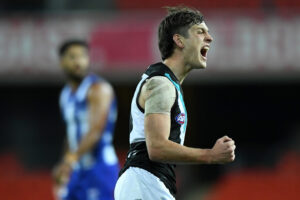 Zak BUTTERS (PTA), $454 000 (-$17.4K), avg 90, BE 138 – Injury-riddled year. Massive break-even. Liable to spend time in the forward pocket. And all I can think about right now is how back in round 4 he racked up a ton against the Tigers before halftime. And as mentioned previously – who the hell else is left to pick from? If he plays, he must be considered.
Just quickly….You've missed the boat on Patrick DANGERFIELD ($594 900, avg 105, BE 126), but if you have the trades and/or the cash to do it then don't give it a second thought and just get him now.
Forward thinking….
Dayne Zorko, $604K, BE 180
Josh Dunkley, $628K, BE 158 *unavailable*
---
Leave a comment / Scroll to bottom