Welcome all to the first official "Fallen Premiums" of 2022. While the season is still young, the typical format of looking at players that have dipped in price and have a low break-even isn't entirely possible yet. Instead, we can use the same logic and look at who is viable for those that need want to sideways trade this week.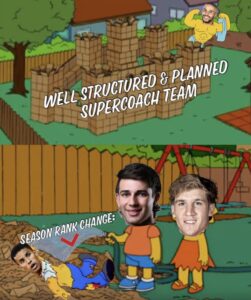 I must not rage trade, I must not rage trade, I must not rage trade…..
Defenders
Shannon Hurn (WCE, 511.1k, (+$16.5k), 110 AVG, 59 BE) a super-POD with less than 1000 owners. Hurn is getting up there in age, but his days of going 150+ aren't going anywhere. Started the season with an 86 & 88 before dropping 156 points v Freo. Given the amount of time you'd be expecting the ball to be down the defensive end for the Eagles, taking a punt on Hurn isn't all that ridiculous.
George Hewett (CAR, 453.7k, (+$54.7k), 119.7 AVG, 41 BE) I feel like a broken record mentioning him weekly. However, with Cerra returning, we did get a proper look at Hewett's role and CBA load. 17 of 26 CBA's v the Hawks, (second only to Cripps). For non-owners, I wouldn't say Hewett is a must-have player, but with a low BE, anyone wanting to bring him in should do so this week!
Backing it up….
Jake Lloyd, 587k, 141 BE
Jack Ziebell, 565k, 150 BE
Aaron Hall, 565k, 142 BE
Christian Salem, 515k, 205 BE *injured*
Caleb Daniel, 483k, 149 BE
Midfielders
Tom Green (GWS, 502.4k, (+$72.4k), 139 AVG, 45 BE) another monster score for the GWS bull! (Unfortunately stripped of his ruck duties). Tom Green has truly ascended to another level this season. There are definitely shades of Clayton Oliver with Tom Green's play this season (and the fact all redheads look the same). I'm also reminiscent of Clarry's second season where he averaged 112 points. However, in comparison to Oliver, Green has been in the AFL system for an additional season and has 10 extra games under his belt. With the added experience, could Green one-up Clarry and push for a 115-120 AVG?
Patrick Cripps (CAR, 518.8k, (+$64k), 137.7 AVG, 26 BE) I'll be honest, I didn't see 119 points coming from the Carlton Captain after bringing him in. Very much looking like a keeper and the definition of a "fallen premium", it's hard to believe this is the same player that we saw in 2021. 31 disposals, 12 contested @68% DE. 6 marks, 1 goal, and 11 tackles! Yep, it's no surprise he's currently the Brownlow favourite!
Dylan Shiel (ESS, 361.1k, (N/A), 100.5 AVG, 13 BE) two games, two tons for Shiel along with a healthy CBA load, with 19 (61%) v Brisbane in round 1 & 14 (50%) of the CBA's v Melbourne this past Friday night. With Merrett set to miss at least the next 5-6 weeks, you'd have to think this is a defining opportunity for Shiel to find his footing back in the guts. He definitely took his chance and ran with it against the Dees, being instrumental in the mini-comeback they attempted in the last quarter. If he can stay on the park, it wouldn't be out of the norm for Shiel to average 100 odd until Merrett returns. Should be able to make some decent money during that time as well (if he can stay on the park…).
Lachie Neale (BRL, 597.2k, (+$54k), 147.7 AVG, 51 BE) I'll just quickly mention Neale as well. Hurt his ankle early and copped attention from North's Kayne Turner. Fortunately, Neale gutted out a respectable 105 points. Could be the last time for a while Neale is sub 600k!
Limbo Land….
Jack Macrae, 679k, 168 BE
Touk Miller, 656k, 173 BE
Jack Steele, 647k, 151 BE
Sam Walsh, 637k, 163 BE
Marcus Bontempelli, 621k, 155 BE
Tom Mitchell, 580k, 176 BE
Luke Parker, 576k, 192 BE
Patrick Dangerfield, 554k, 177 BE
Rucks
Tim English (WBD, 521.9k, (+39.3k), 124.7 AVG, 58 BE) a monstrous effort for English on Thursday night, 152 points in a round where not many premiums were cracking 120! 69 ruck contests, 10 hit-outs to advantage, 8 clearances, and a total of 52% of ruck contests won. With Stef Martin yet to return, we don't have a complete understanding of Tim's ruck-load. However, with the form he's currently finding himself in, it's looking like it won't affect him too much!
Timberrrr….
Sean Darcy, 643k, 191 BE
Nic Naitanui, 627k, 190 BE
Max Gawn, 616k, 160 BE
Brodie Grundy, 605k, 161 BE
Rowan Marshall, 506k, 175 BE
Forwards
Stephen Coniglio (GWS, $338.5k , (+$77.2k), 109.3 AVG, -48 BE) it's hard to believe Cogs is only in 75% of teams. If I was a betting man (and fortunately for Crown Casino, I am), I'd chuck an even $100 that even Sleeping Beauty has him at F3 currently. 149 points over the weekend v Gold Coast and looking like the Cogs of old, the only question with Cogs was whether he'd be a keeper. As each week passes by, we're getting a clearer answer.
Daniel Rioli (RIC, $376.1k, (+$40.1k), 96.3 AVG, 5 BE) when Houli went down with injury late last season, Rioli played off halfback and finished the season with scores of 83, 111, 54, 87, 95 & 77 and an average of 84.5. 20 possessions @100% DE against the Saints, resulting in 107 points. Rioli has the right role and has gone 100+ for 2 weeks in a row now. Could he be a sneaky POD and a keeper at D6/F6?
Forward thinking….
Mitch Duncan, 540k, 159 BE
Jake Stringer, 507k, 150 BE
Tom Hawkins, 492k, 180 BE
Tarryn Thomas, 459k, 174 BE *injured*
Chad Wingard. 438k, 163 BE
---
Leave a comment / Scroll to bottom