It's too early to start upgrading just yet, so if you're trading now it's either correctional or dodging donuts. Whatever the case it always seems tempting to shell out the big bucks and chase those points, paying up for players who are running hot. But be warned – overpaying now will see your team finish with a rookie or three on the field at the pointy end of the season. The best strategy is to find the under-priced players whose scoring will exceed what their price tag suggests…and so we come to the Fallen Premiums.
DEFENDERS
Tom STEWART (GEE), $514 700 (-$23.3K), avg 99, BE 103 – Owners of the Cat with the headband and the ink and the mean looking 'stache probably haven't quite got what they were hoping for so far this year. Stewart has been serviceable rather than exceptional, but if he can rediscover the form that saw him post seven consecutive tons to finish the 2020 season then he will once again be a must-have in your defence. Always uses the ball well and often by foot and is currently 7th in the league for total kicks.
Backing it up…
Shannon Hurn, $476K, BE 165 *injured*
Caleb Daniel, $468K, BE 159 *suspended*
Jake Lloyd, $619K, BE 151
MIDFIELDERS
Patrick CRIPPS (CAR), $507 100 (-$16.6K), avg 95, BE 89 – It's been a spotty start to the year for the Blues' champ, who has looked a step slow and a tad cumbersome at times. However he is extremely well priced for someone of his potential output, and you'd be mad to write him off at this stage of the season. Crippa may not have started the season fully fit, but the eagle-eyed among you will have seen his improvement each week and now might be the best time to jump on.
Adam TRELOAR (WBD), $551 700 (-$35.9K), avg 96, BE 97 – One of the great Pre-Season Mysteries in 2021 was how the Bulldogs would accommodate yet another gun midfielder into their already star-studded lineup. A few niggles early on have seen Treloar gradually phased into his new home, but the orientation period is over now and Adam has posted back-to-back tons in the past fortnight. An undisputed jet with multiple 110+ seasons to his name, you won't see Treloar pushed out of position by necessity like some of his teammates. 68% and 64% centre bounce attendances in the past two games – second for Dogs mids behind Macrae in each case – is another good sign.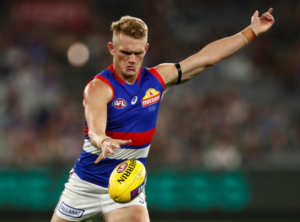 Jarryd LYONS (BRL), $601 000 (-$3.6K), avg 114, BE 100 – Unlike the first two midfielders mentioned here, there are no question marks about Lyons. Look up "unsung" in the dictionary and there's a picture of Jarryd there. You wouldn't recognise him if you saw him down at the pub, but he averaged 113 last year and is well on the way to posting a similar result in 2021. While everyone's ranting about Neale, a grand total of 1844 coaches are silently grinning to themselves in the knowledge that the rest of us picked the wrong Lion.
Jack STEELE (STK), $653 800 (-$4.2K), avg 124, BE 101 – If the secret wasn't already out, Jack's blazing 150 against the Eagles last weekend has officially let the cat out of the bag. The Man of Steele is the form midfielder in the competition and arguably the best two-way player in the game right now. He's always been able to tackle, but it's his improved ball-winning and ability to kick goals that has raised his game to the next level. Plays 6 of his next 8 games under the roof – and right now could realistically be your last chance to get him this year without having to sell the farm.
Limbo land…
Andrew Brayshaw, $514K, BE 186
Lachie Neale, $585K, BE 168
Clayton Oliver, $612K, BE 161
Travis Boak, $586K, BE 155
Marcus Bontempelli, $599K, BE 152
RUCKS
A relatively significant number of us may face a dilemma this week, with popular rookies Flynn and Meek facing tough decisions at the selection table. If the unthinkable should happen and you don't have the cash to get to one of the big kahunas (sorry), then who is your next best option?
Reilly O'BRIEN (ADE), $508 100 (-$62.7K), avg 86, BE 61 – A fairly dodgy start to the year from the Crow with the granite scone, with a putrid pair of 50s to his name. As can happen though, injury to his direct opponent in round 3 gave big ROB the lift he needed and he has now posted back-to-back tons, albeit against less than stellar opposition. O'Brien was great last year in punching out a 106 average, but can he back it up in 2021?
Tim ENGLISH (WBD), $504 500 (-$46.7K), avg 94, BE 72 – Another year and another off-season in the gym for English. The recruitment of Stef Martin as a second ruckman has enabled Tim to establish himself in the forward line, where he poses a threat through his outstanding combination of height and mobility. Utterly dominant against the Lions at Ballarat last weekend in compiling 17 possessions, 8 hitouts and 3.3 in conditions that really should not have suited someone of his stature.
Timberrrr….
Rowan Marshall, $557K, BE 172
Nic Naitanui, $575K, BE 134
FORWARDS
Aaron NAUGHTON (WBD), $410 000 (+$80.3K), avg 95, BE 35 – You've probably guessed by now that there's a distinctly Dog-like flavour to this week's article. As a key forward in a team that is in fairly sizzling form, the AstroNaught has a 3RA of 105 and it would've been higher if he had managed a better return than 2.5 inside the mini-tornado that they had going at Ballarat last weekend. Naughton is one of the best contested marks in the game and can get it done at either end of the ground. At the very least you should keep an eye out for him in your draft leagues!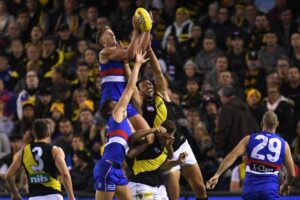 Jarman IMPEY (HAW), $365 200 (+$152.4K), avg 102, BE -6 – Again, technically not a Fallen Premium as such, but his brilliant early season form has shown just how under-priced he was to start with. I guess the dilemma with bringing Jarman in now is that he hasn't always been the most durable of players, and if he were to ping something than you'd be well short of replacement options at this tricky price. On the other hand if you think he can average 95+ for the rest of the year, Impey remains an absolute bargain….for now.
Taylor WALKER  ($468 700, avg 131, BE 38) and Toby GREENE ($489 100, avg 104, BE 49) were both here last week and each duly saluted with a triple figure return. Both players come with a caveat emptor due to their respective checkered histories, but there is a potential reward to match that risk. Good luck!
Forward thinking….
Patrick Dangerfield, $612K, BE 152
Dustin Martin, $546K, BE 146
Zak Butters, $501K, BE 142 *injured*
---
Leave a comment / Scroll to bottom