It would usually be too early to start upgrading, however, with a few injuries, suspensions, and plateaued players (looking at you, Jake Bowey). Many coaches will be looking to make moves for the upcoming round. We could pay up, chase the players running hot, and risk not having enough cash-gen to finish our teams correctly later on. Alternatively, we could try and look at those that have dipped in price and seek value. This all assumes our decision-making isn't based on rash and poorly thought-out ideas. Anyway, welcome to The Fallen Premiums for Round 5!

Cripps captainers, can't say I didn't warn you…
DEFENDERS
Jack Crisp (COL, $551.3k, (-$19.7k), 101.8 AVG, 107 BE) many people chose to start Crisp because of his incredible durability, 2021 scoring consistency, dashing good looks, and the fact that Jake Lloyd was a rd 1 miss. Crisp took advantage of Adams and De Goey's absence this weekend, getting plenty of the pill and rewarding those who held with a solid 132 points. His current price is a bit high considering the question marks around his role, but you can do a lot worse than the well-oiled machine that is Jack Crisp.
Bailey Dale (WBD, 507.3k, (-$11k), 101.8 AVG, 93 BE) off the back of a role change, Dale had a phenomenal All-Australian year in 2021. Continuing to build upon last season, Dale had a solid outing against the Tigers, recording 31 possessions, 21 of which were kicks, 8 marks, 490 metres gained, 3 of 8 kick-ins and 115 points. The week prior, against the Swans, Dale had a game high of 734 metres gained. Dale has a beautiful kick, which sometimes results in him taking risks and doing too much, but also allows him to gain points quickly. A serious POD (found in only 3% of teams) for those looking to upgrade Bowey.
Backing it up….
Jake Lloyd, 559k, 148 BE
Aaron Hall, 546k, 154 BE
Jack Ziebell, 539k, 165 BE
Luke Ryan, 529k, 160 BE
Christian Salem, 515k, 205 BE *injured*
Brayden Maynard, 503k, 149 BE
Jake Lever, 495k, 170 BE
MIDFIELDERS
Marcus Bontempelli (WBD, 614.1k, (-$37.6k), 113.5 AVG, 117 BE) playing injured to begin the season hasn't slowed the Bont down all too much. Hasn't yet dipped below 105 and just recorded 136 points against the Tigers. The Dogs have North, Adelaide and Essendon in the next 3 rounds, all of which could result in some monster scores for the Doggies captain. If Bontempelli can build upon his interrupted start to the season and perform at the level he's well and truly capable of, Bont could easily find himself a top 8 mid at season's end.
Jack Steele (STK, 636.6k, (-$49.2k), 111 AVG, 128 BE) had great seats at the game to watch the Man of Steele run havoc on my helpless Hawks. Discounted heavily from his starting price, it's no surprise that Steele has turned around his slower than expected start. 33 touches, 15 contested, 10 marks and a goal resulted in 125 points. However, Steele does have a date with GWS & Lachie Ash in 2 weeks, which would rule out any urgency to bring him in. Still he presents a great set-and-forget option for those looking for a premium midfielder.
Darcy Parish (ESS, 584.3k, (-$37k), 106.8 AVG, 126 BE) a frustrating start for Parish owners. He averaged 102 over the first 3 rounds before getting back to his accumulating best on Sunday with 38 possessions. 24 of those disposals were handballs, and a few turnovers did take away from his score, resulting in only a modest 121 points. Parish does present value considering the monstrous ceiling he showed during his breakout season in 2021. However, his CBA load has been reduced, with Parish finding himself parked in the goal square and in all sorts of funky positions at times this season. With games against Fremantle, Collingwood, Bulldogs, Hawthorn and Sydney on the horizon, I'd be expecting to see Parish turn it around sooner rather than later.
Limbo Land….
Clayton Oliver, 639k, 162 BE
Touk Miller, 627k, 188 BE
Andrew Brayshaw, 622k, 175 BE
Christian Petracca, 597k, 168 BE
Ollie Wines, 555k, 156 BE *injured*
Josh Kelly, 547k, 152 BE
Dayne Zorko, 526k, 152 BE
Patrick Cripps, 525k, 152 BE *injured*
Luke Parker, 509k, 184 BE
RUCKS
Max Gawn (MEL, 617.5k, (-$39.9k), 114.3 AVG, 86 BE) the demise of Gawn has been greatly exaggerated! A total of 19,000 SCers had traded him out. Gawn's response to the non-believers was to drop the highest score for the round. 160 points, 25 disposals, 18 of which were kicks, 12 contested, going at a modest 60% efficiency. 33 hit-outs, 1 goal, 1 backwards kick in the goal-square and back to his marking best with 12 grabs. Preussless GWS (137.6, 3-game AVG) this week, followed by Richmond (151.6, 3-game AVG) and then the Hawks (150.6, 3-game AVG). With a breakeven of 86 and a 40k discount, now is the best time for those who want Gawn back on their teams.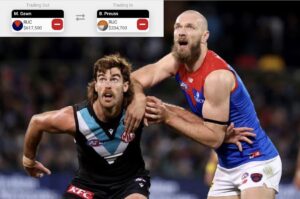 Hindsight is a fickle b*tch, isn't it…
Timberrrr….
Nic Naitanui, 587k, 130 BE *injured*
Brodie Grundy, 587k, 131 BE
Sean Darcy, 643k, 235 BE
Oscar McInerney, 486k, 159 BE
Rowan Marshall, 464k, 137 BE
FORWARDS
Tom Hawkins (GEE, 465.7k, (-$45.2k), 94.8 AVG, 76 BE) Tomahawk is getting up there in age, but that doesn't stop him from pumping out those large scores we've been accustomed too. 148 in round 1 and 120 points against the Lions on Friday night (an event most notable for the people dressed as boats, delaying the game and harassing the crowd, yes, you read that right). Hawthorn (MCG), North Melbourne (Hobart), Fremantle (GMHBA). Currently leading the league in goals and goal assists, the next 3 weeks will more than likely see Hawkins pull out another monster score or two.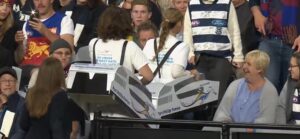 I wasn't kidding.
Forward thinking….
Jake Stringer, 507k, 148 BE *injured*
Mitch Duncan, 500k, 140 BE
Tarryn Thomas, 459k, 172 BE *injured*
Robbie Gray, 456k, 151 BE
Zak Butters, 454k, 152 BE
Steele Sidebottom, 441k, 128 BE
Chad Wingard, 438k, 161 BE *injured*
---
Leave a comment / Scroll to bottom