Firstly, I was going to post a simple "please explain these scores Champion Data" in place of your usual Fallen-Premiums, but alas, that 600 word rant post is only for the archives to see.
Secondly, I was going to post a simple "please explain Will Day's suspension in comparison to that of Gary Rohan's tackle." But alas, that 600 word rant post would be a waste of time, the answer is obvious. Every AFL team needs to get in contact with Carlton's legal department.
So a lot of the big hitters (besides Clarry who is an absolute SC pig), have found themselves with a hefty discount. So, get your watch list ready, and your boosts activated, let's get straight into the Fallen-Premiums.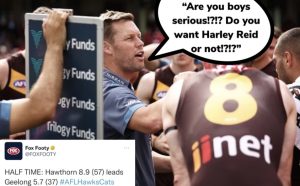 Defenders
Jack Sinclair (STK, 576.9k, ($-47.9k), 101 AVG, 154 BE)
Starting with the first of the two most expensive defenders heading into the 2023 season. A 50k discount on Jack Sinclair is a bit of a Godsend considering the carnage that has been occurring in the defensive line. With some question marks having being raised regarding Stewart with Duncan now having returned, Sinclair has squashed any fear Ross Lyon, and the likes of NWM would effect his output. I'll also highlight the 63 he scored against the Dons. Firstly, as many might have realised in regards to player scoring in 2023; something surely has to be in the water over at the Champion Data HQ. In a winning-effort, Sinclair had 26 touches which equates to the third most for any Saint. A handy 73% DE, with a favourable kick/handball ratio resulted in only 63 points, strange… Now Jack does have a breakeven of 154, so he's by no means a priority, but for those that can't quite stretch to Dawson, Sinclair might be another alternative to consider.
James Sicily (HAW, 580.6k, ($-44.1k), 99.5 AVG, 145 BE)
Firstly, 1.3k have traded Sicily out after those 76 points against the Cats. Now I can't stress this enough, but kindly reverse those trades if you're one of the knee-jerkers. Considering my Hawkers hit the showers at HT thinking the game had been called, a 76 point score considering it was the Jezza Cameron show should be a tick to the Sicily pick. Has a huge BE, I'm aware, but for those with an inkling for a Doch-sized problem, Sicily could truly go large this week against the Giants. For most however, keep him on your radar, and look to bring him in once he's set to bottom out. Sicily for sub 540k is an absolute bargain.
Sam Docherty (CAR, 525.5k, ($-78.1k), 84.8 AVG, 143 BE)
Joking, sort of. Will be ripe for picking post-bye for 300k the way he was tracking… Serious note, Hope he's back soon Blues fans.
Backing it up…
Jack Sinclair, 577k, 154 BE
James Sicily, 581k, 145 BE
Sam Docherty, 526k, 143 BE*
Angus Brayshaw, 480k, 143 BE
Midfielders
Touk Miller (GCS, 625.9k, ($-36.5k), 112.5 AVG, 128 BE)
Quite frankly, this could just as simple as, "Touk Miller is 625k, what are you waiting for?" And I'll run with that. Freo this week, worried about an Aish tag? Touk has all the ability to burn the tag and hit 110+. But the real gold comes the next fortnight onwards. Touk has a difficult opening fixture, and with the likes of North and Richmond in the next three games, get ready to see that ceiling he's famous for for.
Patrick Cripps (CAR, 594.1k, ($-17.8k), 111.5 AVG, 114 BE)
Never a better time than the current to look at potentially bringing in the Crippa. Loved to go large against the Crows last season, posting two 140+ scores (yes, even when tagged). Has the last bye, and Saints and Eagles after he faces the Crows in the opening game of Gather Round. Don't be fooled by the likes of Kennedy and Walsh to return, Cripps is a great option for those priced out of Touk.
Chad Warner (SYD, 502k, ($-30.7k), 97.5 AVG, 92 BE)
Now I know Warner has some question marks, his CBA load isn't quite right, and he did have two stinkers scoring an 80 and a 59 in the previous fortnight. But he bounced back to form against Port, 30 disposals, 2 goals and 139 points. Has Richmond this week, and with not much presenting itself in the VC department, he could even be a nice Smokey choice. Cash-gen seems to be pretty scarce this season, and someone like Warner at 500k could present immense value. The issue resides with the midfield split not being ideal as we'd have hoped, but there's no doubt Warner has the talent, and ability to average 110 and be a strong M7-8.
Limbo land…
George Hewett, 565k, 168 BE
Rory Laird, 652k, 163 BE
Jack Steele, 604k, 160 BE*
Callum Mills, 601k, 155 BE
Darcy Parish, 578k, 151 BE
Marcus Bontempelli, 611k, 139 BE
Rucks
Nank owners, just pay up for a ruck that'll be injured in a week or two.
Timberrr…
Max Gawn, 622k, 216 BE
Forwards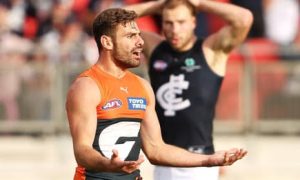 Stephen Coniglio (GWS, 516k, ($-41.7k), 94.8 AVG, 167 BE)
Oh boy. As someone that was forced to bring in Coniglio two rounds ago due to a certain LDU late-out, I'm convinced CD have a vendetta against Coniglio. Firstly, for those that own him, don't think about moving him. He's already bled some cash, and there's no doubt he's a top 8 forward come seasons end. The role is right, the ability is there, there's no alarm bells like there was last year under Leon Cameron, He who shall not be named. The good news for non-owners, Cogs will be available for a trade-in shortly at sub-500k (well he does have my Hawks this week, so watch him reach his BE), which is timely as Sheezel and Ziebell both gain DPP next round. In short, owners hold, non-owners, wait a week or two to bring him in.
Forward thinking…
Stephen Coniglio, 516k, 167 BE
Josh Dunkley, 579k, 140 BE
Isaac Heeney, 459k, 140 BE
---
Leave a comment / Scroll to bottom