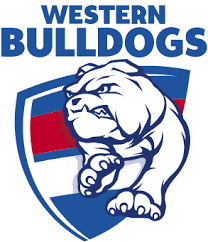 A frustrating season for the Dogs who failed to really stamp themselves after copping a belting in Perth during 2021's final game. But with stars across the field, many within their prime years or atleast leading up to them, hopes will be high as the new season approaches.
Traditionally a high scoring Supercoach team, with strong ownership amongst coaches, they'll be a close eye on Bulldogs games this year.
Defenders
Lock and Load
Bailey Dale ($561,100): Posted his first career triple figure average last season, with a low of just 68, while everything else was 75+ to go with 13 tons, overall a very consistent season, and we should see very similar numbers again. Has the reigns as backline distributor at the Dogs due to his lethal right foot and he's doubtful to cop a tag since the Dogs have so many other smooth movers across the field. A POD to start but one that could well be a set and forget type.
Feeling Lucky
Ed Richards ($460,400): With most teams being complete after the bye, Richards form went unnoticed to finish the year. Averaged 111 from rounds 18-23 and that demands attention as a feeling lucky pick. Theres room for another distributor in the Dogs backline since they tend to pick up possessions at will, and I'm liking Richards over Daniel to have that role with his dash and solid left foot. Talk also is that Daniel is looking at more time between the arcs this season, which would open up some scoring opportunities for Richards.
Money Maker
Jedd Busslinger ($153,300): Pick 13 in last years draft is a strong key defender who is probably competing for a spot early in the season amongst the plethora of talls that the Dogs have at either end of the ground. Surely gets a game at some point but will have to contend with the likes of Darcy, Keath, Jones and probably Bruce down back. At the end of the day, he's a young key defender who may be starved of opportunities early, but after the success of Paddy McCartin and De Koning last year as key backs, we can't rule him out.
Midfielders
Lock and Load
Marcus Bontempelli ($639,500): Still in his prime years, Bont has averaged 115+ since 2020 and is every chance to do it again or go even better this year. Still the captain and obviously has the massive ceiling potential, he provides a VC/C option week in week out and seems primed to lead this formidable midfield group once again. Doesn't get bothered by tags, kicks goals and gains plenty of metres, all keys to a Supercoach elite player. Nearly a quarter of coaches have him currently and that is only going to grow. 
Jack Macrae ($634,400): Since he had such lofty standards leading in, his season average of 115 was disappointing, and a rough Supercoach finals series will remain in coaches minds, but his average was still good for 6th in the entire league. Will be back at it again this year, finding plenty of the pill and, with Dunkley gone, shouldn't be wandering around on a wing again. If he could kick a few more goals (only 4 last year) and keep up his ball finding standards, that average should remain the same at the bare minimum.
Feeling Lucky
Bailey Smith ($542.700): There's been murmurs of a less than ideal pre-season for one of the AFL's most popular figures, so just wait before selecting him in your 2023 team. In saying that, does all the things you want of a Supercoach player: finds the ball, kicks it long, loves a goal, but it is worth mentioning he did have the most turnovers per game of any player last year. If he can clean that up, and claim some of Dunkleys midfield time as his own, he could have a massive breakout in year 5.
Money Maker
Super strong midfield already at the Dogs but there's probably a case for Oscar Baker ($123,900) as a money maker. The ex Demon should get a gig but I'd be wary of him being a consistent sub.
Ruck
Lock and Load
Tim English ($581,000): There's the concussion history to consider, but factor that out and English is in the perfect scenario to finish as the number 1 ruck this year. Essentially plays as another midfielder within this group and should have the number 1 ruck role all to himself, but Bevo is renowned for moving stuff around. 25 years old to start the season so in the prime years now, he's in plenty of teams and looks set to be a safe pick.
Forwards
Money Maker
Toby McLean ($178,900): His one game last year where he actually took the ground netted him 100 Supercoach points from 21 touches and 9 tackles in the elimination final, pretty handy for a guy starting below 200K with DPP! It's been four whole seasons since he averaged a very nice 95 in 2018, but he's still just 27 and hopefully with injury issues behind him, he can be a solid money maker for us in 2023. In over half (54%) of the teams currently signed up for SuperCoach.
Josh Bruce ($161,200): Another guy under 200K with best 22 history is Bruce. Only averaged above 70 once (and that was 2018 when he managed 3 games) so the scoring history isn't great, but talk his his playing down back this year, probably heightening his scoring potential if he can play that intercepting role. Risky, but a chance to make a good amount of cash if he can string some games together. 
---
Leave a comment / Scroll to bottom