In this ten-part series, we'll try to find you that elusive breakout contender, the underpriced and undervalued gem who could decide your Supercoach season's fate. Some basic criteria (which are a little flexible):
Player is entering their second, third or fourth season in the league,
Starting price somewhere between $350K and $500K, and
Averaged somewhere between 70 to 90 ppg the previous season.
Last up is a Tigers forward with the promise of more….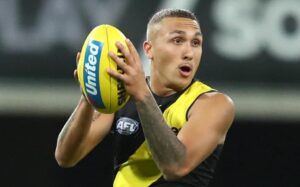 Shai BOLTON (RIC)
2021 Starting Price: $462 400 forward/midfielder
Scoring History (most recent first): 86.1 (15 games), 69.8 (16), 30 (3), 49 (6)
Why he will BREAKOUT this year: Selected by the Tigers at pick 29 in the 2016 draft as a stereotypical crumbing forward, Bolton has developed beautifully under judicious coaching to become one of the more exciting young midfielders in the league. Despite the abbreviated format of the 2020 season, Bolton still set personal bests for possessions per game and posted a very encouraging 86 ppg, becoming an integral piece in the Tigers machine that powered their way to a third premiership in four years. Shai has retained his forward status and further improvement would make him an essential player in that position for this year of Supercoach.
Why he won't: While certain teams may have more "superstars", Richmond have proven beyond all doubt that they are the best team in the comp with a game style predicated on synergy and selflessness. Great for winning flags, not always so good for Supercoach though! Only one Tiger posted a 100+ scoring average in 2020, equal lowest of any team in the comp (Carlton with Sam Walsh were the other).
VERDICT: For coaches who prefer to save their money for the midfield, Bolton is vying for the F3 spot with a few other notable budget options that have already been mentioned in this series. I probably won't be doing it, but I can easily envision regretting that somewhere around round 5 or 6….

Loading ...
---
Leave a comment / Scroll to bottom