In this ten-part series, we'll try to find you that elusive breakout contender, the underpriced and undervalued gem who could decide your Supercoach season's fate. Some basic criteria (which are a little flexible):
Player is entering their second, third or fourth season in the league,
Starting price somewhere between $350K and $500K, and
Averaged somewhere between 70 to 90 ppg the previous season.
Next up is a Roos midfielder ready to come of age….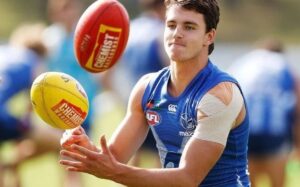 Luke DAVIES-UNIACKE (NTH)
2021 Starting Price: $432 800 midfielder
Scoring History (most recent first): 80.6 (9 games), 63.0 (14), 40.4 (7)
Why he will BREAKOUT this year: The much-hyped LDU was taken by the Roos at pick 4 in the 2017 draft, with the expectation that he could be the most AFL-ready player drafted that year. That hype turned out to be a horrible trap as Davies-Uniacke spluttered his way through his rookie season and the next as well, with a combination of injury, lack of confidence, and poor team performance contributing to sub-par performances. Groin soreness forced Davies-Uniacke to take some time off at the start of the 2020 season, but when he returned we saw a much improved version of this undoubted talent as he formed a promising midfield combination with the likes of Jy Simpkin and Jed Anderson. Davies-Uniacke is a contested ball specialist which equates to lots of Supercoachy goodness, and early signs are that he has finally got his body right for the rigours of a full AFL season.
Why he won't: One, North Melbourne are not a very good football team, and two, no dual position status. I'm fully expecting big things from Davies-Uniacke this year though, and all you draft coaches need to stay awake during the later rounds if his name is still on the board.
VERDICT: The Shinboner hierarchy will be hoping for an injury-free year for this man, who showed some exciting signs last year that he may be finally living up to his pre-draft reputation. If he can add a greater defensive presence to his ball-winning abilities, there's a future premo on the cards here.

 Loading ...
---
Leave a comment / Scroll to bottom