Small or Far Away, Father Dougal on Cows
Hi Everybody!
So, the whole VC thing, take what you have or risk going with someone else? In theory there should be a way to look at when to do that using math. I gave it a try. I'm not sure this is the ideal way to try it, but I think the results at least make sense.
Let's take the people we might most safely swap to this season: Macrae, Bont, Oliver, Gawn, Grundy, Steele, and Parrish. I took every one of their scores and put them into 5 point group, like 100-104, 105-109, etc.  I am only using Parrish's score from round 6+, since that was, as I recall, his role change and nobody was going to captain him before that. Might help with simulating us knowing when someone is in form.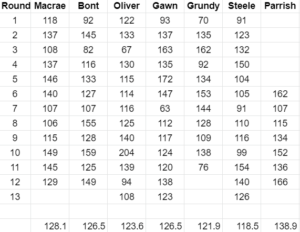 That gave me a total of 81 scores. I used the lowest number for my calculations, so the scores in the 100-104 group all counted as 100.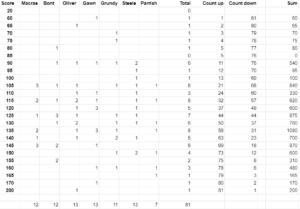 As I am writing this up I am seeing how I could have done this better, but maybe I'll check before next week and see if it matters. I don't think it will, but to be safe I'll check.
Anyways, that means we can see how many score were above or below any score and how often.  (You can see that in the count up and count down columns.) Combines with the sums of those scores, that means we can see how much the average over and under is, and that means we can evaluate the outcomes.
Here's the charts for 120, 125, and 130.  The number in a box on the lower right is the average gain from not taking the VC.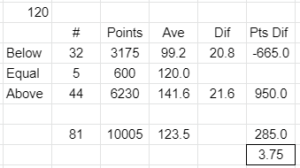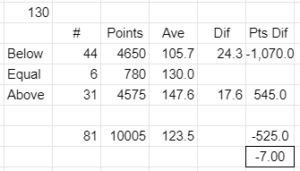 As we can see, there is a small gain of 3.75 points, on average, from not taking the VC of 120 and putting the C on one of the top captain-able players.  With a VC score of 125, there is a small loss. With a VC score of 130, there is a big loss, an average of 7 points.
Now, there are things that could affect this based on my set up. I used players we know are good C options and I even cherry picked Parrish's scores which I think is a bias towards switching.  There is no case in this data set where someone got hurt early in the match and scored a 2 or a 20. That can happen. That's another bias towards switching, that exists since I was using the real this season scores. I also knew who to pick in the data sample and they are the best players.
So, it looks like the keep point is about 125  at most.  This exact set of numbers shows 120 as a small win to not take the VC< but with the biases I mentioned I'm inclined to think that 120 might be a keep.
Oh and at 115, there was a 9.45 point gain from not taking the VC score. Below 120 it looks like switch for sure.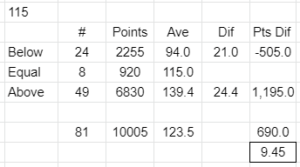 Defenders 
Cows
Nikolas Cox: Did not play.
Jack Buckley: Played and did pretty well again. Has topped out, Pretty safe to hold, as if anyone is getting rid of R14 players.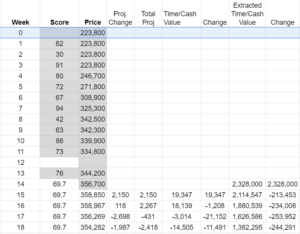 Jacob Koschitzke: Played and scored ok.  Seems very secure in the side, which makes him a good option to hold as D7 in case of an out.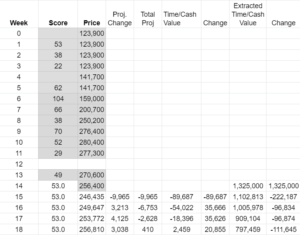 Thomas Highmore:  I throw up my hands in an explosion of frustrated detachment.  Anyone who still owns him is happy.  WTF is up with Brett Rattan, I have no idea.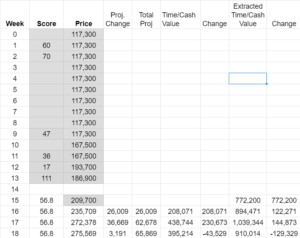 Nathan Murphy: Got hurt, subbed out, lost cash. Will not make cash for a while and then not looking like much.  I'm trying to decide if he is worth trading out. Probably team dependent.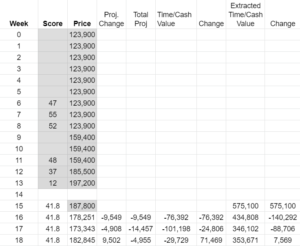 Cow-Like-Objects
Jordan Clark:  Did not play.
Changkuoth Jiath: Apparently needed a rest.  I'm expecting he will do in the future what he did in the past, go up and down and average about 85 or so. Certainly has a job. Not adverse to trading out if he goes up a lot, but no rush either. Should make money over the next two rounds, so extra no rush.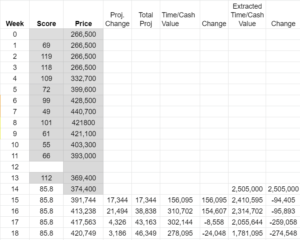 Midfielders
Cows
Sam Berry: Came back and did decently, helping his price before his probably sale this week.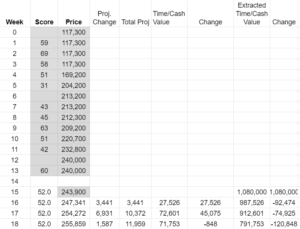 James Jordan: Made it to his bye with a great price.
Tom Powell: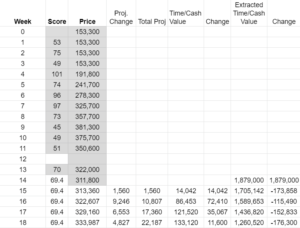 Lachie McNeil: Did not play.
Riley Collier-Dawkins: Did not play.
Ryan Bynes: Ready for sale. Well done those who picked him up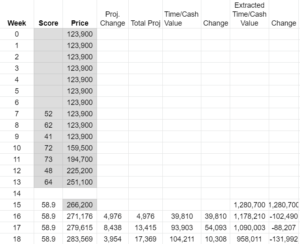 Rucks
Matt Flynn: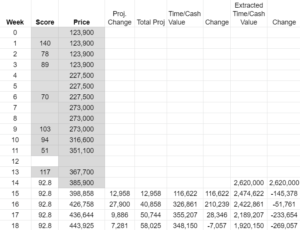 Jordan Sweet:  Did not play.
Forwards
Cows
Robertson:   Did not play
Warner: Did not play
Scott: Did not play
Rowe: Did lose money, but did score points. Ready to go.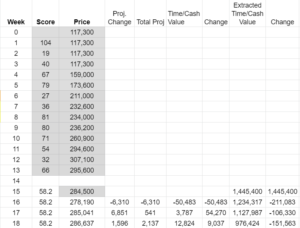 Bergman: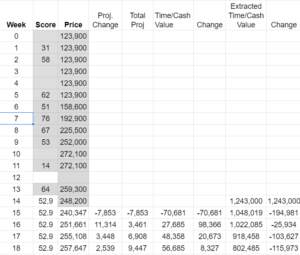 Farar: Did not play
Owies: Did not play
Poulter: Still growing, and wow is he good. I'm still temped to hold him if I can get away with it, but he is not playing this week and has useful funds. Team dependent I think.  Doesn't have that much more money to make, so really a hold as DPP backup or get cash now.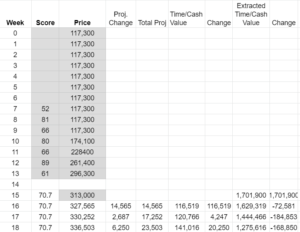 Jones: Did not play
Madden:  Did not play
Weightman:  Did not play
Cow-Like-Objects
Atkins: Ugh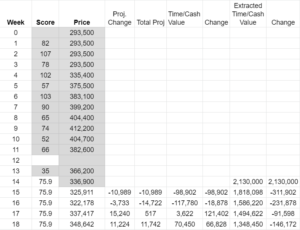 Daniher: Did not play
Please let me know if I missed someone or messed something up.
Dodgy Advice:  This Haynes guy from GWS was good last year and just posted a ton. I'm sure that's not extrapolating from a small data sample and seeing what we want to see. Nope, not at all…..
Remember the Cow Talk guarantee: "All predictions wrong or triple your money back!"  (Offer not valid if money is actually involved.)
I am time zonally challenged.  When Cow Talk goes live, I'm probably asleep, so replies from me may take a while.
Thanks for reading!
---
Leave a comment / Scroll to bottom