Small or Far Away, Father Dougal on Cows
Hi Everybody!
A lot of bargains and near bargains this week. If you don't own Short he is such a good looking trade in. But, if you own him and still have a lot of defensive rookies playing, would it be better to get a reasonably priced premium that gets a rookie off the field rather than a cheap player on another line?
Sounds like a question that can be answered with the aid of mathematics! 
Yes it does!
So, say you want Luke Parker up front. Right now he is priced, conservatively, 20 points under what he should average.  That means 15 rounds of 20 point savings. which is 300 points.
But, he will be more like 15 under next week, so that means he'll be more like 75 points saved. 
Let's keep both those in mind.  Also someone else will come along. Also, what if he is replacing Martin who is averaging 90? Then he's more like 15 round of 15 points savings for  225. So it is not for sure clear, but we have some ideas. (If Parker is replacing someone scoring badly, then this is not so much an issue.)
Now, say you have NOD or De Koning playing. Say they average 60 for, um, a while. If you can replace one with say Docherty or Sinclair, who are looking like they will average 110 or more, that is a difference of 50 points a round.
If you were only looking at one upgrade in isolation that's 50 points a week to catch up on the missed value, which would be at most 6 weeks, and maybe just 2 weeks.
Are you sure you are thinking about this correctly?
Well…no…..
Ok, Parker in for Martin on field will be about 15 points a week. Getting Parker a week early means about $25k savings which is about 6 points a week value that can be used somewhere else. So that is 21 points a week for 15 weeks which is 315 points.  So, a 50 point difference would take over 6 weeks to make that up.
Won't we make moves before 6 weeks! 
Yes, so if we make another trade up in two weeks we have only save 100 points. Now we did save it right away and into the books. So…good. But still that doesn't seem to work well. If you do one down and one up next week, then it is just 50 points savings.
And  a lot of the good defenders have high breakevens so you would be getting them cheaper. 
 So the best move would be get Parker even if it pushed Martin to the bench, and then get a premo defender next week after a price fall. 
Well…the numbers seem to say that. I mean you get probably $25k to spend next week and have to spend less on who you bring in. You are down 35 points probably, but then you get a defender next week and all you have to do is make up 35 points of value with that spare $25k and  however much you save on say Sinclair or Doc, call it $5k…..
That's not the result you expected is it? 
Nope. I don't set out to prove stuff just to figure it out. And it looks like getting Parker now cheap, even if it means pushing up the 90 averaging Martin is a good long term play over getting a defender cow of the field.
Plus, Parker for one week, he could go for more than 105 v the Suns. 
Yes, good point. Ok, well, There you go. Exactly how the number work will vary by team, and a lot of teams can just bring in Short in defense if needed.
Might be boost time
Might be!
Defenders 
Noah Answerth: Back to almost his starting price.  Off to Moo-ron Mountain!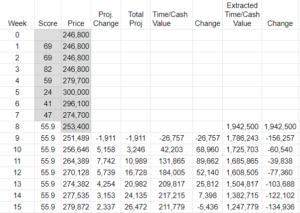 Jake Bowey: Has the 106 in his average for another round. Can see after that.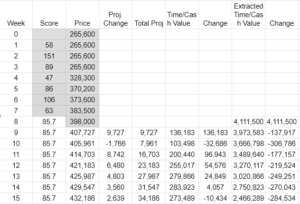 Heath Chapman: Did not play
Sam De Koning: Burning a bit faster. Looks like hold for at least a few more.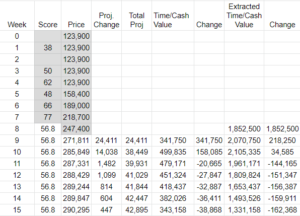 Josh Gibcus:  One more round of growth. Might well be ready to go after that, or could ton up again and be kept for longer. We will know next week.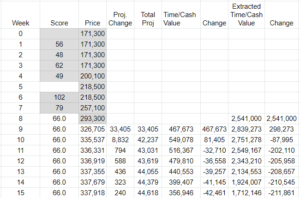 Mitchell Hinge: Did not play
Patrick McCartin: Did not play
Nathan O'Driscoll:  That 42 is in his system for one more week, then he may go back up some. Could certainly go this week as another 50ish will cost cash and no idea if he will ton up again. Or hold and hope.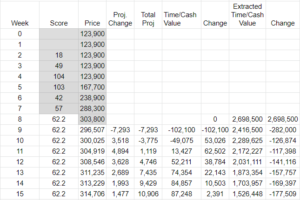 Midfielders
Jarrod Berry: That 48 sure hurts. may be the most likely to be traded out after that.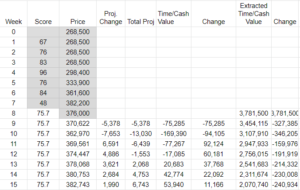 Jye Caldwell: His scores are slowly creeping down. I'd be awfully tempted to trade him now. Lots of people to go up to….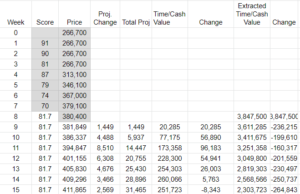 Nick Daicos: still ambling along and could ton up and make a lot more. And has the last bye.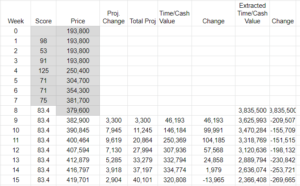 Thomson Dow: Did not play
Jason Horne-Francis:  Last round with the 39 in his average. Likely to go back up and has the R14 bye.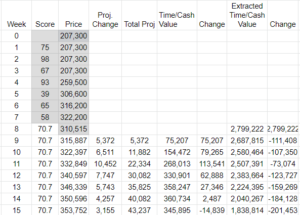 Brady Hough: Did not play
Dylan Stephens: Did not play
Josh Ward:  Did not play
Rucks
Hugh Dixon:   Did end up playing. With so many outs he will probably solo ruck, which makes him hard to trade out this week.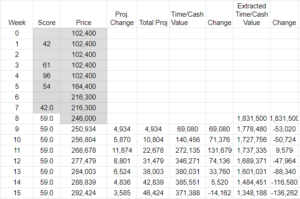 Tristan Xerri: Did not play
Forwards
Will Brodie:  Well, maybe not a keeper but still maybe. I do not think I would panic from one bad score.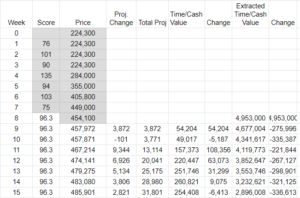 Charlie Curnow: Might be ready to cull at the beginning of R9, but could put up another ton and extend that.
Jade Gresham: Cheap Gun. Also may need to go as a Gun and non-cow. Kudos to those who started with him.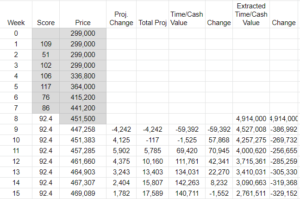 Connor MacDonald:  Sigh.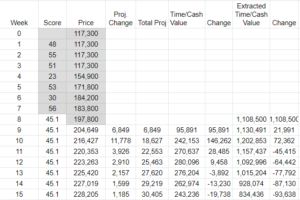 Finn Maginness:  Sigh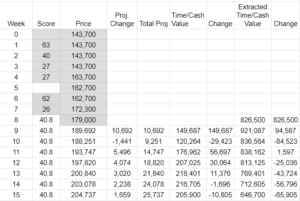 Nicholas Martin:  Lots more cash to make after another ton. So hard to trade out until forced.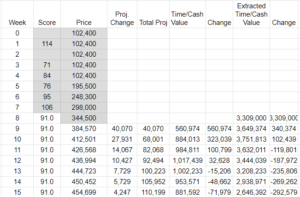 Patrick Naish: Seems to be going ok.  Not much more to say. Still.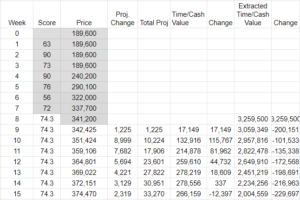 Josh Rachele: Three bad scores in a row is not good. Could do a fourth, could ton up.  Nothing wrong with getting him out this week. He is playing.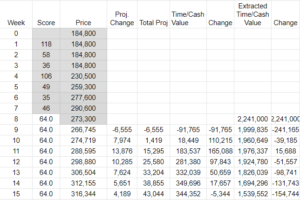 Hugo Ralphsmith: Did not play
Please let me know if I missed someone or messed something up.
Dodgy Advice: 
We may well have too many downgrade options next round. Might be a good idea to bring in one a round early.
Remember the Cow Talk guarantee: "All predictions wrong or triple your money back!"  (Offer not valid if money is actually involved.)
I am time zonally challenged.  When Cow Talk goes live, I'm probably asleep so replies may take a while.
Thanks for reading!
---
Leave a comment / Scroll to bottom