The curse for the teams coming off the bye continued, especially for the Eagles who would have most likely pinched a win otherwise.
A juicy Fallen Premiums this week for those looking to finish off their teams. Guys like Himmelberg I'm not quite sold on, yet, I'd like to see how he's utilised this week before jumping on.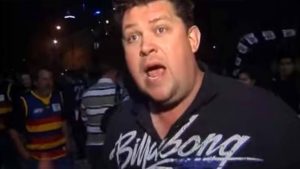 Defenders
Jack Sinclair (STK, $564.7k, (-$61.5k), 104.5 AVG, 91 BE)
The week prior against the Tigs, Jack Sinclair played off HB and scored 102 points, in what was a deserving 120+ score. And this past weekend against the Lions, playing predominantly as a midfielder, Sinclair went LARGE, scoring 133 points, and mounting a case as a near "must-have" to round out your defence. The Eagles this Sunday could even see Sinc's as a cheeky Captain option for those straying from the pack. Anyway. Obvious choice if in need of a premium-priced defender.
Luke Ryan (FRE, $521.1k, (-$10.5k), 110.7 AVG, 52 BE)
Just a quick mention for Ryan while we're here, monstrous score, had a lot of cheapies, and looks primed to finish top 8 in defence. Last chance to hop on before his price rockets up, prefer him to the likes of Ridley and Docherty!
Adam Saad (CAR, 440.3k, (-$127.3k), 92.6 AVG, 88 BE)
Started the season on absolute fire, with an 115 point average after the first 4 games, before a hamstring concern slowed him round 5, and resulted in Saad missing round 6. Since returning, he's yet to ton. So why would we even consider Saad? Well, firstly he was looking to be on track for a 150 point game against GC before cooling after half time. If you're bullish that Carlton can turn their season around, that's where the beauty of all the Carlton players who are now at a healthy discount, are ripe for consideration.
Backing it up…
Tom Stewart, 592k, 140 BE
Caleb Daniel, 635k, 139 BE
Midfielders
Patrick Cripps (CAR, $457k, (-$154.9k), 98.6 AVG, 89 BE)
Crippa was averaging 115.6 points up until round 7, in which his ownership had hit 20%. But, for those that unfortunately jumped on, the Blues skipper didn't quite reward, failing to ton for the next 6 games. The game against the Suns saw Cripps score 117 points, as Carlton finally found themselves with a much needed win, and a week off to reset. The fixture from here-on is friendly, Hawks, Fremantle, Eagles, GCS, and with only two game away from Melbourne. For those priced-out of the next echelon of mid-premiums, Cripps could be worth a punt!
Matthew Kennedy (CAR, $406.1k, (-$126.3k), 75.3 AVG, 39 BE)
Truly feels like a "Fallen Premiums – Carlton edition." Fresh off the bye, with a date against the Hawks, Kennedy was one of the best in their shellacking against the GC Suns. The CBA's are in that 40-50% range for Matty K, the price is cheap enough for a near straight-swap from a Humphrey type, and the three round average of 91 points inspires some hope. If you can loop Kennedy with another player, I'd be all over this pick. Quick note, Kennedy is Def/Mid DPP, which is just an added bonus for potentially looping him!
Callum Mills (SYD, $430.2k, (-$212.2k), 86.3 AVG, 167 BE)
Priced as one of the most expensive players heading into the season, it's absurd that Mills can almost be picked up for 400k. The elephant in the room has to come from the Sydney co-Captain getting subbed out of the drubbing against the Eagles, but I'll leave a quote from the Horses mouth.
"We subbed Millsy. We just got to three-quarter time & thought that was enough for him. He started the game so well, it was great to have him back in the team. He was outstanding."
The Swans being conservative with Mills is no surprise, especially considering the game against the Eagles was practically another bye for them. Obviously, waiting a week is the sensible option, but for those like myself that can loop him with a discount player, I don't mind going a week early.
Limbo land…
Patrick Dangerfield, 537k, 194 BE
George Hewett, 414k, 178 BE
Callum Mills, 430k, 167 BE
Christian Petracca, 653k, 161 BE
Matt Rowell, 570k, 150 BE
Rucks
Briggs, Witts, Romo, English. Pick 2

Timberrr…
Sean Darcy, 516k, 175 BE
Jarrod Witts, 572k, 145 BE
Rowan Marshall, 574k, 142 BE
Forwards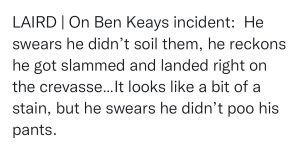 Ben Keays (ADE, $462.7k, (-$85.9k), 79.1 AVG, 33 BE)
Covered everything I wanted to last week, but once again, he deserves a mention purely off how much value he potentially presents. 78% CBA's, and 119 points against the Pies. Since moving back into the midfield, he's averaging 110.5 points. The fixture is good for the Crows boys, and there's no reason to shift Keays out of the middle in my opinion. I've been saying it since I first mentioned the Keaylock, that if he retains a spot in the middle, he'll be good to average 95+. In that absolute robbery of a game this past Sunday, (I feel your pain Crows fans), Keays had 29 touches, 16 contested, @76% DE, 5 tackles, and 10 clearances. A few times his disposal resulted in a direct turnover, and a couple FA's hurt what could have been a 130+ score. I brought him in last week, and I'm quite bullish on him for non-owners.
Tarryn Thomas (NTH, $343.8k, (+$48.1k), 92 AVG, 12 BE)
In contrast to his best in 2021 as a 500k FWD, he's a fallen premium in my books. Since returning from his controversies this season, Taz has scored 89 points, 112 points and 75 points. The first two games he played, was more to the blended Mid/Fwd role he was thriving in back in 2021, with a two game CBA average of 57%. And this past game against the Dogs had him predominantly off half back, with only 22% CBA's, due to the form of Will Phillips and the inclusion of Simpkin, and Greenwood. LDU is set to return this week, which only further signifies TT off half back, which it's yet to be seen how he scores playing there. The game against the Dogs, he was the 2nd highest disposal winner for the Kangaroos with 24, poor usage @67%, with only 7 contested and a lack of tackles however hurt what could have been a decent score. Again, if you can bring him in for a Matt Johnson type, and loop him, I do like this pick. But wouldn't consider it if you had to start him every week.

Forward thinking…
Jeremy Cameron, 395k, 178 BE
Josh Dunkley, 700k, 145 BE
Jack Macrae, 594k, 142 BE
---
Leave a comment / Scroll to bottom