Well the byes are just around the corner and site legend Lisa (The Amazons) has requested a post as to what are we planning for the byes. I have been wracking my brain as to how best approach this. There's so many different scenarios and all teams are so different by this time of year. I finally landed on just talking about my team and my plans for the byes. Hopefully the process of me going through my team and the angles I'm looking to play will be of some use you guys looking are your sides. I have SuperCoach Plus, which just makes everything easier to visualize. I really value this feature and feel its worth the $25 investment. If you don't have Plus, you can write out your team and use highlighter pens to get a better idea on players available in each bye round. Just remember all four bye rounds score best 18 on field. If you say have 20 on field, the bottom 2 scores will automatically drop out of your score. All bye rounds you will have 3 trades available, you can boost and use 4 if you have any left.
All graphics below are my team this week after trades. Eddie Ford may become Fleeton, depending on teams, but they have the same bye so it works for these examples anyway. I have also only moved rookies I feel will play on field whilst moving some premos that miss that week onto the bench. You may see I'm holding Oliver as I'm low on trades and really want him in my final team. He will be benched until Round 15 when I hope he returns.
Round 12 Bye
Teams Missing: Brisbane, Sydney, Fremantle, St Kilda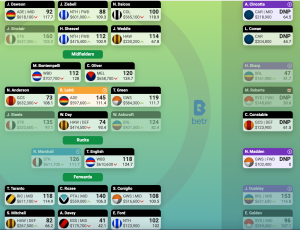 I thought this may be one of the easier Byes for me this year, with just four teams missing. Oliver missing doesn't help at all. I have left him on field as I don't expect Constable to play. I have recently added Jack Steele (R8) and Jack Sinclair (R11) into the team so I now have a bit better balance. As you can see though with a number of dead rookies, It means I'm struggling to field 18 at this stage. I do have a plan to sideways Cowan to Wardlaw giving me 18. If Cincotta somehow plays that gives me 19 so I should just scrape by. You don't really want to trade in any premiums in this week as they will miss a week soon, and it will be a waste. Just sit tight and maybe just correct a red dot to a playing rookie like I'm planning to do (Cowan to Wardlaw).
Round 13 Bye
Teams Missing: Gold Coast & Geelong
There's really no need for a graphic here as I can easily field 22 with only Anderson missing from my team. Other relevant players missing this week are Stewart, Ratugolea and Simpson, Rowell, Powell, Atkins and the wonder kid Humphrey. Owning a few of these guys will certainly help you during the next two more challenging bye rounds. This is the round you can freely trade in players that have already had their bye in round 12. Some trade in targets could be Serong, Brayshaw, Neale, Sinclair, Steele, Parker, Warner. Basically anyone you like that has their bye already.
Round 14 Bye
Teams Missing: Hawthorn, Melbourne, Essendon, Collingwood, West Coast & Adelaide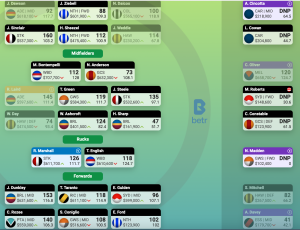 This is when thing start to get a bit tricky. Remember Cowan went out for Wardlaw so if Sharp can hold I should be good for 18 before trades. Cincotta playing would make 19.  Knowing this rarely works out I'm planing on trading one of the Hawks boys. Let's say for example I downgrade Weddle (I like Mitchells DPP) for McAndrew or another non round 15 bye player who's on the bubble. This should free up cash for to upgrade the following week. Although I still wont be upgrading this week, feel free to get in anyone you like that has already had their bye.
Round 15 Bye
Teams Missing: Western Bulldogs, GWS Giants, North Melbourne, Port Adelaide, Richmond & Carlton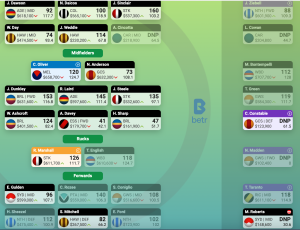 This is the really tough Bye for most teams, nearly all of our popular forward players are missing as well as highly owned players like English, Bont and Tom Green. Theres a big chance I cop a donut this week, as I have pretty low trades and I'm not really in a position to sideways any Premium players. Best case my rookies hold and I can play McAndrew at R2. I then plan to upgrade Cincotta, so I maybe able to field 19. Best laid plans eh! If Oliver is still not back, rookies get dropped, or I cop any injuries it could get ugly.
Post Byes my team will most likely still have Ashcroft at M8 and Mitchell as (F6/D6 ) as my "only" rookies on field. If a few of Sharp, Wardlaw and Ford manage to make some cash, I may be able to get to full Premo, by round 17-18. Hopefully in time for SC finals.
Well, that's my my plan for the bye rounds. I really hope you can get something out of it and plan yours the best you can. One quick note.Unless you are really flush with trades, sideways trading rookies to make 18 can come back to bite you later in the year. Try and only target rookies that you think have JS longer term (think Wardlaw) as they can at least be cover if a Premium goes down. I'd personally rather cop a donut than say 60 points from a rookie during the Byes. Saving this trade to sideways a Premium with 3-4 weeks left may net you closer to 300 points, so try to think long term.
Best of luck everyone.
Thanks for reading
Cheers FT.
---
Leave a comment / Scroll to bottom