Wayne's alter ego Dawn was the only coach to urge her team over the 2000 points line this week. Killer Bees finished on 2023 in a massive result considering the carnage surrounding selection for what was supposed to be an easier bye round. The result was an eighteen rung leap up the ladder to earn a top twenty spot at 19th.
Old master Chips Ahoy finished in second with 1947, a score that leapfrogged him into the top five in the group trying to chase down YeeterTECH at the top of the group. Ultimately Chips only picked up five points in that chase as Yeeter cruised in at 1942 in third spot for the week.
Rounding out those whose coaching skills earned them more than 1900 were the perennial performers, and now top ten, Goopstars with 1927 "ish", the ever consistent Maxismen on 1922 and Zac's firmly top three entrenched LathazSCTTL with a cool 1902.
Next week is supposed to be the easy bye round with only two teams missing. But is it ? In a Tech Comp where trades have taken priority over bye planning, possibly not. Let us know in the poll how you will be travelling when your team takes the field this week.

 Loading ...

 Loading ...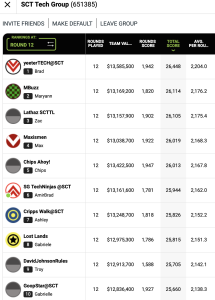 We will post a top ten each week of the byes to follow the vagaries of the bye rounds and how it may change during the next three weeks.
---
Leave a comment / Scroll to bottom