The big scores of last week shrunk somewhat this week. From ten coaches who scored 2600+ last week, we could only muster six coaches this week with a score above 2400.
Five of those six nailed their "C" with a combination of Bont, Trac and Zerrett, but ironically the leading points scorer was forced into a Baird "C" after a failed Naicos "VC". Despite the 186 Lathaz SCTTL coached by Zac scored 2482 to take the win for the week.
Amir got back into the fold this week with a stirring second placed 2469 from his SG TechNinjas @SCT and jumped a couple of spots. Chips Ahoy! scored yet another podium finish with 2457, followed very closely by my very own wife's Fixed Interest on 2453.
Graeme's Glenboys was in the top list with 2428 and Ash's Cripps Walk with 2404 was the last of the coaches above to score in excess of 2400.
Nice to finally climb a bit after my disastrous start, but 1600 odd off the pace spells the end anyway. 406 points away however, is not necessarily the end for any of the top five coaches at this point as that is all the separates first from fifth. Anything could happen, injuries, form, bad "C" choice etc.
So now, who kept a trade up their sleeve for a Nasty Naicos type situation ?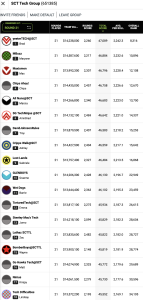 ---
Leave a comment / Scroll to bottom