The latest and longest, untouched iteration of my team in its full glory. I'll go through every pick and my reasoning, while also breaking down on each line who has been a locked-in pick practically all pre-season. You'll notice the team is based upon the new SC buzzword "value", I'll break down at the end an insight into my thinking.
Defenders

First thing you may notice is that there isn't James Sicily to be found, I know, I'm a traitor. The added 20k that Doch provides, while also playing an unbelievably friendly SC role just makes him too hard to pass up-on. Dawson is the other contender in this spot, while fading Stewart (who I started last season) is something I'm bullish on considering the impending tags and the lack of KP games early on. Liam Jones found himself in the team after his impressive performance against North and Nick Larkey. He is someone Gunboat Diplomacy had flagged a while ago, and between Crozier, Coffield, and Jones, that D3 spot had been up for taking. Constable has really impressed me off that move to defence. Originally had flagged him to be too slow, and lacking quality usage of the pill to be able to get a gig at AFL level so early into the year, to now starting at D6. He's really surprised me, slightly concerning with the returning GC defenders in the early season, but great on-field until then. Cincotta, and Cowan do both concern me, one bad game away from getting the arse is never a good thing for your money makers. If anyone else pops up I'll look to shift.
Locked in: Jordan Ridley has been in serious considerations since SC opened, and found his place in my team shortly after, only getting shifted for a brief period as I played with Daicos at D2. He was a head-scratcher to a few initially, and has now seen his ownership unfortunately (for me) spike to 9%. Between Redman pushing up the ground more, Brad Scott's arrival at the club and introducing what seems to be a positive system for Ridley to thrive in. At 500k I think it's a gamble worth taking. Yeo has practically been in my team since the beginning barring a couple days of flirting with two 600k defenders. Ultimately, he's just too cheap for what he can potentially produce. I don't expect 100's and for him to be a keeper, but I do expect him to make good cash and offer a decent scoring stream. Also avoids the potential, scores great first two rounds, bring him in, and then later on trade him out again. Ginbey, not much to say, looks like a gun, has been at D3-D4 for what seems like the whole pre-season, waiting to get a proper look at him. And boy did he deliver, lock! Wilmot on the other hand has also been there, initially on-field, but his less than inspiring role/performances have seen him moved to the bench.
Midfielders

No Laird, no Oliver, no Neale, no Value! Oliver is someone I've been happy to fade for a good while now. Neale I still believe to be a strong pick, loves to explode in the early season, and can only see Dunkley further helping free-up Neale. Laird has been the constant, in and out of my team all pre-season, solely due to the fact he's as consistent as it can possibly get. Pay 700k, get your 120-130's every week, no stress. Reminds me of someone else, the man sitting at my M2 position. Started 2022 off as the most expensive mid in the game, yet had a lacklustre year by his standards. A strong start to the season was halted due to getting Bevo'd lost on a wing, and seeing his CBA's drop by about 15%. Sitting at only 634k, it seems he's largely gone under the radar. from 2018-2021, he averaged 120+ points, and hasn't missed a game in what feels like forever. Last year his average dropped to 115 due to less OB time, but he still finished a top 8 mid. Worst case scenario here, he goes about 115 again. But with the departure of Dunkley, the durability, the glorious R15 bye that he has, and what we've seen from him in the pre-season, I can see him going back to his 120+ best in 2023.
Worpel had been in my team for a healthy chunk of the pre-season. After his poor showing against the cats I put a line through him, and swapped him to Sheed who I believed to be much safer. Then Worpedo in only three quarters of OB time, and a slightly managed TOG, grabbed thirty possies against the Pies and found himself back in the team. Still not 100% sold on him though. Callaghan another that I'd been hearing about all pre-season, so found himself originally on my watchlist, before finding himself at M6. Wing on GWS isn't the same as wing on most teams. The only thing that makes this injury a bust is Callaghan's durability. Has the quality to go 75+ easy. Mackenzie has been on the watchlist all pre-season, and he done more than enough in his first official showing to find himself on-field. The Ward 2.0 comparison is entirely unjust. Ward retained a healthy midfield load going into the 2022 season, but due to his poor usage was scored horrendously. Mackenzie is a much better user of the ball, and I personally have him going around the 65 mark. Not a must-have by any means, but a definite good choice for M8. Baker really impressed on the weekend, and literally won himself a R1 spot as a result in a game he wasn't even set to play in. Lock him in.
Locked in: Bont is Bont, will be relying on him as a VC/C early in the season, hasn't left my side. Green another I have been hyping up as if I was his  agent all pre-season. Again, also flirted with my boy Titch in the side a while ago, but Green had too much upside to pass up, unfortunately everyone has begun to realise that. Hopper is great value for the role and track record he has, hasn't left the team. Ashcroft has looked unbelievable, I don't believe in "must-haves", but he's as close as anyone to that label. Phillips and Chesser has also been in the side for pretty much the whole pre-season. Phillips however has seen himself moved to the bench (not that he isn't good to start on-field, has a great role).
Rucks
Darcy is treated as royalty over at my team. Brought him in for his monstrous 2021 as a POD to clean up a few leagues, what a player. Surprisingly stays on the park, albeit always battling some injury. With a pre-season under his belt, and good showings in the practice games (don't put too much weight into those, Jackson played only a half in the first, and Darcy beat up on an unfit Lycett in the second), I can see Darcy setting a new bar this season. The inclusion of Jackson doesn't phase me all that much. RoMo, well everyone has him, and for good reason.
Locked in: Madden, the ultimate loop.
Forwards

Cogs has seen himself moved to the likes of Bruhn, and Ziebell to free up cash, however, I think at his price, with his new role, and his early fixture, he's too hard to pass up with the money being used poorly elsewhere. The practice game may have turned a few off of him, however, he had a high PPM, good role and looks set to continue with where he left off. In regards to future DPP's in Gawn and Petracca, I'm not phased at all, firstly no-ones guaranteed to get it. Secondly, I do intend on trading 2-3 of my R15 bye players to the best available to get points on the board, and that means I've got an extra option for that manuevre. Gulden found himself in the team off the back of that performance. Third year player that has some absolute quality about him, it's a risk you have to take. F6 has been a trip, Flanders, Bruhn, Sheezel, McLean have all found themselves there. Personally think Flanders is the best of the lot, strong finish to the season in the VFL followed by a strong pre-season, and decent showings in the pre-season games. Also allows for an easy correction to any of the cheaper boys if they show-out. One thing I will not about these younger mid-pricers in the pre-season, is that they are all playing for a B22 spot. That's why Yeo for example is scraping to a 78, while the likes of Bruhn and Flanders are busting their ass to ton up. Davey had a good showing, moved up the ground well, should be in everyone's considerations for the bench.
Locked in: Dunkley, will be my other reliant VC/C in the early parts of the season. Can't remember the last time he wasn't in my team. He's my smokey Brownlow prediction as well. Taranto who I'm not exactly a fan of has been in my side all pre-season. There just isn't a way he doesn't finish top 6 in the forwards barring an unfortunate injury. Rozee wasn't in my team until early January, but hasn't left since, he's an absolute gun, strong pre-season showing is just the cherry on top. Greene has been locked at F7, and the pre-season games only further affirmed that decision.
Final Thoughts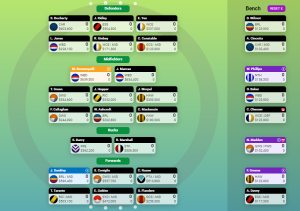 10.9k ITB
Quite happy with the overall team. Have a lot of options to run too if a certain pick fails, and I'm happy to burn trades in the first two rounds correcting failed picks. Potentially looking at: Worpel, Cogs and Flanders to Sheezel, Steele and Bruhn. Let me know what you think of the team and that move. Cheers fellas!
---
Leave a comment / Scroll to bottom