Hello, all . It's time for me to drag out my Team Reveal for 2022. This is my initial starting team I posted on March 14 . There was quite a few  last minute changes that I will discuss forthwith. I have also gone through every trade I made during the season. As painful as it is sometimes, I really recommend looking back at what you have done this year.It can certainly help with next years decision making!  So with no further ado: TheDashingDonkeys@SCT.
Original Team Reveal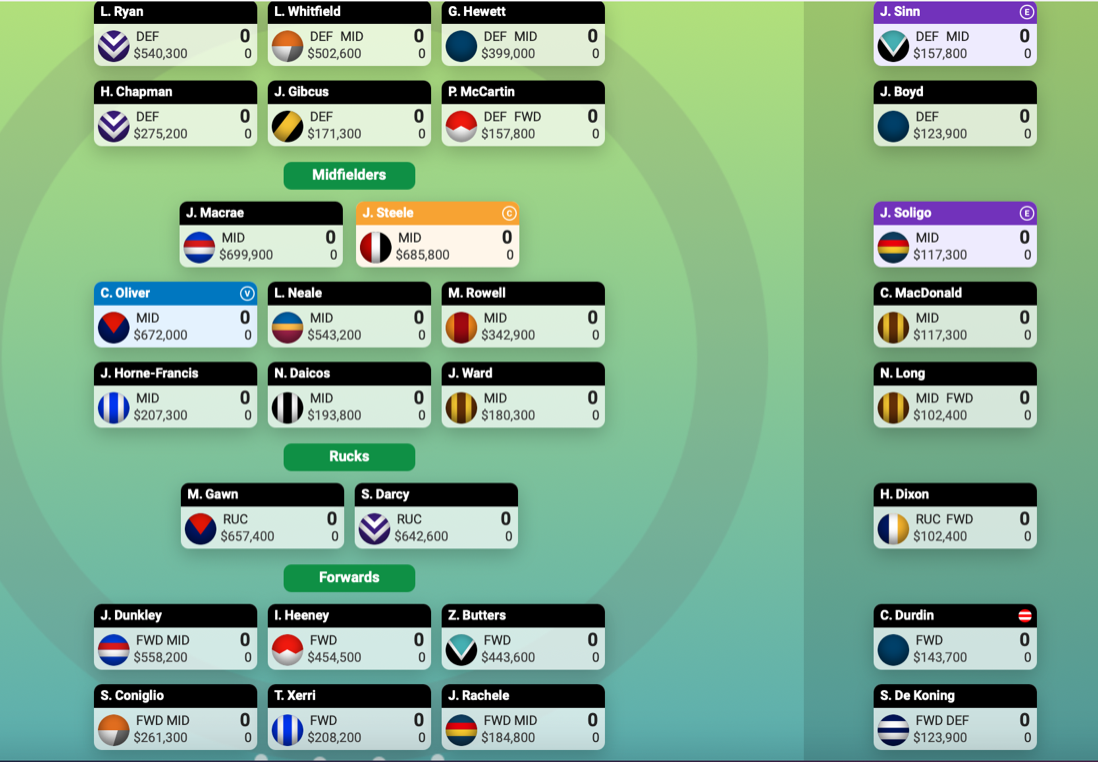 Changes
I thought I needed to bolster the defence. I felt Hewett at D3 was not strong enough. I decided to drop Heeney and start Short at D3 moving Hewett to D4. Boyd and Sinn went out and in came Hinge and SDK moved back. So my starting back line was Ryan, Whitfield, Short, Hewett, Hinge, Paddy Mac, with  Gibcus and SDK on the bench. In the midfield Steele was swapped for Touk Miller and Rowell went to Berry so I could afford Soligo to Stephens. Long went out for a playing Owens.  Darcy got dropped for Grundy as I just saw him as a safer option. Forward, I ended up getting Brodie (for Heeney) and swapping Xerri for McGovern. This meant I could only really afford J Hayes and Martin on my bench. So my forward line read Dunkley, Butters, Cogs, McGovern, Brodie, Rachelle, J Hayes, Martin.
Starting Picks
The Good: Hewett and the rookies in defence were all very serviceable. I felt I nailed the midfield premiums. Oliver was somewhat of a POD early, and put up some great scores before most coaches got to jump on. Forward, nailing all three of Dixon, Martin and J Hayes as $102K rookies was great as well.
The Bad: Where do I start. Lol. Hindsight is always 20- 20. I guess the overriding thing was not recognizing that the extra trades would allow us to take a punt on some value picks. Ryan was originally Dawson before his preseason niggle.Whitfield could of been Sicily. Somehow I didn't trust both Hewett and Sicily to both become keepers. Likewise with Witts and English early, either one at R2 would of allowed me to start Cripps at M5.
The Ugly: Talking up Dale all preseason and then going Whitfield for value. Insert Face palm emoji. I must listen to my gut next year.
Season Summary
It's a funny game SuperCoach. As most of you know from my Rare Gems articles I love a POD, and for many seasons now have almost always messed up my starting team with a few mid-pricers that tend to flop. In 2022 I was determined to mend my ways and start a with a conservative "Guns and Rookies" team. Well I guess 2022 wasn't the year to do that. If I'd stuck with my earlier more risky approach, maybe I would of looked at a Witts, Cripps or English and things could of been very different. As it is, I started very slowly and I although I traded pretty well (after round 6) I still find myself just outside the Top 5k (5121) and just scraped into finals in a few of my leagues.
Current Team Reveal & Trade History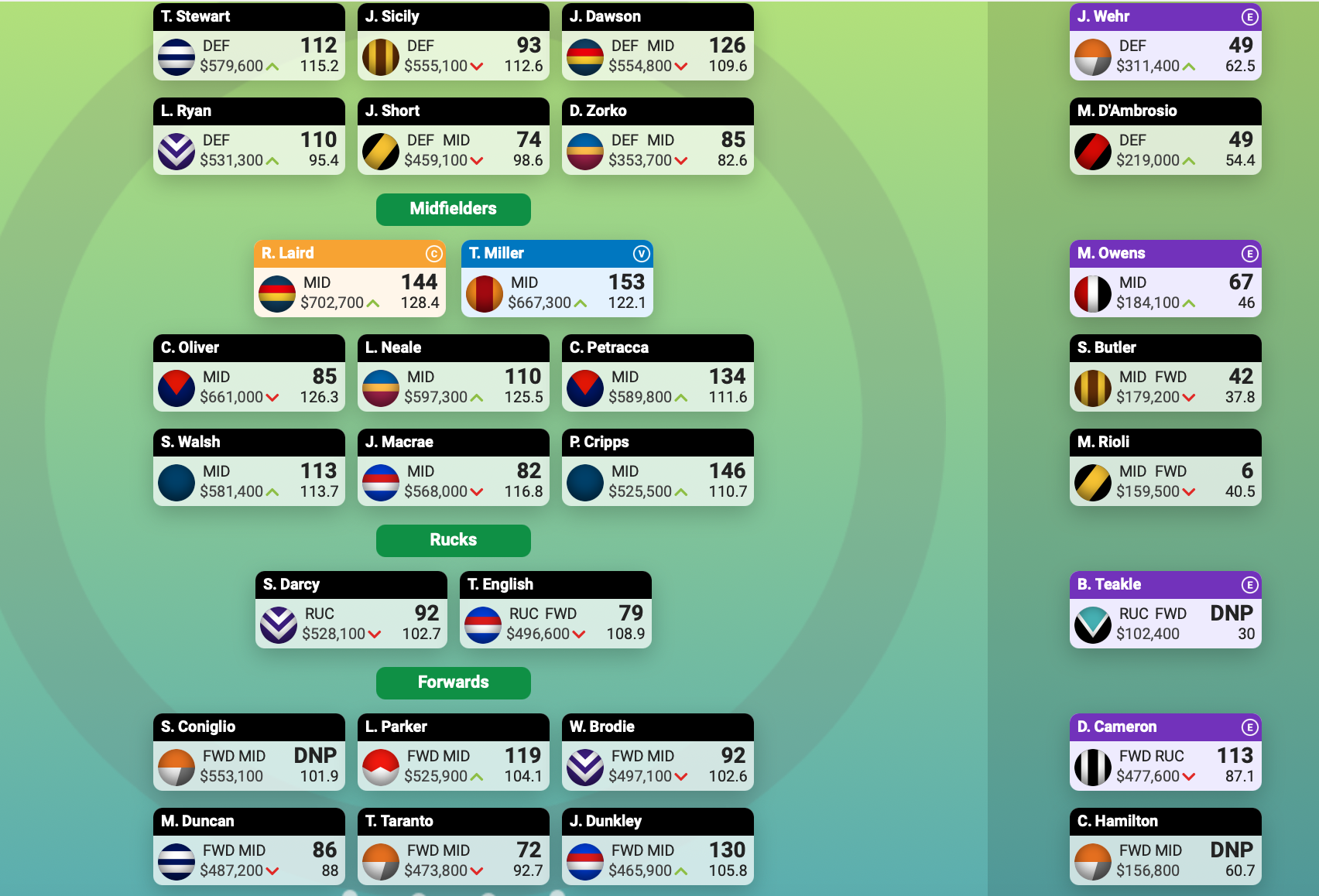 Rank: 5,121/1 trade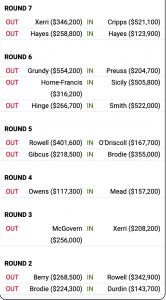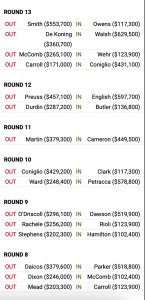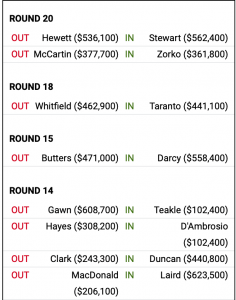 The Good: Early days I messed around a bit (see below) after Round 6 I had some wins and managed to trade with the byes in mind. This set me up for a great run through the byes despite a few injuries. A few wins were. Sicily in Round 6 for $505k before a great run of games. Cripps seemed like a must get in Round 7. Parker and Dawson both cheap in Rounds 8 and 9 were also great. Laird in Round 14 has been a revelation and my Captain many times. Duncan has also been pretty good for his cheap price. Keeping Paddy Mac as cover until last week allowed me to swing him back so I could go Whitfield to Taranto. This gave me the cash to get Stewart this week.
The Bad: I traded both Brodie and Cogs out, then back in again. Brodie had time on ground issues early and after Rowell's huge first game I felt I needed to get him in for Berry. I was way too reactive and should of at least waited for price changes. Later I traded Cogs out after a few bad games instead of Martin. The change of coach and an injury to Bailey Smith during the byes meant I traded Cogs back in. He had actually been great before that late out last week. Trading Daicos too early was another regret as he's was amazing cover through the Byes for those that kept him. Hewett missing again and Cogs as a late out meant I changed my trade plans this week. I still got in Stewart, but I kept Darcy Cameron at F7 as my Cogs cover. I then took a punt on Zorko at D6 . It was a sideways trade from Paddy Mac that yielded me cash in case I need it for my last trade.
The Ugly: Who would of thought Walsh over Merrett would of been such a bad trade. Walsh was $100k more and although he has been decent. Merrett has been on fire. Parish going down was impossible to predict, well done to those that picked him up for ~$52oK. Yet another value pick that worked out this year. This leads me on to my biggest regret . Not getting Bont. Sore shoulder my ass! Somehow I convinced myself that having Ruck cover for Sean Darcy meant English was more important than getting King Marcus. This one trade has cost me several league match ups and a significant difference in my OA rank.
Conclusion
After a pretty good score last week ( 2503 ) I managed to win 8/10 league match ups and I'm still alive in 3 major and 5 minor finals campaigns. I feel I'm sitting ok with a 23 premo team and decent cover on all lines. I still have a trade in hand and $83k in the bank in case of a longterm injury. If I get through next week unscathed I may use my last trade to upgrade an anti-POD like Short to Dale or Brodie to Marshall. Just on Marshall – how bloody good is he when he gets to play as first ruck?!? Congrats to those that saw past the Saints' Campbell tricks and took a punt on him last week. With no word yet on another year for Ryder and also with Ryder's checkered injury history, Marshall will be hard to overlook as a ruck option next year. Also a shout out to those that managed to trade in Redman, what a jet. He is another that I will be seriously considering in 2023.
I just wanted to also take this time to thanks Motts and all the other contributors on this great site. Although I don't like to single anyone out, because everyone does such great job, I do want to give a special shout out to Gunboat Diplomacy. He has been invaluable to me with some great chats behind the scenes and helping me edit and reformat my posts. Thanks Habib, much love brother.  It really has been an amazing first year for me joining such an esteemed team. Thanks again Motts for giving me the opportunity. I'm already really looking forward to 2023
Thanks for reading
Cheers FT.
---
Leave a comment / Scroll to bottom