Both the Lions and VC Lachie Neale unfortunately forgot that the game was four quarters long, as the Dees gave a stern reminder to the league. Watching the Dogs put 13 straight-goals past was softened by the signing of Mitch Lewis, and my boy Sicily flinging Astro-Naughts headband. I lie, it was changing the channel and watching the Essendon collapse. Tommy Stewart saying his farewells with a monster 161 points, and with some sort of twisted story-writing, giving the Cats the win. The North v Crows game was surprisingly SC relevant for some, as North checked off another 50+ point loss. Despite trying their best to lose the game, Pies took the W against GWS. Darcy Cameron also continuing to reward those that took the punt. And of course GC losing was a terrible end to the week for non-Port supporters. So, with a brief summary of the games (spot-on analytics by me if I may say-so). Let us get onto the Fallen Premiums – round 16.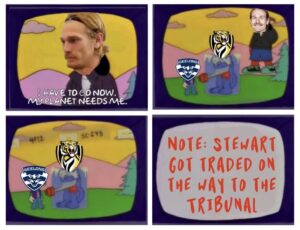 A goodbye Mr D1, not forever, just for now.
Tom Stewart replacements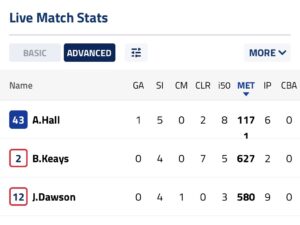 Not only did he break the AFL-app, but he had 84x more metres gained than my boy Taz Thomas 🙁
Aaron Hall (NTH, 508.3k, (-$64.6k), 105.3 AVG, 51 BE) it should be noted, this pick becomes a lot more enticing if you're willing to go the nine-yards, and do a blood sacrifice to the hamstring-Gods. On-paper, Stewart -> Hall makes a lot of sense for those priced out of the heavy hitters. There's a lot of upside with the Hall pick, and then of course the fear that he unfortunately could go down with a soft-tissue injury (I mean, those hammies have given out twice this year, and he isn't getting any younger). A massive 153 points against the Crows has come in timely fashion, reminding potential owners just how high that ceiling goes. Breaking the metres-gained record (and the AFL app), playing a cushy SC-friendly-role. Is the risk worth the potential reward? I'd like to think so. It's not blasphemy to suggest that if he can stay on the park, that he could go on and average the most points of any defender from now til the end of the season. I'm personally heavily considering Hall (and have just ordered 3 baby goats, and a sacrificial knife), how about yourself?
Jake Lloyd (SYD, 463.6k, (-$123k), 93.7 AVG, 82 BE) let me start-off by saying that I'm not quite sold on Lloyd. So did I bring him up just to slag on this pick for the next little while? Yes, sort of. One thing to remember, bringing Lloyd in this week doesn't net you the 148 points he just scored against the Saints. But with some coaches stretched for cash, and looking for durability in their picks, Lloyd does present an option. It does need to be emphasized, Justin McInerney didn't play on Saturday night (H&S protocols), and that definitely bolstered Lloyd's duties and possessions. In-fact, let's take a look at Lloyd's points in the games JMac has missed. 102, 104 and 148 points. 3/5 of those scores are in his top-5 scores this season… If you're strapped for cash, go ahead with this pick if you believe he can maintain a respectable score, otherwise steer clear. The seagull that sat at D1 for what seems like years is no-longer.
Backing it up…
Luke McDonald, 442k, 161 BE
Jack Sinclair, 578k, 155 BE
Steven May, 397k, 152 BE
James Sicily, 599k, 149 BE
Isaac Cumming, 501k, 147 BE

Midfielders
Jack Steele (STK, 553.9k, (-$131.9k), 110.1 AVG, 136 BE) a strapped shoulder, hard midfield battle, and the Swans pumping the Saints was no hindrance for the Man of Steele. 115 points and straight onto the radar of many coaches looking to offload an underperforming midfielder. With a high BE of 136, another week to keep an eye on his shoulder, and what's going to be a highly contested battle in the guts against the Blues. I truly believe waiting a week on Steele is the play (as beautiful as he is).
Sam Walsh (CAR, 579.5k, (-$57.6k), 114.9 AVG, 93 BE) as a non-owner, even I was shocked at how harsh Walsh was scored (though it softened the blow from watching Big O's points get siphoned into Luke Jackson's pocket). 138 points against Fremantle in a statement win, while being best-on, appalling CD, Bont would have triple-tonned with those stats. 40 possessions, 13 contested @83% DE. 7 clearances, 543 metres-gained, and to reiterate, a large part in the Blues win. Heavily discounted for what he can produce, and apart of a Blues team fighting for a push into the top 4. With Cripps slowing down, and Walsh looking phenomenal, It wouldn't be crazy to skip Steele in favor of the future-Brownlow Medalist in Sam Walsh.
Limbo Land…
Nat Fyfe, 547k, 197 BE
Dion Prestia, 475k, 167 BE *headbutted Stewart's elbow*
Darcy Parish, 608k, 163 BE
Josh Kelly, 570k, 155 BE
Touk Miller, 601k, 152 BE
Patrick Cripps, 537k, 141 BE
Jack Steele, 554k, 136 BE
Callum Mills, 611k, 134 BE
Ben Keays, 531k, 131 BE
Rucks
Sean Darcy (FRE, 531.3k, (-$111.3k), 102.6 AVG, 104 BE) I've opted to skip past Rowan Marshall due to Paddy Ryder's return. As a solo-ruck, it's no debate that RoMo is a sensational pick. Darcy back to his lazy-ton days against TDK (who was fantastic), and the Blues. Fixture-wise, you'll more than certainly see an instant impact as Darcy and Fremantle have Port Adelaide who Jarrod Witts just scored 148 points against. But, when it comes to Sean Darcy, there's no point looking too deep into fixtures, he can score massive against anyone. It's just a matter of if he's solo-rucking, and if he's on his game. Still an injury risk, but the way it's going, no ruckman is safe. Anyone needing a ruck, can't quite wait for the return of Gawn or Grundy, Darcy has to be your man.
Timberrr…
Tim English, 605k, 165 BE *Preuss'd*
Brodie Grundy, 545k, 137 BE *injured*
Nic Naitanui 587k, 129 BE
Forwards
Jake Stringer (ESS, 376.3k, (-$130.5k), 71 AVG, 22 BE) owning Stringer last-season was a fun journey. And at his current price, with a healthy CBA-load (not to the level of last season however), and of course finding form and fitness. Stringer is ripe for picking. The perfect swing for F7/M9, and of course, for those that love a punt, could even be a quality F6 (I mean, he can't be worse than Isaac Heeney?). Obviously Stringer does carry a significant injury risk, but also a massive ceiling. 98 points against the Saints, and 101 against West Coast. Sydney at the MCG this week is the perfect test to see if Stringer can storm home. He did score 123 points against them in round 20 @the MCG in 2021. If I had the trades, he'd be in as my swing-man, how about yours?
Aaron Naughton's headband in the literal sense, Naughton's headband had truly fallen on Friday night. Graced by the touch of James Sicily, that headband is forever immortalised.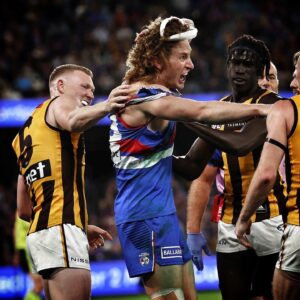 Dogs may have won the war, but we won the headband battle…
Forward thinking…
Tim Taranto, 437k, 131 BE
Jeremy Cameron, 530k, 127 BE
Tom Hawkins, 445k, 125 BE
Will Brodie, 567k, 122 BE
Dustin Martin, 442k, 120 BE
---
Leave a comment / Scroll to bottom