And just like that, we're practically a quarter into the season! Yes, I know what you're thinking. And unfortunately, we can't have a re-do.. With Callum Mills out-scoring Lachie Neale & Jack Macrae combined summing up Round 6 for most, PODs may be a strong talking point for some! Regardless, upgrade season is beginning to take full flight, with options on all the lines. So let's get straight into The Fallen Premiums – Round 7.
DEFENDERS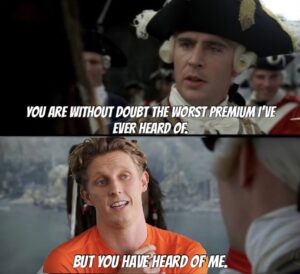 Amber Heard may have Sh*t in Johnny Depp's bed. But Whitfield Sh*t all over our SC teams…. Who's the real villain here!?!
Lachie Whitfield (GWS, 445.3k, (-$57.3k), 78.2 AVG, 120 BE) just joking… For any owners without any pressing matters. Look at moving him on.
Luke Ryan (FRE, 494.3k, (-$46k), 96.2 AVG, 87 BE) while many were looking to off-load Luke Ryan a couple weeks back, I still firmly believe he makes for a great-value POD (found in only 7% of teams). The major issue with Ryan, comes from the uncertainty regarding his role and others in the Docker back-line stealing his intercepts and touches, and, as a result, his points. Unlike Tom Stewart, who's known for his consistent SC scoring, Luke Ryan is a lot more like riding a roller-coaster, with monstrous scores and a modest 70 if he's held accountable on an opposition forward. At worst, he's a solid D6. At best, he can win you a league match-up and score like a super-premium!
Nick Vlaustin (RIC, 460.4k, ($0), 126.5 AVG, 14 BE) we're back with the crystal ball, discussing a what-if, as opposed to the traditional fallen-premium. To the dismay of Jayden Short's owners, Nick Vlaustin has been introduced into the Tigers' defence, playing as a loose interceptor and getting a chunk of kick-in duties. 155 points vs The Demons, who's forward 50 was entered more times than a 48-year old prostitute (too graphic?). His 98 points against the Adelaide Crows gives a better insight into what to truly expect from Nick. 21 disposals, 10 intercept possessions, 9 marks, 499 metres gained and 3 kick-ins (out of a potential 9) resulted in 98 points. For someone without a proven SC history, he is by no means a must-have or someone you should blow your structure up for. However, he does present great value with only a moderate amount of risk attached.
Backing it up….
Zac Williams, 495k, 145 BE
Jayden Short, 527k, 139 BE
Aaron Hall, 511k, 129 BE *injured*
Sam Docherty, 579k, 128 BE
Jordan Dawson, 531k, 126 BE
Jake Lloyd, 514k, 122 BE

MIDFIELDERS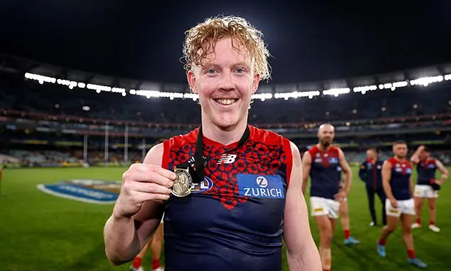 It felt like there was 2 of him out there! Are we sure Jake Bowey wasn't getting his stats added onto Oliver's?
Clayton Oliver (MEL, 618.9k, (-$53.1k), 122.2 AVG, 73 BE) non-owners licking their chops after Clarry's 174 BE last week spelled a nice discount for the 24 year old. And is now primed for picking after plummeting in price -3.1k? Wait, Oliver scored 168? For f*** sake. My bad, let's try again. Oliver scoring a monstrous 168 spells only one thing for non-owners. Discounted super-premium with a nice run of fixtures incoming (including a bloodbath vs my Hawks this week). 41 possessions, 22 contested, 13 clearances and 9 I50's. Was well deserving of the Frank Hughes Medal and the attention of non-owners. Christian Petracca (MEL, 555.2k, (-$51k), 113 AVG, 119 BE) also presents excellent value for similar reasons to Oliver. Mentioned previously on the Fallen Premiums, the Norm Smith Medalist has had issues with his DE% that unfortunately haven't been ironed out, along with a greater risk of attention from the opposition and being parked in the FWD's. Are the extra question marks worth a 63k discount?
Sam Walsh (CAR, 601.8k, (-$35.3k), 109.8 AVG, 115 BE) 106 points from 36 possessions. With many opting to bring in Bailey Smith, another uncontested accumulator in the form of 21 year old Sam Walsh may not be all that appealing. However, Walsh does have the cleaner ball-use and presents an alternative into the Carlton mid's for those not liking the look of 2021 burn-man Patrick Cripps. Many became accustomed to the 140+ score what felt like every other week last season. Walsh hasn't quite hit those heights yet this season, but has shown a consistent effort only dipping below 100 once thus far (in his first game back from syndesmosis). Can Walsh finish a top 10 midfielder this season?
Darcy Parish (ESS, 594.4k, (-$26.9k), 112.2 AVG, 99 BE) from one accumulator to another. Darcy was enormous in the Anzac Day clash! Working hard to find the pill, it's no surprise he found himself on 30 touches at half time. Now one way to slow a player down is attention from an opposition player another is if they get injured. Parish unfortunately faced the latter, hurting his ankle in the fourth. He found himself back on the field to close the game out, getting to 44 touches and 133 points. Cleared of Syndesmosis, but a slight chance to miss this weekend. Keep an eye out to see how he's tracking!
Jack Steele (STK, 651.4k, (-$34.4k), 119.2 AVG, 107 BE) 3 round average of 132 and hitting his highest score of the season vs The Giants. Jack Steele is really punishing those who didn't start him and teaching a valuable lesson to those that decided to trade him. Steele is a contested beast who is a big part of why the Saints are performing so well currently. For those that don't own Steele, I'd be considering putting a plan in place to grab him sooner than later.
Limbo Land….
Marcus Bontempelli, 597k, 157 BE
Ollie Wines, 532k, 157 BE
Jack Macrae, 684k, 152 BE
Travis Boak, 607, 146 BE
Jarrod Lyons, 556k, 136 BE
Lachie Neale, 621k, 135 BE
RUCKS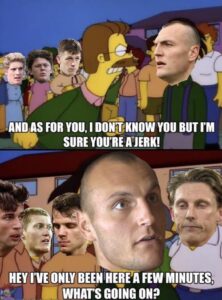 Fair to assume Flanders has faced some SC carnage? Would love to know what he said to the others….
Braydon Preuss (GWS, 298.4k, (+$93.7k), 109.3 AVG, -46 BE) with no-one else fitting the bill. We can turn our attention to what many thought was the metaphorical Nigerian Prince, who's supposedly trying to deposit $30 million into your bank account. A rookie-priced 26 year-old with the ability to score like a premium and make a boatload of money? Exactly, you're ready to hand over your credit card details! Preuss putting coaches in a fit of rage by going down -10 points early in the game. Shouldered the majority of the ruck-load and scored a very modest 117 points, making that 3 tons, in 3 games. 12 contested possessions, however @38% DE and 3 FA's leaves room for improvement with Preuss's scoring. With Grundy now looking to be out for 12 weeks! I'd argue non-owners should still heavily consider bringing Braydon in. Getting to 450k+ is easily manageable, unless his body fails him.
Timberrrr….
Brodie Grundy, 545k, 134 BE *injured*
Max Gawn, 658k, 129 BE
Nic Naitanui, 587k, 126 BE *injured*

FORWARDS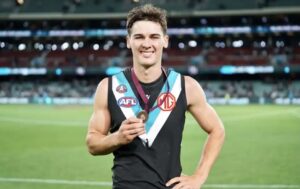 On ya Rozee! Just be wary of SPP charging at you…
Connor Rozee (PTA, 398.5k, (-$1.7k), 74.8 AVG, -13 BE) the assessment of Rozee should be as simple as this. "153 points against the Eagles playing on-ball. Do you trust Ken Hinkley?" One advantage Rozee has over the usual punt, is an incredibly low BE and a sky-high ceiling. You'd have to think, even Ken can see that changes need to be made to the Port midfield setup. The likes of Butters and Rozee offer a necessary dynamic and Rozee's clearance work in particular has been stellar these last couple of weeks. Do you trust his role in the PTA team? If so, could be a very handy cut-price choice.
Tom Liberatore (WBD, 535.8k, (-$25.9k), 100 AVG, 91 BE) gaining DPP eligibility as a result of spending a chunk of time at HFF. This weekend however, Libba found himself with the lion's share of CBA's and being deployed primarily back on-ball. And boy did he take advantage and put in an effort! 33 possessions, 19 contested, 9 clearances and 10 tackles. With the Dogs under-performing thus far, you'd have to believe Libba is further backed in the middle, and his stints forward become less frequent.
Mitch Duncan (GEE, 467.7k, (-$72.3k), 81.8 AVG, 90 BE) after a lacklustre start to the season, Duncan has slowly begun to play himself into form. Unfortunately, the largest issue with Duncan's style this season is all the uncontested ball. He's racking up his share of touches and using the ball well, but CD aren't scoring him well due to the non-threatening use. Not a selection I'd recommend for the faint hearted. However, I can see Duncan finding the consistency and rhythm we've become accustomed too from him. Especially considering on-paper, he does have a SC-friendly role.
Forward thinking….
Tim Taranto, 525k, 150 BE
Jack Ziebell, 456k, 146 BE
Tarryn Thomas, 406k, 136 BE
Jake Stringer, 470k, 133 BE
Isaac Heeney,545k, 123 BE
---
Leave a comment / Scroll to bottom