A round defined by the ownership of a few premiums. Cripps, Tom Lynch, Gawn, Touk, Stewart, Parker, Short, Neale (who doesn't own Neale?) and the right captaincy choice, either left you grinning or wanting to delete this stupid luck-based game, upset. Former POD Luke Parker also went massive, and will be one many Coaches opt to bring-in this week. I'll also give a heads-up to those looking at bringing Premiums in, to ensure your structure for the byes isn't all over the place! With that, let's have a look at the Fallen-Premiums, Round 8!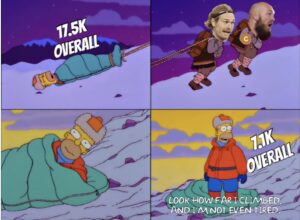 My round summed up! Now to keep climbing…
DEFENDERS
Jayden Short (RIC, 532.8k, (-$2.4k), 112.1 AVG, 46 BE) a fallen-premium by the loosest of terms. Jayden Short is all but essential the way he's been tracking this season. Deployed in the middle against the Eagles, Short had his largest score for the year with 152 points and was present at 23 centre bounces. Only dipping below 100 points once this season, non-owners should feel quite fortunate Short is available for selection at only 532.8k. Collingwood, Hawthorn and Essendon in the next 3 weeks. It wouldn't surprise me to see Short closer to that 600k mark prior to his bye.
Dayne Zorko (BRL, 516.2k, (-$79.2k), 89.3 AVG, 107 BE) a 3-game average of 108.7 brings Zorko into potential plans as a defender to keep an eye on. Playing off half-back this season and only being found in 1% of teams. Zorko truly appears to be a high-risk, high-reward option. However, with the Lions having West Coast, Adelaide, and the Hawks over their next 3 games, those that need a defender and believe Zorko's body could hold up, could do worse than taking a punt on him.
Lachie Whitfield (GWS, 433.9k, (-$68.7k), 80.6 AVG, 92 BE) just kidding, again… I have seen a couple of people un-ironically ask if he's now an option after scoring 3 goals in a belting vs The Crows. Nope… Do not touch Whitfield. Doesn't have the right role and is just under-performing as a whole.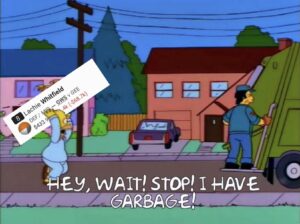 Even the garbage man doesn't want a piece of Lachie.
Backing it up….
Jeremy McGovern, 519k, 147 BE
Zac Williams, 495k, 145 BE *injured*
Steven May, 551k, 134 BE
Jake Lloyd, 497k, 133 BE
Jack Sinclair, 561k, 129 BE
Aaron Hall, 511k, 129 BE *injured*
Jordan Dawson, 517k, 125 BE

MIDFIELDERS
Touk Miller (GCS, 592.1k, (-$85.7k), 117.7 AVG, 85 BE) was looking to be on track for a stinker of a score at quarter time while sitting on only around 5 points! Touk shut up all those that were panicking quite quickly. 36 possessions, 17 contested @75% DE. 2 goals, 10 clearances, 8 I50's, 6 tackles, and a modest 160 points as a cherry on top. I know what your first thoughts are. Bontempelli would have scored 270 with that stat-line. That Touk is ready to be plucked this week at a price of less than 600k! And you'd be correct; Miller is heavily discounted, with a massive ceiling and the potential to finish as a top-6 midfielder! Would go as far to say using a boost to get Touk in would be a recommended move and one you shouldn't ignore!
Ollie Wines (PTA, 508.2k, (-$104.4k), 95.2 AVG, 92 BE) If we remove his unfortunate affected score in Round 4 against the Dees, he is averaging 103.6 points. Bet that last statement inspired a strong desire to bring him in, hey? Port Adelaide started the season completely underwhelmed before stringing two wins together. If you think Port can turn their season around, that's where the logic of an Ollie Wines type of selection starts to make sense. With a floor of 96 and a ceiling of 118 this season, Wines is showing a nice consistent scoring-stream and with the likes of the Dogs at AO, North Melbourne, Geelong (who he surprisingly scored 144 points against last season) and Essendon before Port's Bye in round 12, he could well and truly be pushing a 110 avg. by then. Just a quick reminder since we've brought the byes up. Many coaches seem to have an influx of players with the R12 bye. If Wines doesn't put you out too much, strongly consider. He could be a very nice M8 to finish off your midfield!
Josh Kelly (GWS, 542.9k, (-$39.3k), 107.9 AVG, 69 BE) much like with Ollie Wines, we have another discount-premium that at worst could be a handy M8 come season's end (showing a floor of 81 points thus far). Currently sitting as the 16th mid in overall points (22nd on all the lines), Jelly was back to his best against the Crows with 41 touches and 153 points! Thanks to Leon Cameron, there is a lot of shuffling at the Giants currently. Playing as an inside-mid to an outside-mid and then the occasional spurt at HFF. He offers an alternative to Tom Green for anyone wanting access to a Giants midfielder (yes, I know how silly that sounds) and could easily do a repeat of last season and go on an elite point-scoring run over the next few weeks.
Limbo Land….
Jack Macrae, 656k, 200 BE
Andrew Brayshaw, 582k, 157 BE
Tom Mitchell, 578k, 152 BE
Bailey Smith, 536k, 136 BE
Zach Merrett, 612k, 133 BE
Marcus Bontempelli, 579k, 133 BE
Travis Boak, 581k, 132 BE
RUCKS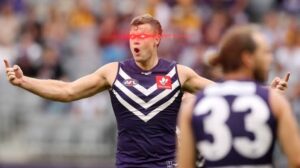 He was the chosen one!
Sean Darcy (FRE, 568k, (-$74.6k), 89.5 AVG, 115 BE) at his best Darcy is a hobbling, walking demi-god. Unfortunately we've yet to see him live up to the hype he brought myself and the small percentage of owners post-bye in 2021 (129.2 AVG, with a few injury riddled games in the mix that kept him looking human!). Sharing duties with Meek in Rounds 2 and 4. Darcy was back to working his craft solo in Round 5, where he scored 121 points vs The Bombers and Sam Draper, and then backed it up with a solid outing against the Blues. Darcy was looking to be on-track for a 125+ score before getting his head stomped on, as a result, finishing on 94 points with only 63% TOG. North Melbourne (Goldstein & CCJ), Gold Coast (Witts) and Collingwood (*crickets*) all on the horizon for Sean. Assuming he can avoid setting a record for the most niggles in a season, Darcy could well and truly be pushing 650k by the time his bye comes around in Round 14!
Timberrrr….
Tom Hickey, 536k, 137 BE *injured*
Brodie Grundy, 545k, 134 BE *injured*
Nic Naianui, 587k, 126 BE *injured*
FORWARDS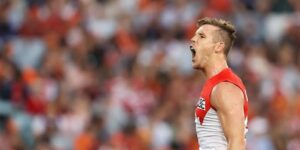 When you realise Parker is sub 520k with FWD eligibility!
Luke Parker (SYD, 518.8k, (-$72.8k), 104 AVG, 51 BE) the most traded in player this round for good reason! A 3-round average of 124.3 since finding himself back to being a primary midfield-extractor, Papley's return only ensures we will be seeing more of Parker in that SC-friendly role we've been accustomed to. Lead the Swans in CBA's with 24 (Mills 21), Parker scored 150 points vs the Lions, his second highest for the season! Some may be more interested in Champion Data's lovechild, Isaac Heeney (535.5k, (+$81k), 113.7 AVG, 127 BE) who appears to get points for taking a sip of water on the bench, but with his hot start slowing down, Parker presents an opportune way to continue to fade Isaac Heeney, while also gaining access to the Bloods midfield.
Forward thinking….
Joe Daniher, 400k, 177 BE *injured*
Jordan De Goey, 91 AVG, 139 BE
Jake Stringer, 436k, 139 BE
Luke Jackson, 455k, 136 BE *injured*
Tim Taranto, 501k, 131 BE
Isaac Heeney, 536k, 127 BE
Mitch Duncan, 448k, 127 BE
---
Leave a comment / Scroll to bottom