An absolute bloodbath of a round in Supercoach, and as such, I'll be using this time to petition for at least, 20 more trades. Make it happen Herald Sun!
I'm just going to pretend this round didn't happen, and move straight into Fallen Premiums, Round 7!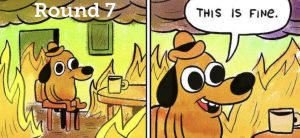 Defenders
James Sicily (HAW, 533.7k, (-$91k), 99 AVG, 111 BE)
The demise of the Sic as a Supercoach asset has largely been exaggerated. He didn't exactly have a monopoly on kick-ins last year, but the figure has somehow dropped in 2023. Won't be the same defensive asset we came accustomed to last year, but he's still fine to finish top 8 IMO. Will Day returns from suspension this week, and is another player to heavily consider, the role is right and the price point is bloody tempting!
Jack Sinclair (STK, 543.7k, (-$82.5k), 99.8 AVG, 117 BE)
Remaining a great value choice, he gets another mention this week. The role with Steele back in the team is the ideal one. Was on track for a big game before Voss decided tagging him was the manoeuvre to save the day (where was that the week before with Dawson sending laser I50's Vossy?). The first bye is my only issue with the Sinclair pick, but if you have no major R12 bye concerns, he's the pick of the defenders considering the sheer value!
Backing it up…
Bailey Dale, 507k, 170 BE
Mitch Duncan, 458k, 162 BE
Jordan Dawson, 667k, 153 BE
Sam Docherty, 526k, 144 BE*
Adam Saad, 577k, 143 BE*
Midfielders
Zach Merrett (ESS, 578.2k, (-$39.3k), 107.8 AVG, 87 BE)
No Merrett, no worries, unreal game for the Dons despite the loss. Not bad having a BnF set to return back to the lineup either this week. I'm loving the run Dons have from round 10 onwards, and going early now while Captain Zach is sub-600k makes a lot of sense to me. Anyone with a Touk sized hole in their midfield could do worse than going with a gun like Merrett.
Clayton Oliver (MEL, 668k, (-$31.8k), 123 AVG, 171 BE)
A flu-effected 98 points (yeah, Clarry ain't no MJ) means he will be coming down in price in the following weeks. A bonafide gun, and needs to be brought in sooner than later. Pencil Oliver in for whenever he bottoms out, and find a means to bring him in!
Jack Macrae (WBD, 587.4k, (-$47k), 108.5 AVG, 95 BE)
Consistently scoring this season, even while his role has been all over the place. A massive 130 points in a week full of premo's scoring like glorified rookies definitely caught the eye, and the price point is definitely tempting. Libba will miss the game this weekend against the Hawks, and there's no reason Macrae doesn't get a serious uptick in OB time. The last bye is appealing, and the consistent scoring and durability from this man brings something that is sorely missed this year in SuperChaos.
Limbo land…
Touk Miller, 593k, 174 BE*
Clayton Oliver, 668k, 171 BE
Jack Steele, 556k, 169 BE
Luke Davies-Uniacke, 560k, 160 BE
Andrew Brayshaw, 526k, 136 BE
Rucks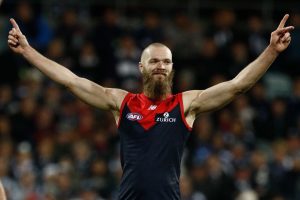 Max Gawn (MEL, 568k, (-$54.1k), 79.3 AVG, 228 BE)
Big Max is back, doing big Max things. The price drop has begun and will continue. Now there's two groups of people that are largely hanging on the Gawn price drop. Those with Grundy not wanting to spend a near 700k for a tall fragile Bulldog (who's an easy R1 while fit). And those with Rowan Marshall that no longer want to be with Rowan Marshall. The role looks largely as expected, even off the back of his injury, and I personally think a SC ruck setup of English and Gawn is bloody strong. See how things shape up, but definitely pencil Gawn into your plans if allowed.
Timberrr…
Max Gawn, 568k, 228 BE
Brodie Grundy, 594k, 132 BE
Jarrod Witts, 602.4k, 131 BE

Forwards

Harry Himmelberg (GWS, 385.7k, (-$113.3k), 64.2 AVG, 33 BE)
Sam Taylor out – 10 weeks. Hence Himmelberg deserves to be brought to light. A hefty 100k+ discount from his starting price, the allure here is purely if HH gets switched back into his defensive role he had late last year. I'd keep a close watch on Teams this week, see how GWS opt to cover Taylor, if it's Harry? Could do a lot worse than taking the punt.
Forward thinking…
Errol Gulden, 470k, 135 BE
Dylan Moore, 517k, 126 BE
---
Leave a comment / Scroll to bottom