The footy season is officially back under way, and with that comes the highs and lows of Supercoach. It's nice to also get these Fallen Premium write-ups back to everyone!
I'd like to quickly pay my sympathies to all you Tom Stewart owners, we've all been there before, bright-side is he wasn't a POD. Liam Jones another one that just looked poor before getting unfortunately hurt. But the real drama was for those that opted to spend 700k on Rory Laird, and then proceed to Captain the man. It's unfathomable that Will Ashcroft outscored him. What a s***show Round 1 was. I will say, as long as your structure is strong, don't be upset, a lot of past winners in fantasy sports don't start at #1, or even top 1000. Make your correctional trades, and back the players you researched in!
As for todays write-up, I'll be looking into players that can either become a potential keeper, or those with scores exceeding what they're priced at. And instead of the usual break-evens, I'll be bringing back the unfortunate "table of misery."
| Name / Positon / Price | Breakeven | Projected 3rd Game Price-Drop |
| --- | --- | --- |
| Rory Laird / Mid / 703.9k | 206 | -56.1k |
| Tom Stewart* / Def / 604k | 201 | -60.5k |
| Andrew Brayshaw / Mid / 615.6k | 153 | -26.9k |
| Lachie Neale / Mid / 676.2k | 150 | -21.7k |
| Bailey Dale / Def / 561.1k | 148 | -27.2k |
| Clayton Oliver / Mid / 699.8k | 141 | -12.2k |
| Callum Mills / Mid / 642.4k | 139 | -13.6k |
| Oliver Wines / Mid / 580.7k | 138 | -23k |
| George Hewett / Mid / 613.3k | 134 | -11.2k |
| Zach Merrett / Mid / 617.5k | 132 | -16.4k |
| Josh Kelly* / Mid / 582.3k | 131 | -11.5k |
| Jack Steele / Mid / 604.4k | 129 | -17.2k |
| Jordan Dawson / Def / 603.1k | 122 | -10.4k |
I'll quickly just add: I expect everyone slated to drop in price to drop more significantly than projected. The magic number will nose-dive this season…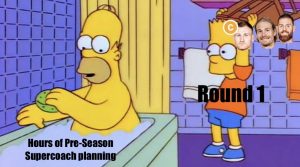 There's always next year…
Defenders
Jordan Ridley (ESS, 504.3k, 107 SC)
I've personally had Ridley nearly all PS, so it was a silver-lining seeing him play, and score well in what was a game I'd rather not discuss (Harley Reid will look nice in Brown & Gold at least…). Brad Scott seems to realise Ridley is wasted as an accountable KPD (shocker I know). And another tick had to do with Ridley being a key component for distribution out of the Bombers back-line.
Verdict: Keeper. Especially for those with a Stewart-sized problem in their defensive-line looking to free up cash.
Ed Richards (WBD, 460.4k, 106 SC)
Another POD I backed in for my team that also delivered with a strong performance in round 1. Richards finished the 2022 season off averaging 111 points off HB, much to detriment of Bailey Dale. Pre-season saw Richards retain a spot at CHB, before an unfortunate corkie cut his game short at quarter time, and everyone's potential interest. However, Richards looked like he didn't miss a beat whatsoever against the Dees. 27 touches, 16 contested, 107 SC points. If he could have cleaned up his disposal efficiency (59%), there's no reason Richards couldn't have put up a large score.
Verdict: Risky POD. Definitely not someone I'd bring in if I was a non-owner. Could he be a top 15 Defender? Maybe, but for 50k more you can get Daicos / Ridley.
Nick Daicos (COL, 502.5.k, 129 SC)
Firstly, non-owners we need to count ourselves lucky he didn't go 150+ here. The Finn Maginness tag in PS put a lot of potential suitors off, but in retrospect, he still went 70+ against Finn who's no slouch.
What an unbelievable performance by both the Pies, and Whisper. 129 points, 35 disposals, 10 contested, 91% efficiency, and demanding the ball with utmost confidence. The one issue we all have is the "tag threat." So let's quickly look at his fixture until his R14 bye.
Port, Tigers, Lions, Saints, Bombers, Crows, Swans, GWS, Blues, North, Eagles, Demons.
I've gone ahead and bolder the games in which there could be a tag threat.
Verdict: Keeper. Do we think Daicos may be available again for around 500k? Who knows, definitely not someone to throw your structure out of the window to bring in, but for those with no other major issues, heavily consider!
Brennan Cox (FRE, 445.4k, 154 SC)
I was fairly busy watching my Hawks getting dismantled to catch most of this game, but from what I did watch, and then going back and watching Cox's actual possessions via AFL.com, I must say I don't think this scoring is remotely sustainable. Saints opted to kick it long to Caminti and a forward line of smalls. Hence all of Cox, Young, and Ryan scoring massive.
Verdict: Watch-list. Definitely one to wait another week on if you're considering him, he's not getting 20 marks every week. But there's potential for him to be a strong POD.
Dane Rampe (SYD, 330.1k, 150 SC)
I fully understand the Cox trade-in (and boy do thousands of SC coaches), but Rampe… he's currently sitting at over 6000+ trade-ins. He'll need to average around 94 points to make 150k. Can he do that? I'll change my SCT photo to Rampe for a full season if he can.
Verdict: Hard-pass. watch closely against the Hawks on Sunday if you're considering.
Conor McKenna (BRL, 167.5k, 93 SC)
Oh boy, while not technically every a premium, or will he become one in 2023, I need to give a mention to the Irishman. Looked rusty in both the scratch match, and the pre-season game against the Cats. But once again, PS analysis only provides so much. What a ripping game for McKenna, looked like he didn't miss a beat whatsoever.
Verdict: Cash-cow. Great  on-field defensive option. Near-must have, don't expect 90+ every week, but will make some great cash and score better than the 123k rookie options.
Midfielders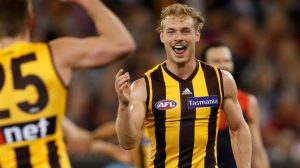 The Worpedo is back on the cards.
Tom Green (GWS, 534.6k, 134 SC)
Another I had penciled in from the opening of SC. Backed up all the hype against the Crows with 37 touches, and was a nice C option for those that went there. Lions share of CBA's, a great fixture, a cheap price tag, there's not much else to say.
Verdict: Keeper. Get him in!
Jordan De Goey (COL, 468.7k, 130 SC)
For those that went aboard the JDG train, really well done. Had a ripper game resulting in 130 SC points. Great player to have taken a risk with to start the season.
Verdict: Watch-list. He's not getting 3 goals, 25 touches every week, not someone I'd take the risk on considering the players below we're about to discuss.
Will Setterfield (ESS, 348.2k, 99 SC)
Setterfield is someone I had been bullish on after seeing his performance against the Saints. Big-bodied midfielder just seemed to be exactly what the Bombers were needing in the guts. Those brave enough to start him were rewarded handsomely, as Setterfield saw himself match Lairds Captain score. 25 touches, a goal, 8 score involvements, 10 marks, 6 tackles, 22 pressure acts, 485 metres gained. I know it was against my pre-pubescent Hawks, but he's definitely one to monitor this coming weekend.
Verdict: Cash cow. By no means do I think Setterfield will be an appropriate keeper, but I think he can score 90-odd, while generating some solid cash.
Dom Sheed (WCE, 332k, 89 SC)
I must say I was quite surprised with Sheeds score post-game, 89 SC points. He didn't really catch the eye during the game. But alas, he ended with 25 touches, 10 contested, and good usage.
Verdict: Cash cow. I'd probably lean more towards other options, but he seems ripe to make some good cash.
James Worpel (HAW, 309.3k, 97 SC)
I guess another positive to the game against the Bombers besides Mackenzies debut, was that Worpel looked great. 29 possessions, 14 contested, 18 kicks to his 11 HB's (which has been an issue in the past), and a healthy disposal efficiency.
Verdict: Cash cow. Combine the above stats with 77% CBA's, and a 300k price tag, and you can't go wrong bringing Worpel in.
Finn Callaghan (GWS, 244k, 101 SC)
What a game from Cally! Played predominantly on the wing, but his class showed-through with 25 touches and strong disposal efficiency. No Josh Kelly or Perryman this weekend should result in some rotations into the inside.
Verdict: Cash cow. One to strongly consider bringing in, and doing so before he plays the Eagles this weekend should be advised if you're on the Cally train.
Rucks
Max Gawn (MEL, 622.1k, 140 SC)
No, I'm not joking, 620k for a player we were paying up 700k for in past years. We were all fools to doubt this man. Just a lazy 140 SC points. Grundy seemed to have a slightly higher time in the ruck, but Gawn was rotated throughout the whole ground. Stints forward, behind the ball and then obviously floating between the two as the main ruckman. I wouldn't go out of my way to grab Gawn, but if an unfortunate injury occurs, heavily consider, I doubt he dips below 600k this season.
Verdict: He's gonna finish R1 lol.
Forwards

Don't be fooled, this was only a 15m chip kick to Luke McDonald.
Jack Ziebell (NTH, 356.4k, 102 SC)
The Mighty Gull Jake Lloyd Jack Ziebell seems to have returned to Supercoach. The word during pre-season was a role-change for Ziebell to defence, and while that did pan-out in pre-season, his scoring and possession count didn't reflect the 2021, "Noble style" of kick-to-kick with Hall and Ziebell. However, against the Eagles, that's practically exactly what we saw. 26 touches, 96% efficiency, and 0 contested disposals. There was a period before HT, where Zieball was playing kick-to-kick wasting time, and if I had been a non-owner, I'd have been fuming.
Verdict: Potential keeper. Now, I don't think he's must-have, and I doubt he'll reach the heights of 2021, but he may need to be grabbed next week. Just keep an eye-on Aaron Hall and how he effects the North defence if he's named this week.
Jason Horne-Francis (PTA, 348.8k, 136 SC)
Everything JHF was described as potentially being, we saw on Saturday against the Lions. Unbelievable performance for him in his Port debut. Comparisons to Dangerfield began to come through during the game, and honestly, anyone at 19 years old that can do what he did to the Lions midfield deserves that praise. 25 touches, 17 of those being kicks, 10 contested, 76% efficiency, with a goal, in the context of the game, was just absurd.
Verdict: Potential Keeper. I think at worst you get 150k out of him, and best case he's a season-long keeper. I also have him going strong against the Pies this weekend and putting up 110+, I may be wrong, however he's in my team this week. Saying all that, it may be smart to wait a week and see if he can back that performance up, especially if you have other fires to put out.
---
Leave a comment / Scroll to bottom