First things first, how would you describe your round on a scale of Sean Darcy to Nick Daicos?
The SC Gods have been incredibly cruel to kick-start the 2023 season. The silver-lining for Gawn owners has to do with the fact his one game outscored two games of that fraudulent R1 (and my VC) Sean Darcy. Nick Daicos, and LDU continued their reign of terror, and the likes of Setterfield, Worpel and Hopper proved that premium mids are overrated. Somewhere mixed into all of this, Luke Beveridge has decided that the recipe to replacing Josh Dunkley, is to play your remaining gun-mids all over the shop, and give Caleb Daniel a lions share of inside time, truly an act of genius by Beveridge.
Anyway, let's get into the content you're all here for. I'll be covering the players that are looking like incredible value, and that seem to have the most interest, therefore I'll be skipping over left-field picks this week.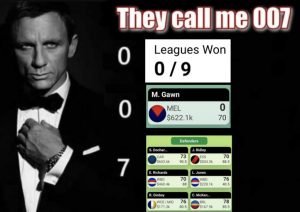 Defenders
Nick Daicos (COL, $502.5k, 139 AVG, BE 7)
Surprised to see Whisper get the first mention? With the SC world slightly concerned that Hinkley may deploy a cooler on Daicos, it turned out to be a master stroke for Port. Let me quickly check my notes for that first quarter while Lachie Jones ran with Whisper. The Collingwood Superstar was held to just 9 disposals, 2 contested at 89% Efficiency, while Jones himself just had the one kick. The tag was promptly dropped…. I honestly struggle to see how you limit Daicos of the Nick variety, he works so bloody hard for all his touches, and is just a magnificent user of the ball. I'm not one to sprout the "must-have" notion, but he's pretty much as close to that as you can get. His ownership has hit 55% at the time of writing, and fading Nicky Daicos is a recipe to tank your season if he continues like this. I honestly don't even care how, get him in.
Brennan Cox (FRE, $445.4k, 142.5 AVG, BE-32) & Luke Ryan (FRE, 531.6k, 146.5 AVG, BE 8)
Now with Fremantle looking to neglect everywhere besides their D50, and with two huge scores, Cox and Ryan have both caught the eyes of SC Coaches. I however, still am not in the camp of "bring them in." I think there's a case for Ryan, but I seriously think Cox has all the makings of a "trap." Now correct me if I'm wrong Freo fans, but I've seen murmurs of him potentially getting swung forward as well. As for Ryan, we knew he had these types of games in his arsenal, it's just the poor scores that he can also churn out that hinders his top 6 potential. One thing to also factor in, is that the Dockers defenders played two less than stellar forward-lines in the Saints and North these past two weeks. Ryan could be a strong smokey defensive premo, but would have Daicos as an option well ahead at the moment.
Backing it up…
Tom Stewart, 604k, 214 BE*
Bailey Dale, 561k, 179 BE
Sam Docherty, 604k, 161 BE
James Sicily, 625k, 144 BE
Jordan Dawson, 603k, 135 BE
Midfielders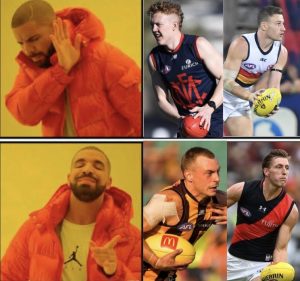 Chris Judd Luke Davies-Uniacke (NTH, 557.4k, 149 AVG, BE 18)
Quite frankly the best player to step on the turf at Optus Stadium since Chris Judd, (no, I won't calm down)! Post-bye last season, LDU averaged 111 points, which would have had him priced at 610k to open the season if it was purely based off that. Two monstrous scores against Eagles who are a hard midfield to generally score against, and then Fremantle who prefer having the ball in their D50, LDU looks like a stand-out option to bring into your midfield. I'll skip the stats, he was phenomenal in both games to open the season, strong inside minutes, and looks like he's hit another level. The short-term fixture is the only concern you could have with LDU. Has my Hawks this weekend, and all this talk about Finn tagging him, let me just say my response to that is putting the C on LDU. Finn struggles tagging inside midfielders, could he help negate LDU? Sure, but I'd be very surprised if he has much of an influence on his performance. The next handful of games after the Hawks are: Carlton, Brisbane, Gold Coast, Melbourne, Saints. That's where the real concern lies. However Davies-Uniacke did score 90+ against all those teams last season. With the trajectory he's heading in, I'd be expecting him to bump that to 100+. For those like myself that don't have many fires to put-out, heavily consider Judd-lite.
Will Setterfield (ESS, 348.2k, 123 AVG, BE -49)
I'm one of the crazies that started this man, and boy has he rewarded owners. Managing to outscore the likes of Miller, Neale, Laird thus far was not on my bingo card. His CBA's got bumped up to 90% this week, and spent the entire game practically on-ball. Won't get attention ahead of someone like Merrett means there's no reason Setterfield drops his scoring into the 70 & 80's. That doesn't mean you should expect these mammoth scores to occur regularly, but the role is right, he looks a great fit in the Dons midfield, and the cash-gen looks a beaut! One slight concern from the weekend was Setterfield getting his quad taped at HT, however he obviously finished the game off strong, you couldn't even tell anything was wrong. News of Stringer getting games shouldn't remotely worry you either, Stringer is needed forward, and there's 0 reason to mess with the Bombers mid-rotation. Watch for any updates on the quad, otherwise find a way to get him into your midfield. Very much looking like the George Hewett of 2023.
James Worpel (HAW, 309.3k, 98 AVG, BE -21)
Slightly under the radar due to the first two players we just discussed, but Worpel has backed up his solid R1 outing, by going 99 in what was a slaughter against the Swans. Both himself and Mackenzie had a CBA reduction, however Worpel found ways to extract the pill, getting just a casual 22 possessions, 16 contested, and using it in a strong manner, going at 73%. For those with Setterfield already, strongly consider fitting Worpel in if your structure allows it.
Limbo land…
Rory Laird, 704k, 202 BE
Hugh McCluggage, 571k, 201 BE
Lachie Neale, 676k, 188 BE
Will Brodie, 564k, 175 BE
Andy Brayshaw, 616k, 173 BE
Jack Macrae, 634k, 169 BE
Ollie Wines, 581k, 163 BE
Touk Miller, 662k, 157 BE
Christian Petracca, 619k, 157 BE
Jack Steele, 604k, 157 BE*
Clayton Oliver, 700k, 149 BE
Callum Mills, 642k, 147 BE
Rucks
Darcy Cameron (COL, 465.9k, 120 AVG, BE 24)
Turns out Cameron and RoMo set and forget was the right setup, who would have thought… For those with the other fraudulent Darcy, there's a potential 80k+ swing this week just by swapping these two. Obvious benefits include Cameron being the only viable R/F at this stage, and the fact DC is looking like an absolute bargain at his current price. Cameron's ruck split also saw him attend 72% of all ruck contests against Port, and his around ground work was just phenomenal. 18 disposals, 16 contested, 5 marks, 4 of those being contested, this all resulted in 137 points. His hit-outs to advantage this season are 8.5 a game, which isn't far off Jarrod Witts who's at 9.7 this season. DC presents as a strong option to help fix an underperforming player in your team!
Timberrr…
Max Gawn, 622k, 213 BE
Sean Darcy, 562k, 182 BE
Brodie Grundy, 513k, 148 BE
Forwards
Tanner Bruhn (GEE, 311.4k, 52 AVG, BE 73)
I'm just joking, sorry Bruhn owners 🙁
Jack Ziebell (NTH, 356.4k, 112.5 AVG, BE -23)
There isn't much more needing to be said than the simple "get him in!" Ziegull backed up his round 1 performance with another strong score of 123 points. It's clear what his role is in the North defensive line (unlike notorious SC burn-man Jordan Ridley…), and quite frankly the option to swing him into your defence come round 6 makes him a strong candidate for your teams. Partner in crime Harry Sheezel is another you'll need to look into bringing into your teams as well. Everyone should have the North boys at F5-F6!
Forward thinking…
Harry Himmelberg, 499k, 191 BE
Tom Hawkins, 520k, 173 BE
Isaac Heeney, 557k, 168 BE
Luke Jackson, 466k, 146 BE


---
Leave a comment / Scroll to bottom