In this ten-part series, we'll try to find you that elusive breakout contender, the underpriced and undervalued gem who could decide your Supercoach season's fate. Some basic criteria (which are a little flexible):
Player is entering their second, third or fourth season in the league,
Starting price somewhere between $350K and $500K, and
Averaged somewhere between 70 to 90 ppg the previous season.
Next up is a Power forward about to set a spark….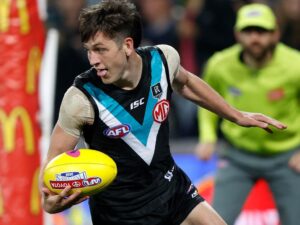 Zak BUTTERS (PTA)
2021 Starting Price: $471 400 forward
Scoring History (most recent first): 87.7 (15 games), 60.5 (19)
Why he will BREAKOUT this year: Along with Rozee and Duursma, Butters was part of an outstanding trio of first round draft picks that landed at the Power in the 2018 draft. A jaunty forward pocket type with no shortage of courage in the contest, Butters posted steady numbers in his rookie year which included 12 goals in 19 games and the promise of better things to come. The 2020 season proved it, with Butters posting a highly impressive 87 ppg and securing the Gavin Wanganeen Medal as the club's best player under 21 years of age. Spending more time up the ground will be key to further improvement for Zak, but he is more than capable of further  expanding on his 2020 work. Should he do so, that would put him in the realm of the best forwards in the league.
Why he won't: His game style is 100% attack on the footy 100% of the time, which can take its toll on a player with as wiry a build as Butters. Still barely tips the scales at 70 kg and has already had problems with shoulders and knees.
VERDICT: I really, really like Butters as a POD option for your forward line this year. He combines a fantastic, feisty attitude to the game with superior skills and a useful habit of being in the right place at the right time. Hinkley has already put the infamous "more mid time" label on him this season, too. Strongly consider!

 Loading ...
---
Leave a comment / Scroll to bottom