It's only hours until the first bounce and surely you're got your best squad of 30 in place by now….What does the wisdom of the masses say that should look like?
We took a sample back in January, and the most popular line-up looked like this: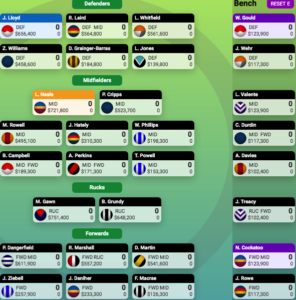 And this is what it looks like now: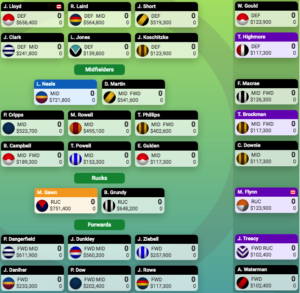 Compared to the initial line-up, coaches have actually been quite patient and managed to hold off on making any snap changes. But there have been some predictable movements – and a few surprises too…
The injured Whitfield and the suspended Williams have been given the flick, replaced by the red-hot Short after his 43 disposal effort in the AAMI series and the budget -priced Jordan Clark after he racked up 119 pre-season points;
The out-of-favour Jackson Hately has been replaced by the impressive Tom Phillips, who tonned up big time last weekend in the absence of some of his more illustrious midfield teammates. Despite a quiet AAMI series fixture, Paddy Dow comes in for the similarly priced Will Phillips;
Rucks are solid;
The prolific Dunkley comes in for the injured Marshall.
Still, I think there might be a few disappointed coaches after this weekend, if the ownership numbers for players such as Gould, Fin Macrae and Waterman are anything to go by!
---
Leave a comment / Scroll to bottom