Chips Ahoy into third from fifth, and Lathaz SCTTL from third down to fifth were the only changes at the top of the ladder this week.
Barries' Wet Dogs edged out Chips Ahoy by seven points to grab pole this week to move into eleventh after a score of 2189. Chips' 2182 was enough to grab third spot and challenge for a second crown in the comp.
Liam Jones and the Six filled the other side of the podium with a pretty decent score of 2168 considering 2200 was top 2% for the week.
We had a further ten coaches climbing over the 2100 mark in a show of force for keeping the competition alive. These scores ranged from 2159 down to 2103 and were headed by Wighty and followed in order by Kid Tech, Glenboys, Cripps Walk, Go Hawks, Snipers, Jumper Punchers, Steely Macs Tech, MBuzz and Ol' mate Mottsy's Tech Maulers.
The following poll asks how many warm bodies you are going to field in round 14 and how many of them are considered keepers. Let us know in the comments how many trades you are considering using this round, how many trades you have left at this stage and how you plan to use them
Thanks for playing and thanks for reading, see you all next week.

 Loading ...

 Loading ...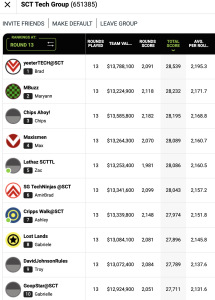 ---
Leave a comment / Scroll to bottom