A disclaimer to start with.
I'm off to a couple of bowls carnivals for the next two weeks so may not be in a position to review the round during that time, but will still try. Apologies in advance.
A second disclaimer:
Normally, the top scoring teams for the week get the kudos but this week I'm including my own score as I coulda, shoulda, would've if I was not that person who is a SuperCoach cretin.
What would have been my first top five (in fact third) for the year slipped into also ran status in the middle of the pack because I chose to play safe and take Bont's Thursday night score. Put the perma "C" Madden on field and correctly whacked the "C" button, saw Bont's score double. First bit achieved. The move of big Max to the bench somehow did not include a whack on the "E" button, permanently confirming my SC Cretin status and binning the best 215 point score you are likely to see!!
However, coaches who have been in the top list many times, again scored brilliantly in a very conflicted week of traditional late season carnage that saw many scores not reach the 2000 mark.
Best of those was Chris with Running Bares and a score of 2482, and Paul with MBuzz on 2454. Great effort guys. Now this is where yours truly should be. Fixed Interest scored 2228 from 21 players then add an incognito 215 from Gawn = 2443. I know, gratuitous at best but I should get at least one Mulligan per season for writing the column, right?
David Johnson Rules 2440, All Nuns 2433 were the only others to top 2400 this round. Congrats all round coaches.
Mention also to the next three high scores for the round in Lost Lands 2398, Chips Ahoy! 2357 And Massimo jumping onto the list with Bolton Celtics racking up 2346.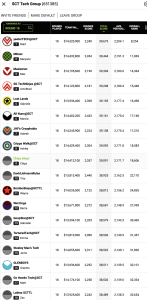 ---
Leave a comment / Scroll to bottom