Let me preface this by saying: I'm a straight up guns and rookies man. Usually pretty good with starting premo selections but tend to overlook midpricers, particularly awkwardly priced ones in the grey between cash generators and keepers. This disposition f*cked me last season when I eschewed Ziebell for 12 top shelf premos. Paid up for the premos and nailed them all but missing Ziebell, Impey types and not investing in down back destroyed me. Usually also wedded to the idea of 13 keepers but I think this season demands some unique value allocation and shield picks. Admittedly the expensive rookies have also forced my hand.
Anyway, we'll talk more strategy and structure at the end.
Here's the team: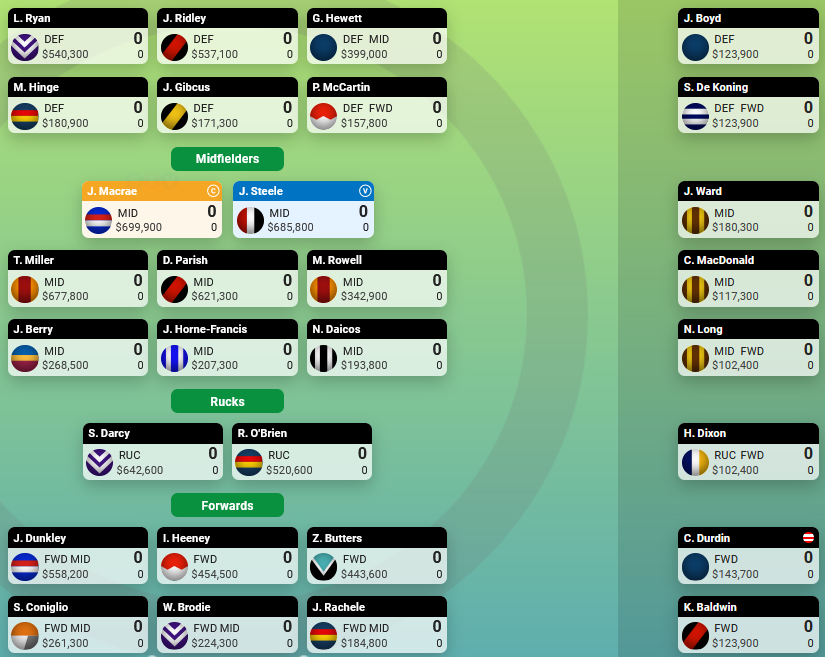 Bear with me. Let's go line by line.
Defenders
Like many, I was initially worried about the lack of defender rookies however a decent 5 look to have come through in Hinge, Gibcus, McCartin, De Koning and even Boyd. Probably won't score the best but I'm relatively comfortable with their job security. To the premos, I'm quite a fan of Ryan with Freo's replenished defensive stocks. They've said they want him as a loose interceptor and distributor and looks to finally have the KPPs back to free him up. Similarly, the Dons have brought in Kelly to liberate Ridley from playing accountable on small FWDs, so I'm liking him as well. He's only got a plurality, not a monopoly, on kick ins but counting on his intercept work to cover that. Now this is where it gets dirty: Hewett D3. A disgrace, I know – but I needed to free up the cash for these expensive rookies and MID depth. My preference at D3 has been Dale, who still might come in, but if Hewett can do closer to 90 than 80, I'm fine with that. Will have a decent CBA load as that defensive MID and maybe even a bit more ball winning early with Walsh out of action. Lloyd the notable omission, but the 40k is handy and I think other DEF premos will only lag behind him by 5 – 10 ppg.
Midfielders
Would love to just got 5x 620k+ MIDs however sacking an M5 to build depth elsewhere looks to be the play. Macrae and Steele are just obvious, I had Miller last season, rate him incredibly highly and he hasn't left my side since SC opened and I'm also bullish on Parish. Was averaging something ridiculous like 130 from Round 6 until those last few rounds where he got savaged by tags. Huge ceiling, room for development and great CP work. Weakness to tags a concern but surely he's done some work on that over the pre-season. He's in.
I've then got Rowell and Berry at M5 and M6. Think of it as I split my M5 for those two and an expensive rookie. Berry looks very fit and energized, just does 80+ in a strong side, and Rowell has all but sold me on his performance the other day. The score was irrelevant it was how confident he looked in his body and his presence at the contest; tackles, grunt and CP work were all there.
The MID rookies are all pretty much paid up here, with Long as a loop. Had considered not running a loop in case of a rookie JS crisis but would hate to limit myself to a straight C each week.
Rucks
ROB?!? Immediate TD, Gunboat. Go f*ck yourself. Despite that impulse, I think there's a decent case for ROB. Played injured most of 2021, now back to full match fitness, injury free and recapturing that marking and intercepting dimension to his game. Can do 105-110, which makes the points lost to a Grundy or Gawn at R2 worth when I can then put that 100k to good use. Darcy is R1 for as long as he's on the park, no explanation there.
Have gone Dixon at R3 without the combo with Hayes from the Saints, a duo a lot of people are liking. Dixon plays and does 40s but Hayes is out on his ass as soon as Ryder is back. Don't want the hassle unless a timeframe is given on Ryder in the next week.
Forwards
My F1-F4 haven't changed since SC opened: Dunks, Heeney, Butters & Coniglio. Dunks is a premo MID when fit, Butters and Heeney look primed for an upward trajectory in scoring with increased MID minutes and strong pre-seasons and Cogs might even end up an F6 keeper.
Despite FT and I shitcanning him for the last 2 months, Brodie has finagled his way into my team. Concern was his work effort, job security and then role but his pre-season games have assuaged that, for me atleast. McGovern and Xerri also interesting but have Brodie for now. Rachele and Durdin, despite being small FWDs in ass teams, are starters for all of us and thinking Baldwin will be a nice slow burn at F8.
Structure & Strategy
So, there it is. 3-4-2-3. 12 keepers plus Rowell, Berry, Cogs and Brodie. Discounted R2 and D3 to finance midpricer depth and expensive rookies. Not in love with this side but it's what I've got for now, with room for the following changes if need be:
– Trim down Brodie and/or Parish to Neale in order to get Hewett up to a proper premo
– Also the potential to trade a FWD premo for a DEF premo in case of a dropped rookie but I'm pretty happy with F1 – F4
– To get back to 13 keepers I'd need to sack Rowell, but he looks a tremendous value proposition at 342k if he can do triple digits
– A major overhaul I'm keeping in the back of my mind is to run Cogs as an F3 keeper, sack the other midpricers and get Bont in as an M5
Anyway, that's it. Welcome any feedback, otherwise going to let those alternatives percolate and sit on this till teamsheets drop.
---
Leave a comment / Scroll to bottom