First things first! It's been a memorable, and carnage filled year. This weeks Fallen Premiums will mark the last of normal programming. However, next week we will have a look at some of the best, and worst players I mentioned in 2022.
As for this week, I'd firstly like to ask, who the hell has any trades left!?! Now with that out of the way, I've kept things concise this week, as I firmly believe chasing FP's at this stage of the season should nearly exclusively be for the ability to loop off the bench. Saying that, I will continue to ignore a certain Dayne Zorko, who's only brought me pain this season. Enough of the chat, let's get to it. The Fallen Premiums, Round 21!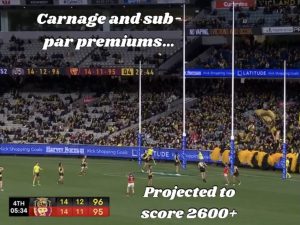 We still love ya Robbo…
Defenders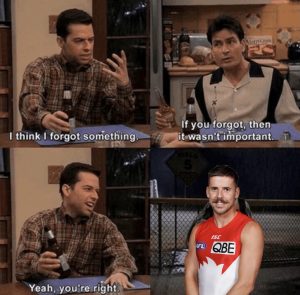 Forgotten, or erased from our memory?
Jake Lloyd (SYD, 475.6k, (-$111k), 92.8 AVG, 117 BE) surprised to see the Gull get a mention? Well, with North this week, Pies, and then Saints he had to get a mention as a potential side swap from Jayden Short / Jack Crisp… Here's a quick look at how defenders in recent weeks have scored against North. Sinclair 140, Himmelberg 187, Dawson 134, Saad 125, Vlaustin 141, Sicily 97, Redman 176. Some handy numbers there if I may say so. Lloyd also scored 148 points against the Saints in the round 15 clash against the Saints. While he hasn't been all too convincing this season, Lloyd could be a great POD as SC finals start to get to the point of difference. I'm personally not sold, but for those with A lacklustre D7 that you could side swap, you could do a lot worse than the former D1.
Backing it up…
Daniel Rich, 512k, 180 BE
Aaron Hall, 495k, 153 BE
Jack Sinclair, 605k, 135 BE
James Sicily, 555k, 135 BE
Midfielders
Jy Simpkin (NTH, 458.6k, (-$70.4k), 87.9 AVG, 123 BE) tagged quite successfully by Finn Maginness the week prior, If we remove that game, Jy is averaging 114.6 points in his last 3 games! North have Swans @Marvel, (Jy scored 114 points against them in round 4). Adelaide in what should be a contested game for him to score well in. And then Gold Coast @Marvel. The 2021 Syd Barker medalist is priced bloody cheap at just over 450k, and I personally think he's an amazing player to be able to loop off the bench (if you have the avenues to bring him in!).
Sam Walsh (CAR, 581.4k, (-$55.7k), 113.7 AVG, 117 BE) with Hewett missing yet again, and Kennedy out for a fortnight, this future Brownlow Medalist is ripe for picking to close out the year. Jack Steele at the same price point presents immense value, however for a slight discount, there's no reason Sammy Walsh can't pump out some monstrous scores and surpass Steele on the run home. The Blues will be fighting to cement a position in the top eight, Walsh is cemented for full exposure on-ball this round, with the next two games at the MCG against the Dees and Pies. Let it be of note, if I was a betting man (and I am), I'd be firmly locking in Walsh to go 150+ against the Pies in the final round of the season…
Limbo land…
Clayton Oliver, 661k, 206 BE
Darcy Parish, 587k, 181 BE
Jack Macrae, 568k, 156 BE,
Josh Kelly, 529k, 145 BE
Rucks
Rowan Marshall (STK, 480.9k, (-$55.9k), 92.2 AVG, 21 BE) RoMo owners should all send a fruit basket to the late-exclusion in Tom Campbell. While I continue to love the Marshall pick, I do want to point out a couple things. Firstly, the Hawks fed RoMo like he was about to get sent to the chair. And secondly, for those wanting to bring in the Saints big-man, keep an eye on teamsheets this week. I doubt that Ratten would opt to include Tom Campbell, however, if he's named, this pick is suddenly less enticing. While we're here, I'd also like to give a shout out to SCT regular, The Bearded Burbler, for throwing the VC on Marshall, that was a genius move.
Timberrr…
Nic Naitanui, 534k, 161 BE
Todd Goldstein, 523k, 151 BE
Forwards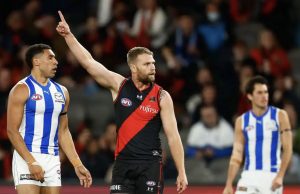 Jake Stringer (ESS, 411k, (-$95.8k), 75.7 AVG, 59 BE) as someone that tuned into the game on Sunday to watch the Bombers and North play (don't ask me why), I must say I was surprised with Stringer only scoring 111 points. The former Bulldog has found a share of CBA's akin to last season, along with fitness, and form. As the Bombers have brought upon a late season resurgence. Priced modestly at only 411k, with the next two games being quite winnable for the Dons, I continue to like Stringer as a POD. Darcy Parish may return this week, however, I doubt that cuts into Stringers CBA load. Like I've said previously, if you can loop him, I love this pick.
Forward thinking…
Tom Liberatore, 587k, 140 BE
Marcus Bontempelli, 678k, 138 BE
Harry Himmelberg, 568k, 129 BE
---
Leave a comment / Scroll to bottom