After fifteen Tech Coaches smashing out 2500+ last week, we had none reach those lofty heights this week. In fact, top scorer for the week, YeeterTECH, fell 61 points short of that mark but still produced a superb 2439 in a week of lower scores to propel the team to the top of the ladder.
Wighty Rocks the Tech was coached in grand style to rack up 2394 to snatch second spot by a huge 124 points and be only one of two coaches to score outside of the 2200s and see a resultant jump up in rankings.  Maxismen in third place on 2270 was the top of those in the 2200s, followed by Chips Ahoy (2268); The Jumper Punchers (2253); Champs Chumps (2249); The Tech Maulers (2247) and David Johnson Rules (2227).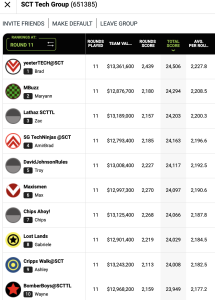 Well done to everyone hanging in there and keeping the comp strong after eleven rounds. Now starts the hard part ! Round twelve bye.
From the feedback I've been getting, bye planning has taken a back seat to points chasing, with most coaches opting for the premo upgrades first and bye number second. Have to admit that was my strategy as well. Checked the team tonight and have sixteen warm bodies including The Rat who will be odds on to enjoy our glorious weather here in Darwin for the week without the pressure of worrying about taking on his former team at Marrara. He was supposed to be great bye cover !! Thirteen trades, still got Clarry on the bench and thinking I'm not leaping up the rankings anytime soon.
So how is everyone faring for round twelve. Who will have enough warm bodies, who has trades to do anything about it, and what are your plans.

 Loading ...

 Loading ...
---
Leave a comment / Scroll to bottom