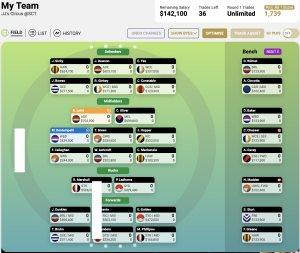 My pre season team reveal, like most of us, was always going to be reliant on team selections leading into round one. JJ's Circus@SCT final round one team graphic (below) was five players different. A bit of rejigging was required but made much easier as I ferreted away $142,100 for a rainy day.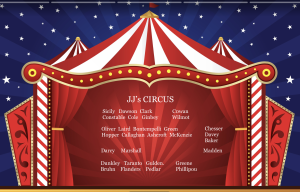 Ladhams became Darcy, Sturt morphed to Pedlar, Bowes into Hunter Clark, Yeo became the other Eagle Cole and the non selection of Cincotta predicated a Cowan selection. The pre season team was predicted to score 1796 and the revised team scored 1958, still for a rather ignominious 46.7 k ranking. Only a third of the starting line up still survives, even if it includes Chess and the Policeman. The other eight, (Dunks, Taranto, Errol, Bont, Baird, Dawson, RoMo and Captain Madden) I pray stay on the park for the rest of the season so I can put my remaining seven trades to good use.
It didn't take long to realise the mistake (early) in picking Clark over McKenna so round two rectified that in a move that wasn't as productive points wise as I would have liked, but moved me into the cash gen business. Round two result was also inglorious with a 75.7 k finish moving me out to a 60 k rank after two rounds.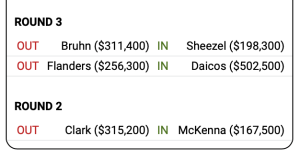 Round three trades were well timed and great moves in hindsight. How do we patent hindsight? Panic set after a 60k ranking and high BE for the villains (lost $15k between them) and Sheez and Naicos were no brainers picking me up 229 from the pair in the first week. Round rank of 12k dropped me 24k overall, so had to be happy at this stage.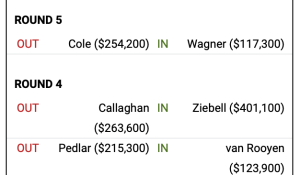 Figured Ziebell was going on a blitz so reasoned he had to come in till his bye, if not as a keeper. Faith repaid as he went on six game average of 117 till he started to drop off but had to stay because of other issues going on.
Cole injured himself so that was a strategic cash grab in the short term, although I felt Wagner would provide better than average cover. We all know how that panned out. The main reason was that I had stabilised my side by this stage and was in to 12.7 k overall and thought I'd adopt a wait and see attitude for a week.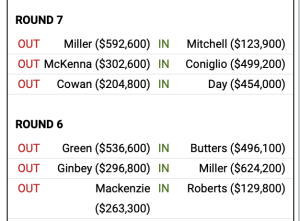 This was my "BIG" in out in the space of a fortnight, snaffling Touk as a premo and major bye cover, and using my first boost to do it. Again we know how that 40 point extravaganza turned out. Unfortunately, this was the same round Errol and Sheez scored 40s and 50s. Green went because he wasn't playing and I felt Butters would be the real deal after he tore up the dogs in round five. That didn't go as planned for the first two weeks, but has been inspired since.
With Touk having to go, the move was to go for value in Cogs and Day and I really liked the look of Seamus Mitchell's 73 two game average. All three are still in my team, and likely to stay as DPP swing cover providing they don't spud it up too badly.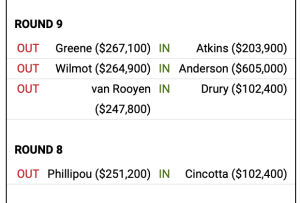 Always wanted Cinc in the side and as I was still hovering around the 13k mark, this was a move to generate cash and have a fresh look in defence.
I only had $36k ITB.
Round nine was the start of trying to cover the byes, hence The Rat and Anderson. Neither were to be great, especially as I missed the 189 point monster the week before. I wasn't chasing points, that's what I told myself. Drury was an early pick up based on one game of 51, but as we know, the next two only yielded 29 and no cash. SC 101 Lesson one on going early !!
Still, pretty satisfied with the team's ranking trajectory at this stage, and with minimal carnage issues, managed to sneak up to 6217 overall.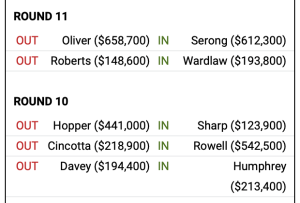 Round ten saw the fourth of the boosts boosted out of the system and with a small bank ($54K), saw the opportunity to swap out an injured Hopper for some more serious bye coverage. Rowell has been serviceable, Humphrey provided some highs and I thought Brisbane might have given Sharp a better run at it than turned out.
Round eleven, serious carnage for the Circus with grand premo Clarry going down with a "twinged" hammy. Thought long and hard about trading or holding, but in the end, needed the points and the extra bye coverage provided by Serong seemed so right! Fourteen trades remaining convinced me I could get him back in a couple of weeks. Still Waiting!!
Note the trend in the last few rounds of trades to bring in the higher priced rookies (Atkins, Wardlaw, Humphries) which was more for points during the bye rounds and not as much emphasis on pure cash gen. More on how that panned out down the article, as only The Warlord has survived the cut.

If I thought my carnage was limited at this stage, round twelve saw the end of that theory. Darcy injured, Sicily and Baird suspended, though Rory later cleared thank the SC gods. He went on to score 112 in my lowest team score of the year. What if?
I figured cash gen and a gamble was the way to go, considering quite a few teams seemed to be in the same boat. Cash gen gained me $380k for next week, and the gamble on Briggs as R2 pocketed 128 points. Bad news was my rank suffered by 2.5K out to 8.5k
The rest of the bye rounds.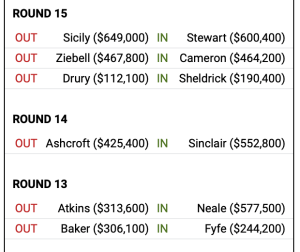 Neale and Fyfe off the byes seemed appropriate. They combined for 198 whilst The Rat didn't get a Guernsey and Baker got a quick fire 11 points and dropped $21k. At that stage I was chuffed with my decision making considering I'd just had a net gain of 187 points and moved 1.8k closer to the pointy end of the ladder, to 6.7 k overall.
Round fourteen was a considered risk playing just the bare eighteen, but I figured Ash to Sinclair would gain me $50k on top of my $179k bank, plus some points, and be a better warm body for the tough round fifteen show.
Sicily again stuffed up my plans for what was already a dick of a round anyway. Put Tracca in my tech team and in hindsight it would have been a great move here, but opted for a strengthened defence and run home ruck DPP cover. Watched the entire Swans game the previous week and loved the look of Sheldrick, so he comes in as one of my higher priced rookies capable of bigger scores. Have not regretted that move until this week.
Started the byes ranked at 6096, moved out to 8543, back down to 6781 and 6798 then finally at 3547 after round fifteen for roughly 2.5k gain.
No trades in round sixteen for an average score and a ranking drop of around 700.
Captaincy highlights over 250 so far include Baird (R2 294), Clarry (R3 312), Baird (R5 270), Clarry (R7 268), Dunks (R8 298), Romo (R10 252), Dunks (R14 274), Errol (R15 328) and Neale (R16 286).
Had a few "C" fails as well, not surprisingly the worst of them in round one with Baird's shocker to start, but in true Crow supporter fashion, followed up with his 147 a week later. Suffered two sub tons with Clarry (R6) and RoMo (R11) so it could have been worse.
I've enjoyed having the likes of Sicily and Clarry from the start, but obviously devoed they are not there now and probably cannot come back from the dead. Also loved Errol's contribution, my Crow's pair, Bont, Dunks, RoMo and Taranto's surge in SC ranking, all as starting picks.
I have give mention to a couple of really good trades I'm happy with. Butters has been great as a POD when I considered Rozee but opted against the high ownership. Since the inspired inclusion of Briggs it has given me more cash and flexibility to bring in the likes of Neale, Stewart, Sinclair and Serong for performances on or above expectation. Anderson, Rowell, Cogs and Day have had their moments but I fear they will not be the difference come finals time. Oh well, at least I will have five trades after R17 to get me through, and hope the carnage is not excessive.
Round Sixteen Team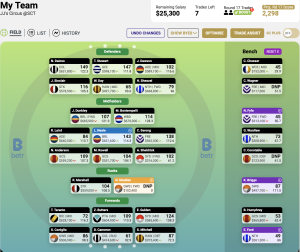 Round sixteen was a bit of a let down with rank out to 4.2k so round seventeen trades will be Fyfe/Humphrey to Mills/Cunningham in a move I don't expect immediate spike in scoring, but should pay off longer term.
Comforably two games clear on top in my own league (SCT Circus Acts), second on percentage (SCT#2), fourth in the eleventh ranked Cattas Challenge 2 and precariously hanging onto fourth in SCT Millionaires, SCT Talkers and Leeuwin League 2. Holding down a top eight spot in the Contributor's League with a tough run home against the likes of Thommo, Chillo, Dane and C.T. A fair chance I may make five or six of seven league finals, which you would have taken at the start of the year, if offered.
Bit of an epic article, thanks so much for reading and I hope you have enjoyed the story. Hope also that your SC team fares well in the run home and if you make the finals, win them (unless you are playing me lol) and earn the bragging rights we all play for in a long season of combined fun and frustration. And may your supported team do as well as you would hope to finish off the season. Good luck in every aspect of your footy journey leading up to the finals and beyond.
---
Leave a comment / Scroll to bottom